Equipment Distribution Center
The New England School of Communications Equipment Distribution Center (EDC) is located on the first floor of the Wildey Communications Building. It includes equipment used by Video, Audio, Journalism, Sports Journalism, and NESCom Mobile Productions.
The EDC loans professional equipment and facilities to current students & faculty to fulfill class assignments and extra experiential learning opportunities approved by the faculty, staff, and the University Administration.
For more information and specific policies concerning the use of equipment from the EDC, please contact us at 
(207) 992-4932
. 
Hours of Operation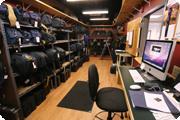 Monday-Friday
8AM-1AM


Saturday & Sunday
10AM-1AM* 
*Please note that there is inventory on all video equipment Sunday 11AM-2PM. During this time equipment cannot be signed out.

Student Production Forms
EDC Contract Guidelines
EDC Contract
Production Policies & Procedures
Assumption Of Risk And Release Form
Talent Release
On Campus Filming Production Guide
Travel Release
City of Bangor Permit
Cameras
1 RED Epic Mysterium-X Cinema Package 1 5D Mark III Cinema Package
5 5D Mark III Production Kits
4 Panasonic HPX250s with P2 technology
6 Sony PMW-200s with SxS technology
8 Canon XF300s
1 Sony Z5U
10 Sony PMW320s
13 Sony HXR-NX5Us
1 GoPro HD Hero
2 GoPro Hero3 Blacks
Photography
13 Canon 7Ds
5 Canon 60Ds
8 Canon T3i-s
3 Canon 50Ds
1 Canon 40D
3 Photogenic Light Kits
7 Remote Flash Kits
3 Wireless Triggers
8 Specialty Lenses
Lighting
15 Lowel action kits
1 Lowel Big Action Kit
2 Kino-flo Diva Kits
2 Arri Fresnel kits
2 Dedo kits
1 HMI light kit
1 Pepper Kit
5 Rifa lights
2 Arri T2 lights
2 LED Lights
1 Chinese Lantern/ Poker Lite
Audio Equipment
6 Sound Device 664 Field Recorders
4 Azden FMX42 field mixers
Types of Microphones:
Wired and wireless lavaliere
Handheld
Shotgun
Boom
Parabolic
PZM (Pressure Zone Microphone) and PCC (Phase Coherent Cardioid)
Choir
Field Production Equipment
Green/Blue screens
Portable backdrops
C-Stands
2 Indy Dollys and Track
Matthews Round-D-Round Dolly and Track
2 EZFX Jibs - 10 foot length w/ robotic controls
2 HD field monitors
1 ZEPHYR Steadicam
Portable teleprompter
1 ZEPHYR Steadicam
1 Glidecam
1 Fig Rig
1 Matthews Round-D-Round Dolly and Track
2 Indie Dollys and Track (Both Straight and Curved)
1 Indie Slider
2 EZFX Jib - 10 foot length
C-Stands, Combo Stands, and Avenger Stands
1 Spiderpod
2 HD field monitors
5 Intuos5 Pen Tablets
2 Intuos4 Pen Tablets
21 Reflectors
11 Flags
Gelly Roles
Warm Cards
Green/Blue screens
Portable backdrops
A Clamps, Cardelinni Clamps, and Scissor Clips
Articulated Arms
Clap Boards
News Kits