Video/Film Production
For Fall 2020, Communications Technology will be replaced by two new programs:
Audio Engineering with concentrations in Music Production, Post Production and Live Sound Production
Video Production, with a concentration in Film Production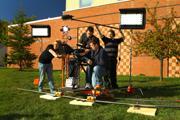 We are all storytellers. Those who choose video/film production and filmmaking have a special medium in which to tell stories. It's a complicated field that requires knowledge, skills, artistic talent, work ethic and good judgment. Video professionals and digital filmmakers find themselves telling the stories of people, companies, sports or scripts to an audience. In our video/film production program you can acquire the skills and knowledge to work on independent films or to shoot for broadcast.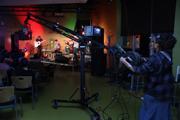 The New England School of Communications focus is on experiential learning. From live sporting events, to live television shows, and the opportunities to work on short films, you can build the knowledge and skills in planning, production, shooting, lighting, editing, and post that you need to not only be successful but provide you the opportunities to build your portfolio.
For more information
Contact

Phone and Email
Address
John Easton, MBA
Program Coordinator - Video Production, Instructor

207.973.1068
eastonj@husson.edu
201F Wildey Communications Center
Husson University
1 College Circle
Bangor, Maine 04401
Louise Grant
Associate Director of Admissions

207.973.1093
grantl@husson.edu
122 O'Donnell Commons
Husson University
1 College Circle
Bangor, Maine 04401
Melissa Rosenberg
Director of Admissions

207.404.5660
rosenbergm@husson.edu
121 O'Donnell Commons
Husson University
1 College Circle
Bangor, Maine 04401