Student Alumni Association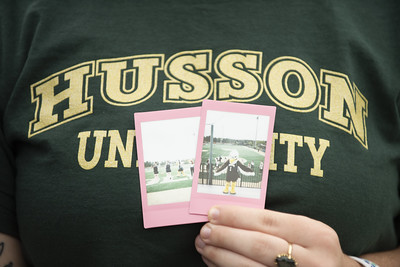 As students, you are a part of a growing community here at Husson and eventually will become alumni. The Husson community is much larger than meets the eye. There are thousands of alumni across the globe and soon you will be carrying on the Eagles spirit into your own profession. Learn more about what it means to be a part of this thriving community.
The Mission.
The mission of the Student Alumni Association (SAA) is to foster lifelong participation with Husson University by connecting students to alumni through engagement, giving and upholding Husson traditions.
The Perks!
Network with alumni at events.
Learn about the importance of philanthropy.
Build your leadership skills.
Gain volunteer hours throughout the year.
How to be a part of something BIG
No matter the size, every gift helps build a stronger Husson and paves the way for others to follow in your footsteps. Begin your philanthropic journey today!
Members must make a minimum donation of $10 annually.
How it's broken down:
$5 is deposited into the Student Alumni Association Fund
$5 is designated to the area of campus that is the most meaningful to you
If you have questions, or want to learn more, contact Christine Mihan, Director of Alumni Relations at mihanc@husson.edu or 207.941.7170.
Are you a senior?
Leave your mark by making your Senior Class Gift of $20.23 to the area of campus that means the most to you and receive a special patch to wear at commencement!
Click here to make your gift now.