Information Technology
The HelpDesk provides assistance with computers and technology for students, faculty, and staff.
For answers to questions about your Husson University accounts, you can contact the HelpDesk by calling 207.973.1000. The Call Center can assist with general account information and access questions.
EMAIL: HelpDesk@husson.ed
OFFICE: Bell Hall - Ground Floor
OFFICE HOURS*: 
   Monday - Friday 7:30 AM to 5 PM 
CALL CENTER HOURS*:
   Monday - Thursday 7:30 AM to 8 PM
   Friday 7:30 AM - 5 PM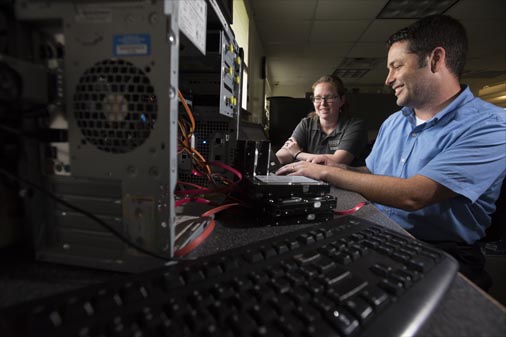 *All hours subject to change based on semester breaks and campus closures.
Mission
The Information Technology department at Husson University supports the teaching, learning and business activities of its faculty, staff and students, and the operational activities of institutional administration through the innovative application of technology. The Information Technology department is dedicated to supporting the delivery of the Husson University mission through the strategic execution of technology initiatives and the thoughtful stewardship of technology resources.
Vision
The Husson University Information Technology department will advance its trajectory on the IT maturity timeline from a state of "Defined & Repeatable" to state of business focused "Integrated Services". This will be accomplished in a collaborative and highly engaged manner by continuing our advancement of IT Service Management (ITIL) best practices, cyber security & compliance strategy, and by expanding the operational governance model.
Core Values
Collaborate: We believe that working together delivers better outcomes. We strive to partner with diverse stakeholders to ensure success in all that we do.
Excellence: We uphold ourselves to a high standard and strive to ensure that any solution we provide exceeds expectation and is based on current "best practice".
Integrity: Above all, we are responsible for our actions, reliable and trustworthy. We are dedicated to Husson University's mission with utmost sincerity.
Highly Engaged: We work with a sense of purpose steeped in Husson University's mission. We understand the value of what we do and take pride in our dedication to providing outcomes-based solutions. We work with, and for, each other with an understanding that the team is more powerful than the individual.
Respect: We are professional, courteous, and sensitive to the needs of a diverse population of stakeholders at Husson University. We approach all work with a sense of mutual respect that drives excellent outcomes.
Determination: Driven by the Husson University mission, we are determined to succeed. We are committed to achieve higher standards and make I.T. a role model for Husson University and beyond.
Celebrate: The I.T. Strategic Plan is aligned to the overall Husson University strategic plan and focused on the Husson University mission. We encourage humor and fun and celebrate our successes while enjoying what we do.