Wellness Center
Counseling Services
Husson Counseling Services (HCS) is dedicated to providing confidential support to all students in their pursuit of success. The counselors are committed to supporting students as they use their strengths and resources to develop the skills essential for improved mood, personal growth, relationships and academic success.
Sometimes we experience difficult moments. We may not be able to quite figure out how to proceed. We may think that there is no good solution, or we may feel 'stuck.' Here at HCS, staff provide an objective, supportive service in which students can better understand the sources of their problems and identify ways to solve them.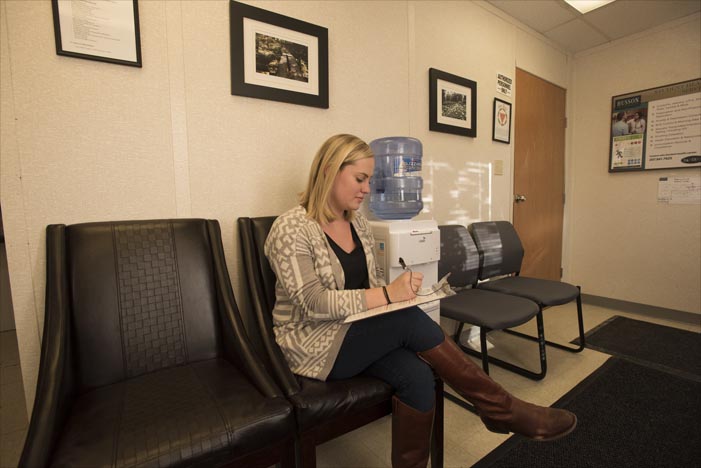 Husson Counseling Services understands the value of community and works with organizations, clubs, teams, faculty and residential groups to improve communication among members and to help groups work as a team in order to achieve optimum outcomes. In addition, Counseling Services can assist in the development of programs, presentations and workshops on a number of topics including: performance improvement, stress management, healthy lifestyles, relationships and conflict resolution, alcohol and substance abuse, diversity, sexuality and orientations/identification, violence, suicide and mood disorders.
All counseling services are free and confidential.
Counseling Services
Health Services
Husson Student Health Services (SHS) is dedicated to facilitating the academic success and retention of students by maintaining their maximum health and wellness through the delivery of quality medical care in a welcoming, confidential and professional environment.
If you are not feeling well, sustain an injury, have a medical concern or illness or need to talk or discuss a medical condition with a health care provider, please contact Student Health Services by calling 941-7625 or emailing us at: studenthealth@husson.edu.  We are here to assist you with your health care needs and our goal is your health.
Services:  Student Health Services provides:
Colds, flu, asthma, UTI's, strep tests, injuries
Prescription and Non-Prescription Medication
Anxiety and Depression consultation
Birth Control & Morning-After Pill
Sexually Transmitted Infection (STI) Testing, including HIV
Health Education & Resources
Immunization Records & Compliance
Health Services
Access:  Call or email to schedule an appointment.
Location: Wellness Learning Center, between O'Donnell Commons and the Gracie Theatre
Summer Hours: Monday-Friday 8 a.m. -  4 p.m. (subject to change). Services during the summer may be limited due to staffing coverage. 
General Hours: Monday – Friday 8:00 am - 4:00 pm
Scheduling Appointments: Please call 207-941-7625 and leave a voicemail or email the Wellness Center at studenthealth@husson.edu.
Our consultations are free and confidential; however, payment is required for some lab services and prescription medications either by billing your health insurance or charging your student account. If payment is a concern for you, we encourage you to speak with us.
Please note, all Husson students are required to have health insurance.  For information on the Husson student insurance plan, click here.
For more information about Student Health Services, please click here.
For more information
Name

Phone and Email
Address
Christanna Libby, LCPC
Director of Wellness

207.941.7684
libbychr@husson.edu
Wellness Learning Center
Husson University
1 College Circle
Bangor, Maine 04401
Abbie Burton, LCPC-c, NCC
Counselor

207.941.7184
burtonab@husson.edu
Wellness Learning Center
Husson University
1 College Circle
Bangor, Maine 04401
Maureen Conley
Administrative Assistant

207.941.7625
conleym@husson.edu
Wellness Learning Center
Husson University
1 College Circle
Bangor, Maine 04401
Abbie Cronkite, MSN, FNP-C
Family Nurse Practitioner

207.941.7625
cronkitea@husson.edu
Wellness Learning Center
Husson University
1 College Circle
Bangor, Maine 04401
Michelle Fern
Administrative Specialist

207.941.7107
fernmi@husson.edu
Student Life
Husson University
1 College Circle
Bangor, Maine 04401
Janice M. Gillen, LMSW-CC
Counselor

207.941.7631
gillenj@husson.edu
Wellness Learning Center
Husson University
1 College Circle
Bangor, Maine 04401
Amy Leblanc, RN
Nurse

207.941.7662
leblancam@husson.edu
Wellness Learning Center
Husson University
1 College Circle
Bangor, Maine 04401
Nichole Proulx-King, LMFT
Lead Counselor

207.941.7990
proulxkingn@husson.edu
Wellness Learning Center
Husson University
1 College Circle
Bangor, Maine 04401
Student Health Services


207.941.7625
studenthealth@husson.edu
Wellness Learning Center
Husson University
1 College Circle
Bangor, Maine 04401