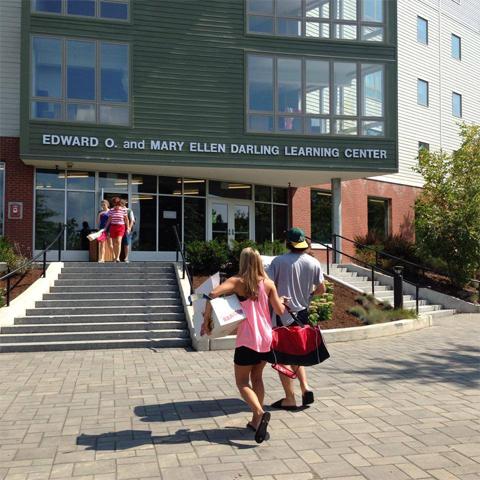 The Darling Learning Center (DLC) features classrooms on the first floor and four floors above that, offering suite-style living opportunities for students. These are gendered by suites, with four students living in the suite. Each suite contains two double bedrooms, a common area, sink and vanity area and a bathroom with a toilet and shower. The bedrooms contain two twin beds and mattresses, two dressers, two wardrobes, two study desks and two chairs. The common area comes equipped with three upholstered chairs that can be pushed together to make a couch or used separately and an ottoman that can be utilized in a similar manner. The bedrooms have a shade for the window and the common area has blinds. The bathroom comes with a shower curtain and towel rack. Two Resident Assistants live and work on each floor of the DLC, serving as a resource for the residents of the building.
The DLC has a TV room on the third floor, laundry facilities on the fourth and fifth floors, and lounges on each of the four residential floors. Mail is delivered right to the residence hall, and the mailboxes are in the second floor lounge along with vending machines for drinks and snacks. There is also trash and recycling rooms on each of the four residential floors.
The building is also LEED Gold Certified, which means it was built in a sustainable fashion to run more energy efficient. Learn more about all of the features that make the DLC a unique place to live on campus.
The building houses mixed year, upper-class students from all different majors. It is a more independent, private living option versus the traditional halls, providing a safe, quiet space to study, sleep, and connect with fellow students.
Click here for an interactive view: http://youvis.it/1rAce5
If you have any questions about the DLC or living in this community, feel free to reach out to us!
Closet
33" wide
21" length
6' tall
Desk
22 1/2" deep
41 1/2" length
30" tall
Chair (seat)
16 1/2" across 
19" back to front
Dressers 
29 1/2" across
23 1/2" back to front
Bed (including bed posts)
84" length 
38" width
Mattress
78" length 
36"s width
Space under bed
2'7"