Berlinda Wongli '22 is living proof that strength can be found in life's greatest struggles. Just 15 months after getting married, Wongli's husband died from cancer. Two years later, she gave birth to twin boys only to lose one of them days later because of kidney problems. Just two years after that, Wongli's mother died due to what she describes as a medication error.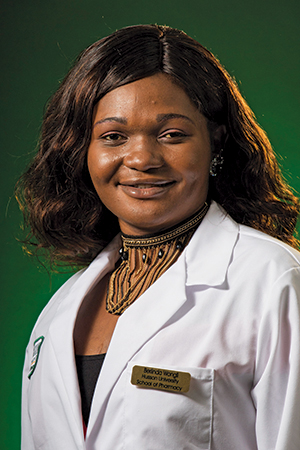 Those personal tragedies and more are what led Wongli to choose a career in the healthcare field. "I thought about becoming a nurse at first, but I discovered that I could not withstand the presence of blood or surgery," she says. Instead, Wongli decided to become a pharmacist. "Growing up [in Cameroon, Central Africa], I watched my mom use herbs to cure most of our illnesses," says Wongli. "Our family was poor so we couldn't afford to pay for medication. I learned a lot from watching her use herbs to cure us."
Wongli came to America in 2010 after winning the U.S. Diversity Visa Lottery. "I was able to work and save enough money to send my six siblings to school," she says proudly. After they graduated, Wongli decided it was her turn to obtain a degree.
"I have always had a passion for helping people," she says. "Showing compassion to people struggling with illness always puts a smile on my face. I have always wanted to learn more about medication and how it interacts with our body." Wongli started at a community college in Maryland where she lived. "It was too large for me," she says. "I needed a small class size to help me focus more and interact with my classmates." She found that at Husson University. A school scholarship and the opportunity to enroll in the dual PharmD/MBA program have all given Wongli the positive push to keep going, no matter what hurdles life puts in her way.
"My class is like one small family," she says. "I can proudly say I have been able to keep up my grades in most courses due to study groups. We help each other succeed. Also, I have never walked into a professor's office and not come out with my problem unsolved. I could not have wished for more."
After attending a career fair at Husson, Wongli secured a position at CVS Pharmacy in Minnesota, where she is currently employed. She hopes to continue at CVS, taking advantage of opportunities for advancement.