MMG Insurance and Husson University Sign Agreement
Published on: June 21, 2023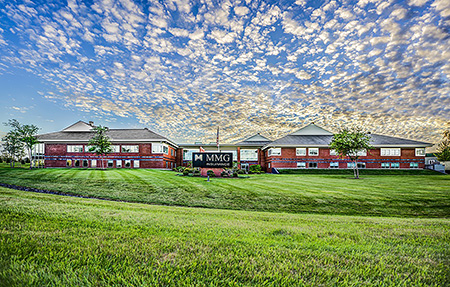 BANGOR, MAINE – June 21, 2023 – MMG Insurance in Presque Isle, Maine and Husson University announced today that they have signed an agreement to provide all of the employees of MMG Insurance who enroll in any of the University's Certificate, Bachelor of Science and Master of Business Administration (MBA) programs, with a tuition discount. In addition, those who complete MMG's Emerging Leaders Program can now receive college credit at Husson University.
"MMG Insurance is continually working to enhance our employee benefits," said Dave McPherson, chief operating officer (COO) at MMG Insurance. "Our corporate partnership with Husson creates an additional path to access education for our team members, which ultimately provides additional personal development to help them grow in their roles and in the company. We want our employees to have the tools and support they need to reach their goals, and programs like this are a key component of that."
In addition to the certificate and undergraduate degree programs, the corporate partnership rate can be applied by any MMG employee looking to earn Husson's traditional Master of Business Administration (MBA) degree with a general/corporate focus. Employees can also pursue Husson MBA programs with concentrations in business analytics, organizational management, and risk management.
Any MMG employees who have completed bachelor's degrees, from recognized, accredited institutions, are eligible to enroll in Husson's MBA programs. This includes individuals who have completed bachelor's degrees in disciplines other than business. To assist these employees, Husson will offer a leveling course or courses that can be taken online. This will provide these students with the background business education they'll need to successfully complete their MBA studies.
In addition, any MMG Insurance employees who have completed courses at another accredited college or university are welcome to apply for transfer credit. Individuals interested in learning more about transfer credits should contact Husson University Admissions by calling them at 207.941.7000 or emailing them at admit@husson.edu. They are happy to answer any questions individuals may have about the credit transfer and admissions processes.
"Husson University is the home of Maine's largest College of Business. We produce more MBA graduates than any other business school in Maine," said Dr. Marie Hansen, JD, SHRM-SCP, dean of the College of Business. "We're a valued partner to the state's business community. In addition to MMG Insurance, we have supported higher education initiatives with such notable business firms as L.L.Bean, The Jackson Laboratory, Bangor Savings Bank, and many others."
"With over a century of experience in business education, we can provide students with the knowledge they need to achieve career success," continued Hansen. "Students can have confidence that they're getting a high-quality education at an affordable price from faculty who are experienced in a variety of business-related fields. That's what makes Husson University the smart choice for business education."  
"At Husson, we understand how a highly skilled workforce can positively impact an organization's productivity, profitability, and customers," said Dr. Lynne Coy-Ogan, the University's senior vice president for academic affairs and provost. "We look forward to partnering with MMG Insurance as this world-class insurance company strengthens their workforce through ongoing education."
MMG Insurance Company, headquartered in Presque Isle, Maine, is a regional property and casualty insurance company with operations in Maine, New Hampshire, Vermont, Pennsylvania, and Virginia. With roots dating back to 1897 and a history rich in growth, MMG has earned consistent regional and national recognition for superior service, ease of doing business, and as a best place to work. This year marks MMG's 126th anniversary in business. Today, the Company writes in excess of $246 million in premiums in partnership with more than 220 independent agencies across more than 580 locations. For more information, visit www.mmgins.com.
Offering an array of undergraduate degrees, graduate degrees and certificates that can be taken on campus, on site or online, the College of Business at Husson University is dedicated to providing students with an education that leads to career success, regardless of whether they choose to work in the public sector; the private and corporate sector; or for non-profit organizations. Courses in the College of Business offer students the opportunity for experiences where they "learn by doing."  For more information about Husson University's College of Business visit https://www.husson.edu/college-of-business/.
For nearly 125 years, Husson University has shown its adaptability and strength in delivering educational programs that prepare future leaders to handle the challenges of tomorrow through innovative undergraduate and graduate degrees. With a commitment to delivering affordable classroom, online and experiential learning opportunities, Husson University has come to represent a superior value in higher education. The hallmarks of a Husson education include advanced knowledge delivered through quality educational programs in business; health and education; pharmacy studies; science and humanities; as well as communication. According to an analysis of tuition and fees by U.S. News & World Report, Husson University is one of the most affordable private colleges in New England. For more information about educational opportunities that can lead to personal and professional success, visit Husson.edu.
Back to All Articles