The Master of Business Administration (MBA) Program reflects Husson's belief that a good education is more than a matter of theory and books. Our graduate program is designed to develop and strengthen your skills in analysis, decision making and leadership. Active classrooms, courses tied closely to actual management experience, and a diverse student body representing various academic and industry backgrounds contribute to a fuller, more useful education. Our program is distinguished by the following: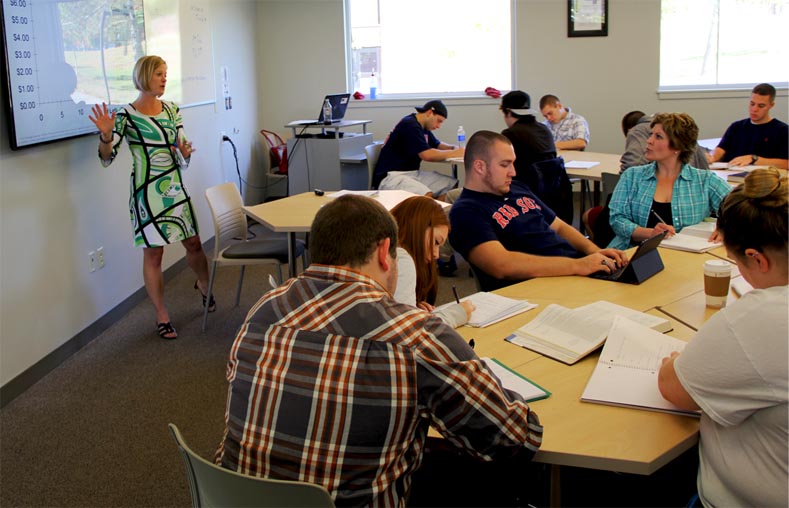 Build Essential Management Skills
The MBA Program is a 36-credit graduate management curriculum designed to develop and strengthen skills in analysis, decision-making, and implementation. The program balances strengths in the traditional areas of accounting, finance, operations, and marketing with careful attention to the development of skills in communication, interpersonal relations, and leadership essential to effective performance in organizations.
Students from a Variety of Backgrounds
In the MBA Program, there are no undergraduate prerequisites to graduate-level course work. Working professionals with bachelor's degrees from a wide range of fields find the program well suited for continuing professional development.
Convenient and Flexible
Our programs are designed around you, with convenient online and evening course options that allow you to balance work and home life while you earn your MBA. The part-time student can complete the program in two years without career interruption. The program is offered on the Husson campus in Bangor, at the University's Northern Maine location, online, and at selected other off-campus locations.
6 Optional Concentrations to Match Your Interest.
Through our MBA program, you'll build a foundation, strengthening your leadership, communication and critical thinking skills, and acquiring knowledge that can be applied to almost any industry. Want to dive deep into a particular field? Tailor your degree to meet your career goals by choosing an optional concentration. Along with your MBA foundation, you'll receive an in-depth education in your field of choice, gaining a more targeted management experience.
A Husson MBA with a concentration can give you a head start in your chosen career, help you change careers, or enable you to become even more marketable in your current industry. 
Explore our concentration options
Experience the Husson Advantage
No GMAT or GRE required
On campus, online or a combination that works for you
Flexibility to fit your life, with evening and online courses
Faculty with real-world experience
Individualized attention from our faculty
Cost-effective tuition for a higher return on investment
For more information
Name

Phone and Email
Address
Stephanie Shayne, EdD, MBA
Director for the School of Business and Management, Director of Graduate Programs, Assistant Professor

207.404.5632
shaynes@husson.edu
122 Harold Alfond Hall
Husson University
1 College Circle
Bangor, Maine 04401