DAISY Awards Recognize Nursing Student and Faculty Excellence at Husson University
Published on: May 4, 2022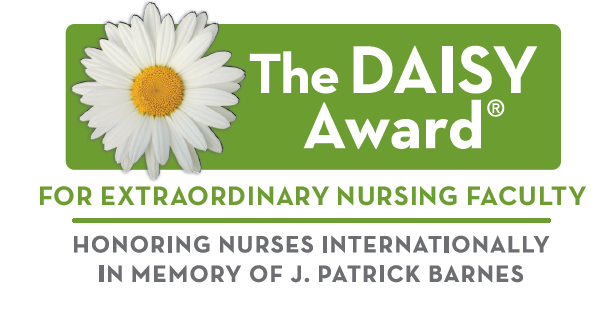 BANGOR, MAINE – Husson University's School of Nursing announced today that it will be holding its 2022 DAISY Awards for Faculty and Students event on Thursday, May 5, 2022 from 2 – 3:15 p.m. in Peabody Hall's Kominsky Auditorium on Husson University's campus in Bangor. The DAISY Awards are part of a national recognition program. Nominations are accepted from faculty, students, peers, clinical partners or university members. The complete list of this year's award honorees will be announced next week. 
The DAISY Foundation created this awards program to recognize and celebrate nursing students who demonstrate a commitment to compassionate care.[1] The goal of the foundation is to encourage and reward students who treat patients with kindness – an essential part of the healthcare experience.[2] By rewarding kindness, this awards program hopes to inspire and motivate students to provide the best clinical care possible as working professionals.[3] 
"Husson University nursing students are among some of the best in the state," said Dr. Valerie Sauda, chief nurse administrator, director of the undergraduate nursing program and associate professor at Husson University. "Beyond being knowledgeable in the technical aspects of delivering care, Husson nursing students are trained to treat others with dignity, respect and compassion. Our program's emphasis on interprofessional education and holistic patient care makes Husson nurses exceptional." 
Husson University's School of Nursing faculty members are also eligible to receive awards from the DAISY Foundation. The faculty awards honor nursing educators who inspire students to go beyond performing tasks and mastering technology when delivering patient care. Faculty members who help ensure that the art as well as the science of nursing are brought to every patient experience are selected to receive DAISY Awards.
More about the DAISY Awards:
In late 1999, at the age of 33, Patrick Barnes woke up with some blood blisters in his mouth. A visit to the doctor revealed he had a dangerously low platelet count and he was admitted to the hospital.[4] The diagnosis was the auto-immune disease ITP (Idiopathic Thrombocytopenic Purpura).[5] Eight weeks later, he was dead.[6]
Bonnie and Mark Barnes, Patrick's father and stepmother created The DAISY Foundation™ and The DAISY Award® for Extraordinary Nurses in their son's honor.[7] They wanted to give patients, families and co-workers an easy way to express their gratitude for nurses who provide compassionate care.[8] Today, The DAISY Award is regarded as a strategic tool for nurse recruitment, retention and resilience.[9] It has been adopted by healthcare facilities across the continuum of care all over the United States and beyond.[10]
More about Husson University and the School of Nursing:
Husson University's School of Nursing provides the advanced knowledge students need to become caring professionals dedicated to meeting the health needs of all people. Graduates help patients achieve their maximum health potential. Nurses comprise the largest component of the expanding healthcare sector[11]. Career opportunities are available for individuals who seek one-on-one relationships with patients or executive positions in the health industry. This includes nurses in every specialty, including mental health and primary care.
Students can choose to enroll in undergraduate or graduate nursing programs. The undergraduate program is a four-year Bachelor of Science in Nursing (BSN) degree that's available on campus. The University also offers a Master of Science in Nursing (MSN) degree program online or on campus with a choice of four specializations. These specializations include the Adult Gerontology Acute Care Nurse Practitioner (AGAC-NP) program, Family Nurse Practitioner (FNP) program, and the Psychiatric Mental Health Nurse Practitioner (PMHNP) program. There's also a Post-Graduate Advanced Practice Registered Nurse (APRN) Certificate program.
The School of Nursing is just one of several schools that are a part of Husson University's College of Health and Pharmacy. Others include the School of Physical Therapy, the School of Occupational Therapy and the School of Pharmacy.
The facilities at Husson University include a state-of-the-art nursing simulation learning center with lifelike manikins that give aspiring nurses the opportunity to practice their skills, a cadaver dissection lab, excellent library resources and wireless computer access.
For more than 120 years,
Husson University
has shown its adaptability and strength in delivering educational programs that prepare future leaders to handle the challenges of tomorrow through innovative undergraduate and graduate degrees. With a commitment to delivering affordable classroom, online and experiential learning opportunities, Husson University has come to represent a superior value in higher education. The hallmarks of a Husson education include advanced knowledge delivered through quality educational programs. According to a recent analysis of tuition and fees by
U.S. News & World Report
, Husson University is one of the most affordable private colleges in New England. For more information about educational opportunities that can lead to personal and professional success, visit
Husson.edu
.
[1] The DAISY Foundation, "About The DAISY Award for Extraordinary Nursing Students," https://www.DAISYfoundation.org/student-faculty-awards/why-DAISY-training-award#, Accessed 5/3/22.
[2] Ibid
[3] Ibid
[4] The DAISY Foundation, "About DAISY" https://www.DAISYfoundation.org/about, Accessed 5/3/22
[5] Ibid
[6] Ibid
[7] Ibid
[8] Ibid
[9] Ibid
[10] Ibid
[11] American Association of Colleges of Nursing, Nursing Fact Sheet, https://www.aacnnursing.org/News-Information/Fact-Sheets/Nursing-Fact-Sheet, Accessed 5/3/22
Back to All Articles