The Best of Husson University Student Art, Photography, and Graphic Design to be on Display at Hart Open Studio Event
Published on: March 29, 2019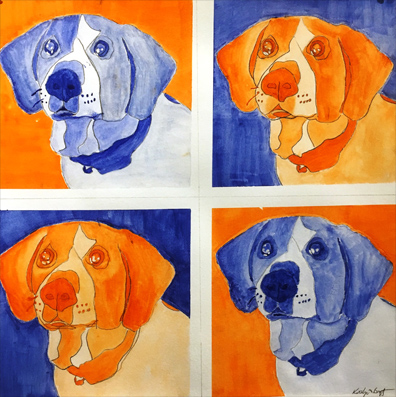 BANGOR, MAINE -  Husson University announced today that it will be showcasing the creative talents of students on May 7, 2018 from 12 p.m. to 6 p.m. on their Bangor campus. The exhibition is free and open to the public.
The Hart Open Studio event is an exhibition of student work that takes place each year in the basement of Hart Hall at the end of the spring semester. A wide variety of creative mediums will be represented as part of this exhibition. Paintings, photography, drawings, pastels, mixed media, graphic design, printmaking, sculpture, entertainment production portfolios and more will be on display.
Kathi J. Smith, the Robert E. White Gallery coordinator and an assistant professor of art at Husson University, organized the current exhibition in Hart Studio. According to Smith, "The instructors in arts-based courses here at Husson University choose the work included in this show. The selected creative expressions demonstrate the technical quality and creative excellence our students bring to their assignments and projects." 
"It isn't easy to exhibit something you've created. Sometimes these works reveal our students' inner-most thoughts and feelings. Having that on display can make some student artists feel self-conscious," continued Smith. "By the conclusion of the exhibition, however, most students find that they've gained personal confidence. Helping our students feel confident in their abilities to express themselves can be enormously beneficial regardless of the career fields they choose to pursue after graduation." 
The exemplary student artwork featured in this show was created in courses offered by Husson University's College of Science and Humanities and Husson's New England School of Communications.
These courses included: CT338 Camera in Motion; CT 345 Photography II; EP 221, CAD/3-D Visualization; EP 448 Final Portfolio; FA 101 Art & Human Experience; FA 110/CT 245 Photography; FA 120 Drawing 1; FA 125 Art for Children; FA 205 Painting 1; FA 210 Pastel Painting; FA 299 Integrated Arts; IT 299/EP 299 Intro to Game Engines; MC 245 Graphic Design; and MC 335 Graphic Design.
In addition, selections from Husson University's Art & Design Club will be on display. Light refreshments will be provided.
While on campus, visitors can also view an exhibition of Anne Alexander's sculptures at Husson University's Robert E. While Gallery. Alexander was a visiting artist during the spring semester. Her exhibition, "Seed", will be on display through May 13. The Robert E. White Gallery is open Monday through Friday from 8:30 a.m. to 4:30 p.m. Alexander's exhibition is also free and open to the public.
More about Kathi Smith
Assistant Professor Smith joined Husson University in 2014 and has over 15 years of art education experience. She holds a Bachelor of Fine Arts in painting and drawing, with a minor in art history from the University of Southern Maine. Smith also has a Master of Fine Arts in painting from the University of New Hampshire.
Prior to joining Husson University, Smith taught at Plymouth State University where she received their Distinguished Teaching Lecturer Award. Over the past four years, she has participated in many regional and national exhibitions, and five prestigious residencies. She received a full fellowship supported by the Joan Mitchell Foundation to attend the Vermont Studio Center and has been a fellow and artist-in-residence at the Virginia Center for the Creative Arts, Weir Farm National Historic Site in Connecticut, and the Heliker-LaHotan Foundation in Maine. In the summer of 2014, she participated in a seven-week artist-in-residency program in Brittany, France, sponsored by Maryland Institute College of Art. The July 2013 edition of Artscope Magazine ran a feature on her called "Kathi Smith's New England." 
She exhibits her work regularly in Maine, New York, and New Hampshire and maintains a working studio in Bangor, Maine. Smith practices primarily in the arena of painting and drawing, though she also worked in ceramics, printmaking, and other mediums.
"We are delighted to share these select student artworks with the Husson University community," concluded Smith. "They represent the finest examples of student work from our various creative disciplines."
About Husson University
For more than 120 years, Husson University has prepared future leaders to handle the challenges of tomorrow through innovative undergraduate and graduate degrees. With a commitment to delivering affordable classroom, online and experiential learning opportunities, Husson University has come to represent superior value in higher education. Our Bangor campus and off-campus satellite education centers in Southern Maine, Wells, and Northern Maine provide advanced knowledge in business; health and education; pharmacy studies; science and humanities; as well as communication. In addition, Husson University has a robust adult learning program. According to a recent tuition and fee analysis by U.S. News & World Report, Husson University is the most affordable private college in New England. For more information about educational opportunities that can lead to personal and professional success, visit Husson.edu.
Back to All Articles