A Feast for the Eyes and Ears at Husson University
Published on: February 21, 2019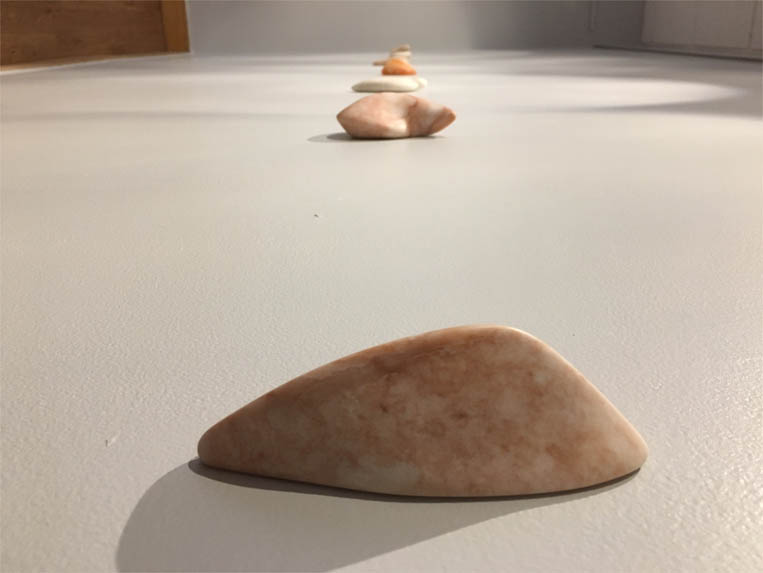 BANGOR, MAINE - Husson announced today that sculptures created by the celebrated South Windham, Maine artist Anne Alexander, will be on display from now until May 12, 2019 at Husson University's Robert E. White Gallery in Peabody Hall on its Bangor, Maine campus.
Those interested in seeing this exhibition and learning more about the artist should make it a point to visit the gallery on Thursday, February 21, 2019 from 4 p.m. – 5:30 p.m. for an "Evening of Art and Music." The event will kick off at 4:00 p.m. with an artist talk by Alexander where she'll share her thoughts about her work.
Alexander draws inspiration for her work from nature. In a 2007 interview with Eliza Graumlich of the Maine Farmland Trust Joseph A. Fiore Artist in Residency program, Alexander said, "You know how, when you walk in the woods, you sometimes feel very small? Hopefully after seeing my work [people] might look at a tree branch in a different way, or look at a tiny little plant pod and imagine it on a larger scale."  
"Like the human body, nature has life stages and growth cycles," continued Alexander. "After viewing my sculpture, I want people to feel closer to the natural world and see the environment in a new way. If one comes away with an enhanced sense of scale and our place within the natural world, then my art will have served its purpose."
Alexander's pieces are carved out of clay, wood and stone, including alabaster and soapstone. Her expressions strive to please the senses as they touch people on an emotional level.
Immediately following the artist talk, there will be a performance of chamber music on the lower level of Husson University's G. Peirce Webber Campus Center near the piano. A trio of classical musicians will perform the music of Arnold, Hue, Ravel and Saint-Saens. Musical artists include Krista Kwon on the flute, Clifton Guthrie on the clarinet and Patricia Stowell on the piano. 
In addition to playing the clarinet, Dr. Clifton Guthrie is a professor in Husson University's College of Science and Humanities and the chair of humanities. He oversees all of the humanities-related curricula. Krista Kwon is a Husson University instructor who teaches music appreciation courses. She also teaches "Piano and Keyboard Basics," as well as "Intermediate Piano" at the University. Patricia Stowell is a highly-regarded regional concert pianist.
An artist's reception will also begin immediately after Alexander's talk so attendees can enjoy some light refreshments along with the art and music. The event is free and open to the public.
From February 19 – 21, 2019, Alexander will be at Husson University's Bangor campus participating in the visiting artist program. This initiative invites artists into the classroom to engage students in opportunities for experiential learning.
More About Anne Alexander:
Anne Alexander lives and makes sculpture in the small, historical village of South Windham, Maine on the Presumpscot River. Her work ranges from small hand-held pieces, shown in galleries, to human size pieces, which are displayed in outdoor site sculpture shows. She works in materials that come from the earth; clay, wood, and stone. Her imagery is derived from small biological specimens. 
Alexander has attended art residencies at Brush Creek, Wyoming; the Virginia Center for Creative Arts in Virginia and France; the Vermont Studio Center; and Altos-de Chavon in The Dominican Republic. She has received two Pollack-Krasner Foundation Grants, two Good Idea Grants from the Maine Arts Commission, and a Fulbright Senior Scholar Grant to study the art of the Taino Indians in the Dominican Republic. Here in Maine, Alexander has had several solo exhibits of her sculpture at The Caldbeck Gallery in Rockland. She also has work on display at The Yarmouth Frame Gallery and exhibits her exterior works at June LaCombe's sculpture shows.
To learn more about Alexander and her work, visit https://annealexandersculptor.com/Site/Welcome.html
About the Robert E. White Gallery at Husson University
Artists with connections to Maine who work in every possible medium including watercolors, oil paintings, pastels, sculptures, acrylics, photographs and etchings, are featured at the Robert E. White Gallery. 
With a new show approximately every eight weeks, the gallery provides students with a glimpse into how New England artists express themselves, giving them added insight into the place where they've chosen to go to school. The gallery was established in 1992 and named for, and endowed by, Husson alumni and former Board of Trustees Chair Robert E. White '65.
The Robert E. White Gallery is free and open to the public, Monday through Friday, from 8:30 a.m. to 4:30 p.m. It is located in Peabody Hall on the campus of Husson University at One College Circle, Bangor, Maine. For additional information, contact Gallery Director Kathi Smith by phone 207-941-7004 or by email at smithk@husson.edu.
For more than 120 years, Husson University has prepared future leaders to handle the challenges of tomorrow through innovative undergraduate and graduate degrees. With a commitment to delivering affordable classroom, online and experiential learning opportunities, Husson University has come to represent superior value in higher education. Our Bangor campus and off-campus satellite education centers in Southern Maine, Wells, and Northern Maine provide advanced knowledge in business; health and education; pharmacy studies; science and humanities; as well as communication. In addition, Husson University has a robust adult learning program. According to a recent analysis by U.S. News & World Report, Husson University is the most affordable private college in New England. For more information about educational opportunities that can lead to personal and professional success, visit Husson.edu. 
Back to All Articles