Husson Criminal Justice/Psychology Student Puts Herself Through College and Gets Accepted to Law School
Published on: January 15, 2019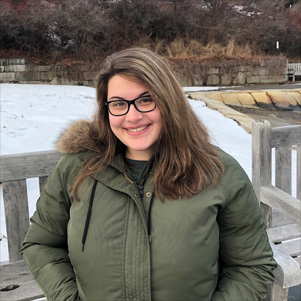 Hannah Holte, Criminal Justice Class of 2019
BANGOR, MAINE - Many families in the United States struggle to make ends meet. A 2017 survey by CareerBuilder found that 78 percent of workers are living paycheck-to-paycheck. Despite the financial challenges, one Husson University student was able to find the resources necessary to pay for her undergraduate degree and get accepted to law school.
"I'm the first generation in my family to go to college so I had to learn about the financial aid process on my own," said Hannah Holte, a Husson University Class of 2019 student pursuing a Bachelor of Science in criminal justice. "My parents didn't have the financial means to help pay for college – not even with books. When I started this journey, I had no idea how I was going to be able to pay for my education. When I reached out to Husson, they made the process simple. I talk to the financial aid counselors all the time, just to make sure I'm staying on top of everything. They're always extremely helpful and willing to answer my questions."
"Fortunately for me, Husson is affordable and they gave me a really good financial aid package, which I'm extremely grateful for."
Holte's personal story shows that a person from a humble background can still find success through hard work and determination here in the U.S. Her grandparents, on her mother's side of the family, came to the United States from Germany and overstayed their visas. That made Holte's mother an illegal alien from when she was 13 until she was 23 years old. At 23, she became a U.S. citizen like Holte's dad, who was already a U.S. citizen.
Holte's mother had to drop out of high school her sophomore year and get a job to help support the family. When Holte was in high school, her mom went back and earned her GED.
Even though the family was of modest financial means, Holte dreamed of going to college. "For a long time, I wanted to be a psychologist. There was one teacher at Camden Hills Regional High School in Rockport who really inspired me. He motivated me to apply and get accepted to Husson." 
"When I came to Husson, I started taking a variety of classes and realized that I also had a passion for criminal justice," continued Holte. "I decided to add some criminal justice classes to my course of study and switched majors to Husson's criminal justice/psychology program where you can earn two bachelor's degrees in just five years."
"I enjoyed the classes in police operations, criminology and criminal law. They gave me a well-rounded understanding of why people commit crimes, the legal system and how it operates." 
To pursue her passion, Holte applied to law schools. While she's still waiting to hear back from some of her schools, she has already been accepted by four. Some of them are offering financial-aid packages that will pay for most or all of her tuition.
Holte isn't sure what kind of law she'll pursue after law school. She's currently involved in an internship with a family law firm. "The attorney I work for takes me to court where I get to watch divorces and custody issues get resolved. While I hadn't previously considered family law, it's definitely on my radar. It's a type of law where you can help people in high stress situations. I'm also interested in criminal law and immigration law. Helping people who are seeking asylum and U.S. citizenship would also be interesting. I care about social justice and I want to help people who have been treated unfairly."
Looking back on her college experience, Holte feels that she made the right choice by going to Husson. "The professors here teach from a place of experience and knowledge, rather than just research and education. The criminal justice faculty have first-hand experience that they bring to the classroom. I find that to be really valuable."
"Affordability is also important," said Holte. According to a recent analysis of tuition and fees by U.S. News & World Report, Husson University is the least expensive private college in New England.
Holte's academic accomplishments have had a positive impact on her family. "My ability to get an undergraduate college education changed the goals my mom and my brother set for themselves," she said. "My mom is planning on signing up for a phlebotomy course at a community college, just because she's interested in the medical field. Who knows? This could be the beginning of a whole new career for her."
According to Holte, first generation college students should consider applying to Husson University. "You'll never be able to fall through the cracks, even if you tried. The professors are all invested in your success. If they see you're having a bad day, they'll say things like 'I just wanted to check in and make sure you are doing OK' or ask 'Is there anything I can help with?' At bigger schools, you might be in lectures with hundreds and hundreds of people and you won't necessarily get that. In contrast, the professors at Husson take the time to help you succeed as a student and as a person in the world. It's a good thing." 
For more than 100 years, Husson University has prepared future leaders to handle the challenges of tomorrow through innovative undergraduate and graduate degrees. With a commitment to delivering affordable classroom, online and experiential learning opportunities, Husson University has come to represent superior value in higher education. Our Bangor campus and off-campus satellite education centers in Southern Maine, Wells, and Northern Maine provide advanced knowledge in business; health and education; pharmacy studies; science and humanities; as well as communication. In addition, Husson University has a robust adult learning program. According to a recent analysis by U.S. News & World Report, Husson University is the most affordable private college in New England. For more information about educational opportunities that can lead to personal and professional success, visit Husson.edu.
Back to All Articles