Husson and EMCC Held Signing Ceremony for Most Comprehensive Transfer Credit Agreements in the History of the Schools
Published on: December 28, 2018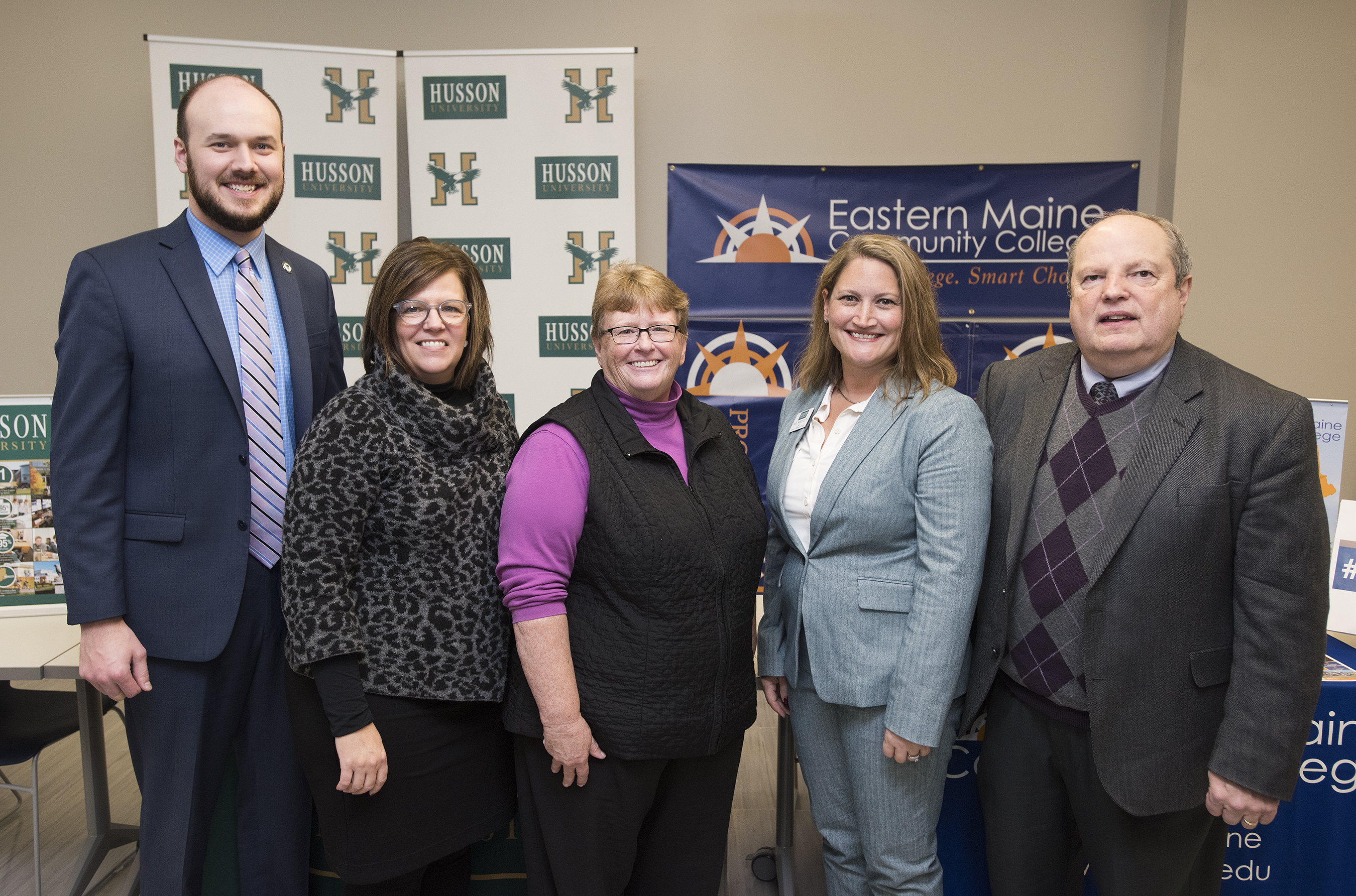 Bangor, Maine - Husson University and Eastern Maine Community College (EMCC) entered into a series of agreements that will create a smooth process for the transfer of credits from EMCC to Husson. The signing ceremony, representing the culmination of the agreement process, took place on Friday, December 28, 2018 at 2 p.m. in EMCC's Public Safety Training Center on the EMCC campus at 354 Hogan Road, Bangor, Maine.
The agreements provided students from EMCC with a side-by-side analysis of how their associate degree credits will transfer to Husson University's bachelor's degree programs.
"These new agreements between EMCC and Husson University will help students who want to continue their education beyond the associate degree level," said Husson University President Robert A. Clark, Ph.D., CFA. "Giving students the opportunity to create a long-term course selection plan could help them save money by eliminating unrelated coursework. In addition, a more seamless credit transfer process will make enrolling at Husson faster and more convenient for EMCC associate degree graduates."
"Eastern Maine Community College is so proud to be able to expand our articulation agreement with Husson University. This type of cooperation between institutions is so valuable for our students, as they are able to continue their educational aspirations beyond a two-year degree," Eastern Maine Community College President Lisa Larson Ed.D. said ahead of the much anticipated signing. "Creating these pathways for students, who find a program they are passionate about, is vital for their long-term success."
The agreements spell out which EMMC associate degree credits can be applied to specific Husson University bachelor's degree programs. Twenty-three transfer combinations are covered by these agreements.
In addition to Dr. Clark and Dr. Larson, other individuals participating in the signing ceremony were:
Marie Hansen, JD, PhD, dean of Husson University's College of Business and New England School of Communications (NESCom)
Adam Smith, director of undergraduate admissions, Husson University
Elizabeth Russel, vice president of academic affairs, EMMC 
Eastern Maine Community College (EMCC) is a two-year college specializing in technical, career and transfer education. Students feel comfortable and at home in this environment in which personal attention is given to each of the 2,550 students enrolled in programs or taking courses. EMCC's focus is associate degrees that prepare students for professional employment in highly technical fields. The associate degree in Liberal Studies and most other EMCC programs may be transferred to many of Maine's four-year colleges and universities toward completion of a bachelor's degree. For more information visit www.emcc.edu
For more than 100 years, Husson University has prepared future leaders to handle the challenges of tomorrow through innovative undergraduate and graduate degrees. With a commitment to delivering affordable classroom, online and experiential learning opportunities, Husson University has come to represent superior value in higher education. The Bangor campus and satellite education centers in Southern Maine, Wells and Northern Maine provide advanced knowledge in business; health and education; pharmacy studies; science and humanities; as well as communication. In addition, Husson University has a robust adult learning program.  For more information visit www.Husson.edu. 
Back to All Articles