Husson University Online MBA Provides Texas Pharmacist with Opportunities for Growth
Published on: October 24, 2018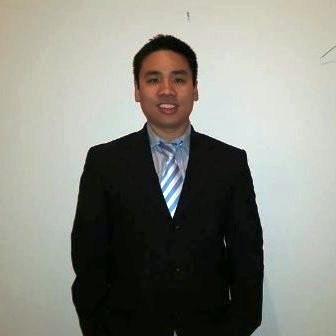 BANGOR, MAINE - When Tri Cao, a pharmacist at Walgreens in Sugarland, Texas, was growing up in Vietnam, he had concerns about his future. "The education system in Vietnam was very isolated. You couldn't really experience life outside of what they were teaching you," said Cao.
In an effort to change his life circumstances, Cao made the decision to move to America. When he was 16 years old, he moved to New Hampshire. It wasn't until three years later, when he was a sophomore in college, that he was reunited with his family. "Going to high school in New Hampshire was pretty challenging. At the time, I didn't really speak a lot of English. Despite that, I worked hard, learned the language, became fluent in English, and made something of myself," he said. 
When Cao was in high school, he never really thought about becoming a pharmacist. "Since I was more interested in math and science, I thought I would be an engineer. Eventually, I found out that pharmacy is a great field. It involves a lot of patient interaction. I also found out I could make a big difference in the health of people by monitoring and helping them manage their medication regimens. I went to college to become a pharmacist and just fell in love with the profession." 
Cao has been a pharmacist for over seven years and loves his job. Coming to America was the right decision for him. In December of 2012, took his oath of citizenship and became a U.S. citizen. "I am thankful for the opportunities I've been given in America and could not be prouder to be a U.S citizen." While Cao was happy in his work, and life was much better, he still felt he was capable of more.
In an effort to expand his horizons, Cao enrolled in Husson University's online Master of Business Administration (MBA) program. "I thought that an MBA could give me more insight into the business side of things. I wanted to know more about managing people, leadership skills and financial concepts." 
Cao explained why he chose Husson. "There are two main reasons why I enrolled in the MBA program at Husson University. The first reason is that Husson's MBA program is focused on people and leadership. I believe that's something that's missing at lots of companies right now. Too many people are solely focused on profit and driving numbers when they should also be focused on their most important asset; their employee team members. Husson focuses a lot on teams and I think that's very important." 
"The second reason is that Husson's online program has a lot of flexibility. I did everything online. It's essential for working professionals. In my job, I didn't actually have a fixed schedule. Many people who work in healthcare are on call or have to travel all the time. You can't always get to a classroom on a specific day. Being able to take my courses online gave me more opportunity to learn at my own pace and fit my education into my schedule. Husson's online courses also allowed me to work from anywhere, at my own pace."
Completing an MBA at Husson University is changing Cao's life. "The most valuable part of the MBA program for me was the section on people and leadership skills. Today, I use the skills I learned to delegate tasks to managers and my staff at the pharmacy. I better understand how to communicate at a level my staff can understand. This helps me explain what we have to try and what we have to push for in order to achieve company objectives."
While Cao gets a lot of job satisfaction being a pharmacist at Walgreens, he also has his sights set on expanding his horizons. "I have two main goals in my career right now. I want to continue working in a pharmacy and I also want to become a real estate investor. My MBA knowledge is helping me make smart real estate investments. The local real estate market was one of the reasons why I moved to the Houston area. There are lots of good opportunities in this area to move forward. Right now, I'm mainly focused on the buying single homes. At some point, however, I'd like to start investing in commercial properties." 
Even though Cao lives in Texas and studied online, he feels a sense of connection to Husson University and sees himself visiting the Bangor, Maine campus for reunions and Homecoming. "There were quite a diverse group of students from different professions at businesses all over the country. Some were businessmen who were already doing pretty well. Even though they were successful, they said they still got a lot out of the program."
"The students were people like me." continued Cao. "We connected through the projects, through chat rooms and things like that. I would enjoy coming back to Husson and reconnecting with those students."
Cao has become a role model for his younger brother. "The person I think that I've influenced the most is my brother. He graduated from Husson last year with a doctorate in pharmacy and is interested in following in my footsteps. I'm not pressuring him. That's what he wants to do - work as a pharmacist, save his money and then go into real estate with me. Our parents are pretty proud of what we've achieved."
For more information about Husson University's online MBA program, visit https://online.husson.edu/.
For more than 100 years, Husson University has prepared future leaders to handle the challenges of tomorrow through innovative undergraduate and graduate degrees. With a commitment to delivering affordable classroom, online and experiential learning opportunities, Husson University has come to represent superior value in higher education. Our Bangor campus and off-campus satellite education centers in Southern Maine, Wells, and Northern Maine provide advanced knowledge in business; health and education; pharmacy studies; science and humanities; as well as communication. In addition, Husson University has a robust adult learning program. According to a recent analysis by U.S. News & World Report, Husson University is the most affordable private college in New England. For more information about educational opportunities that can lead to personal and professional success, visit Husson.edu.
Back to All Articles