Husson University's Gracie Theatre to Host Acqua Alta
Published on: January 18, 2018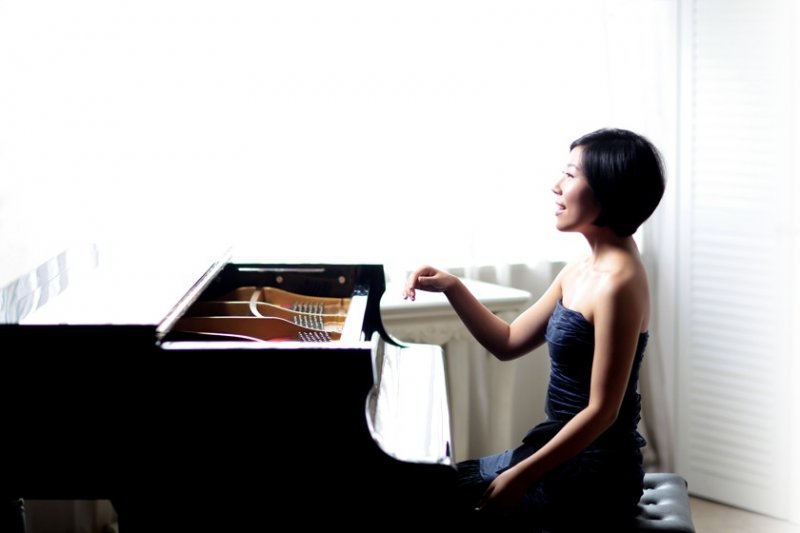 BANGOR, MAINE - Pianist Jenny Q Chai brings a blend of contemporary and classical music with a message to Husson University's Gracie Theatre on Thursday, February 1, 2018 with an abbreviated hour-long concert at 1:00 p.m. and the full-length program at 7:00 p.m.
"Ms. Chai titled this multimedia program, 'Acqua Alta,' which is Italian for 'high water,' said Jeri Misler, managing director of the Gracie Theatre. "It's a mix of old and new works that focuses on global warming and its effects on the Earth's oceans."
"The performance also includes sound and video installations based on global warming data curated by NASA Jet Propulsion Laboratory scientist Dr. Ian Fenty." continued Misler. "We've invited Dr. Fenty to open each of the programs. We've honored to have this accomplished scientist on the Husson campus."
Along with the climate data, Ms. Chai projects digital paintings by artist Relja Penezic, all of which are related to water.
Piano selections feature works by acclaimed classical and contemporary musicians. These include: Claude Debussy's "La cathédrale engloutie," Franz Liszt's "La lugubre gondola," Orlando Gibbons' 1613 composition "Allemande (Italian Ground)," Marco Stroppa's "Ninnananna" from "Miniature Estrose," Victoria Jordanova's "Loveling," Milica Paranosic's "Bubble (in trouble)," György Kurtág's "Shadow-play" and a selection from György Ligeti's "Musica Ricercata."
Two additional piano selections were commissioned specifically for this program. They are Theodore Wiprud's "Face of the Deep," and Cole Ingraham's "Entropy (in three parts)."
The performance is designed to move rapidly through musical history as it tells the tale of our changing oceans.
About Jenny Q. Chai:
Jenny Q Chai is an active pianist specializing in contemporary music. Her immersion in the contemporary music world, however, has only enhanced her appreciation of her classical repertoire.
"I feel a sense of contentment programming creative concerts," says Chai, "Mixing and matching old and new works helps to highlight what's special about each piece. After all, nothing comes from nothing and new music is very much connected to that which preceded it."
Based both in Shanghai and New York City, Chai's instinctive understanding of new music is complemented by a special affinity for Schumann, Scarlatti, Beethoven, Bach, Debussy, and Ravel. She is also a noted interpreter of 20th-century masters Cage, Messiaen, Kurtág, and Ligeti. Her career includes strong relationships and close collaborations with a range of notable contemporary composers. Among them are Marco Stroppa, Jaroslaw Kapuscinski, and György Kurtág. With a deft poetic touch, Chai weaves these wide-ranging composers and repertoire into a gorgeous and lucid musical tapestry.
About the Performance:
"The effect of global warming on water has been my field of specialization for years," said Dr. Ian Fenty. "My talk, 'Warming oceans, melting ice, and rising seas,' is a narrative that unfolds over the course of the performance. At the beginning of the performance we see the tranquility of water and of humanity living harmoniously with it. As the concert proceeds, we see the breakdown of that harmony in an increasingly industrialized world, and the disruption of the delicate natural balance that oceanic life requires." 
Prices for the concerts are $15.00 for the 1:00 p.m. matinee performance or $20.00 for the full 7 p.m. evening program. This concert is made possible through the generous support of the John Kilgore Fund. Tickets for either performance of Acqua Alta are available by calling The Gracie Theatre box office at 207.941.7888 or ordering online at GracieTheatre.com.
About the Gracie Theatre and Husson University:
The Gracie's season is made possible with support from Bangor Savings Bank. The theatre gratefully acknowledges the generous support provided throughout the season by additional show sponsors including: Downeast Toyota, The Dead River Company, WBRC Architects and Engineers, The Bangor Daily News, and The Maine Edge.
Completed in October of 2009, the Gracie is Husson University's center for the fine and performing arts. This beautiful 500-seat theatre is quickly earning a reputation as one of Maine's premier performance venues. In addition, the Gracie also serves as a learning platform for students from the New England School of Communications in digital audio, sound mixing, set design and construction, lighting, acting and electronics. For more information, visit GracieTheatre.com.
For more than 100 years, Husson University has prepared future leaders to handle the challenges of tomorrow through innovative undergraduate and graduate degrees. With a commitment to delivering affordable classroom, online and experiential learning opportunities, Husson University has come to represent superior value in higher education. Our Bangor campus and off-campus satellite education centers in Southern Maine, Wells and Northern Maine provide advanced knowledge in business; health and education; pharmacy studies; science and humanities; as well as communication. In addition, Husson University has a robust adult learning program. For more information about educational opportunities that can lead to personal and professional success, visit Husson.edu.
Back to All Articles