Husson University's School of Science and Humanities Now a College
Published on: August 1, 2016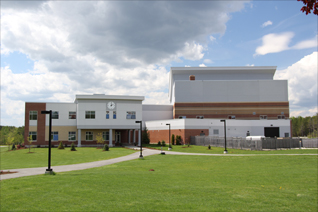 BANGOR, MAINE -
With the approval of the Board of Trustees, Husson University's School of Science and Humanities will now be known as the College of Science and Humanities. This new name more accurately reflects the breadth and depth of academic programs available to students.
"The tremendous growth of the university and the scope of work done by Science and Humanities led to this name change," said College of Science and Humanities Dean Patricia Bixel. "Today, I work with 45 dedicated full-time faculty and staff members, as well as 75 adjunct faculty who deliver education to students in over 20 different majors and minors. The word "College" better describes what we are today – an organization that encompasses a diverse series of programs and provides students with the foundational knowledge they need to achieve career success."
Some of the academic offerings available through the College of Science and Humanities include bachelor's degrees in:
Biochemistry, exercise science, and data analytics are new programs that Husson University's College of Science and Humanities will begin offering for the first time this fall. All of these new majors continue the Husson tradition of providing students with the knowledge and skills they need to obtain fulfilling and rewarding careers. 
"The mission of Husson University is to inspire and prepare students for professional careers in current and emerging fields within the context of an education informed by the sciences and humanities," noted Senior Vice President for Academic Affairs and Provost Lynne Coy-Ogan. "As a consequence, the education available through the College of Science and the Humanities at Husson University is at the heart of every undergraduate student's degree."
For more than 100 years, Husson University has prepared future leaders to handle the challenges of tomorrow through innovative undergraduate and graduate degrees. With a commitment to delivering affordable classroom, online and experiential learning opportunities, Husson University has come to represent superior value in higher education. Our Bangor campus and off-campus satellite education centers in Southern Maine, Wells, and Northern Maine provide advanced knowledge in business; health and education; pharmacy studies; science and humanities; as well as communication. In addition, Husson University has a robust adult learning program. For more information about educational opportunities that can lead to personal and professional success, visit Husson.edu.
Back to All Articles