Husson University to Confer Three Honorary Degrees at Commencement
Published on: May 6, 2015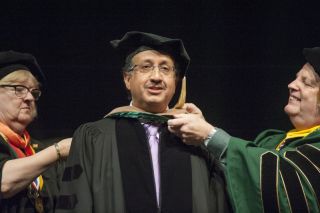 BANGOR,MAINE - At its 116th Annual Commencement Exercises on Sunday, May 10, 2015 at the Cross Insurance Center in Bangor, Maine, Husson University will confer honorary doctorates on three persons who have distinguished themselves in banking, energy distribution and space exploration.

Honorary Degree Recipients

In addition to delivering the keynote address, U.S. Navy Captain and NASA Astronaut Christopher Cassidy will receive an honorary Doctor of Science degree in recognition of his patriotism, courage, and commitment to education.

Cassidy is a graduate of York High School in York, Maine. In 1993, he earned a Bachelor of Science degree in mathematics from the U.S. Naval Academy. Seven years later, he completed his Master of Science studies in ocean engineering from the Massachusetts Institute of Technology (MIT).

Prior to becoming an astronaut, Cassidy had a distinguished career in the U.S. Navy. He was a member of the U.S. Navy Seals for 10 years. Here, he received training in specialized tactics including long-range special reconnaissance; direct action building assaults; noncompliant ship-boardings; combat diving; underwater explosives; and a variety of air operations. He completed four six-month deployments: two to Afghanistan and two to the Mediterranean. 

Cassidy logged more than 200 hours underwater as a pilot/navigator/mission commander of a two-man flooded submersible SEAL Delivery Vehicle – an underwater craft that is launched and recovered from a submarine.

In recognition of his military service, Cassidy received two Bronze Stars and a Presidential Unit Citation – including one Bronze Star for combat leadership service in Afghanistan.

He was selected for astronaut candidate training by NASA in May 2004. Completed in February 2006, Cassidy's training included scientific and technical briefings, intensive instruction in shuttle and International Space Station systems, physiological training, T-38 flight training, and water and wilderness survival training. This initial training qualified him for various technical assignments within the Astronaut Office at NASA and future flight assignments as a mission specialist. From 2006 – 2008, Cassidy served as a capsule commander in Mission Control.

In 2009, he completed his first space flight, the STS-127, International Space Station Assembly Mission where he logged more than 376 hours in space, including more than 18 hours of extra-vehicular activity during three spacewalks.

On March 28, 2013, Cassidy lifted off for his second trip to the space station from Kazakhstan along with two Russian cosmonauts. The three crew members were the first to complete a trip to the space station in less than six hours. Previously, it took two days to rendezvous and dock at the space station.

During his NASA career, Cassidy completed six spacewalks totaling 31 hours and 14 minutes. He has spent a total of 182 days in space and is the recipient of NASA's Exceptional Achievement Medal. 

This is not the first time Cassidy has participated in educational events at Husson University. In 2013, he shared his thoughts on the importance of education with two groups of students from 14 schools in the greater Bangor area as part of an event at Husson University's Gracie Theatre. And last month, Cassidy was a featured guest on the Husson University student-produced television news program, NESCom Connections.

Robert E. Cort

Another person who will receive an honorary degree is Robert E. Cort, president of Maine Energy. Cort will receive an honorary Doctor of Business Administration degree in recognition of his service to Husson University, entrepreneurship and the community.

He received his engineering degree from Maine Maritime Academy in 1953. After graduation, Cort enlisted in the United States Navy where he served as a marine engineer for three years. After his stint in the Navy was completed, Cort worked with his father in the family business, then known as Maine Coal Sales. He chose to go back to school to learn more about business by enrolling at Husson College and earned a Bachelor of Science degree in business administration in 1962 while working full time in the family business.

Cort succeeded his father as president of the company in 1968 and changed the name of the organization to Maine Energy. As president, he worked diligently to preserve the family legacy. His reputation as an honest broker grew and Cort eventually became an icon in the Bangor business community.

Under his leadership, Maine Energy acquired Maine Propane Distributors, a propane-distribution system. After building that business into a thriving company, Cort then started Maine Energy Leasing and in 2000, launched Maine Energy Realty, LLC, in Northport. The most recent addition to the organization's stable of companies is Hammond Street Holding, LLC, founded in 2013. 

Today, 83 years after its inception, Maine Energy is the oldest energy company in Bangor that is still owned and operated by its founding family. Cort's drive and recognition of business opportunities helped him create successful companies that meet the needs of Maine citizens.

Along with his remarkable business successes, Cort gives back to his community through volunteer work with Shriners International. He has also served as Chairman of the Board of the Maine Oil Dealers. Maine Maritime Academy honored Cort by naming him an Outstanding Alumnus and added his name to their Wall of Honor.

Yousif Abdulla Taqi

Yousif Abdulla Taqi is the director and chief executive officer of the Al Salam Bank in Bahrain. He will receive an honorary Doctor of Business Administration degree from Husson University in recognition of his international business leadership, integrity and commitment to education. 

Taqi received his Bachelor of Science in accounting from Husson College in 1990 and soon became a Certified Public Accountant (CPA). He was a dedicated Husson student while attending the university and attributes much of his professional success to the education he received at this institution of higher learning and the leadership exemplified by its professors.

After graduating from Husson, Taqi returned to his home, the Kingdom of Bahrain, and began a 20-year career at Ernst and Young, one of the largest accounting firms in the world. He advanced to the position of partner and played a key role in implementing new accounting standards for organizations inside and outside of the country.

With a strong desire to grow professionally, Taqi turned to the banking industry. He was named the deputy general manager of the Kuwait Finance House, a leading retail and investment bank in Bahrain. As his skills in the banking industry grew, he became the director and CEO of Al Salam Bank, Bahrain. Under his remarkable leadership, the Al Salam Bank, with capital of $320 million, issued an IPO worth $7 billion - the largest recorded IPO in Bahrain's history. During his tenure with the organization, the bank actively worked to aid society through its support for charitable educational and environmental organizations.

Recently, Taqi was ranked among the top 100 CEO's in the Middle East Region and the best 
five in Bahrain by TRENDS Magazine and the INSEAD Business School.

In addition to his remarkable business success, Taqi has shared his knowledge and experience on real estate projects. He has also served on a number of professional boards. In 2008, he was appointed a member of the Al Salam Bank's Board of Directors. Taqi also serves on the Board of Directors of Aluminum Bahrain and is the chairman of Manara Developments, the Amar Holding Company and North Star Holdings. In addition, Taqi was the director of ASB Biodiesel in Hong Kong, a company that develops low-carbon transport fuels offsetting greenhouse gas emissions.

As the chairman of Durrat Al Bahrain, Taqi served a fifteen-island city development project that is widely considered the premier development project in the Arabian Gulf. He also served as a board member of Eskan Bank, a government-owned bank specializing in social housing for Bahrani citizens and of Pan Arabian Gourmet, an internationally acclaimed chain of bakeries. 

Commencement

All three of these individuals will receive their honorary degrees as part of Husson University's 116th Annual Commencement Exercises on Sunday, May 10, 2015 at the Cross Insurance Center in Bangor, Maine. The Cross Insurance Center is located at 515 Main Street in Bangor, Maine. The commencement ceremony begins at 2:00 p.m. and takes approximately two hours to complete. 

For more than 100 years, Husson University has prepared future leaders to handle the challenges of tomorrow through innovative undergraduate and graduate degrees. With a commitment to delivering affordable classroom, online and experiential learning opportunities, Husson University has come to represent superior value in higher education. Our Bangor campus and off-campus satellite education centers in Southern Maine, Wells and Northern Maine provide advanced knowledge in business; health and education; pharmacy studies; science and humanities; as well as communication. In addition, Husson University has a robust adult learning program. For more information about educational opportunities that can lead to personal and professional success, visit Husson.edu.
Back to All Articles