The Television Studio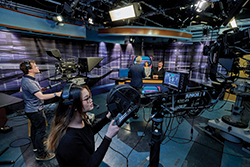 This multi-purpose production studio incorporates a versatile configuration that serves as a working laboratory for students to use both internally and throughout the state of Maine to create broadcast and streaming content. A wide variety of lighting instruments and the latest technology available affords students access to the tools needed to become proficient in a studio environment before leaving school.

Live/Remote Mobile Production Unit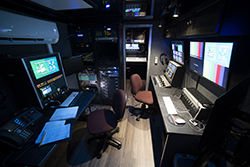 This advanced working laboratory is equipped with a Grass Valley Karrerra video production switcher, Calrec Suma audio console, a 2-channel Ross Xpression graphic system, up to 10 cameras, and 24 channels of EVS playback, slow motion, and record. All of this allows advanced students the opportunity to learn to create and produce content for live and delayed broadcast. From concerts to sports to variety shows, our students can produce content both here on campus or anywhere in New England. Many of our graduates have taken these skills to pursue careers in live event productions like the NFL, MLB, the Olympics, ESPN and others.



Field Production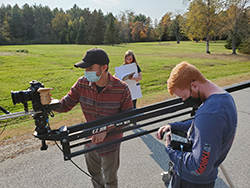 The NESCom Video Production department understands the importance of graduates entering the workforce with a diverse collection of knowledge and skills. Our field production equipment offers our students what they need to envision, create, and deliver content for all demographics. Dollies, jibs, high powered light kits, and digital filmmaking cameras make your vision a reality.

Television Production Control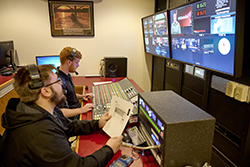 When you think of live television production, three names come to mind: EVS, Grass Valley and Ross Xpression Dual Channel with Clips.
The NESCom Video Production Department has the industry standard EVS Video server with 12 channels of record/playback, a Grass Valley Kayak video production console, with available 48 input/24 output. Our Ross Expression is a graphics powerhouse that can be found in broadcast houses across the country. Our Miranda Kaleido-X multi-viewer is the new generation of production room display monitor systems used by major networks.

Post Production Suites
These Post Production edit suites offer all the power and programs essential for creating commercial, narrative film, documentary, or other video creations. With 5.1 surround, DaVinci color correction, Cinema 4D animation, and both Adobe and Avid suites installed, there is no limit to your creative abilities. Students work as groups of individuals with clients and non-profit vendors to provide professional level content that these entities need.



Video Editing Lab 1
Students have access to this intimate six position lab environment 7 days a week. This region of our edit facility is our mid-level instructional area geared for individual student attention with our staff. When classes are not in session, students work in a community atmosphere emulating industry practices and promoting a team approach and creativity to projects.


Video, Compositing, Graphics Instructional Lab
This custom-designed instructional space is optimized for student/instructor interaction. This 1st floor, twelve-station edit lab is one of two in the Wildey Communication Center. A maximum enrollment of 12 students allows for a very low student-to-instructor ratio. Advanced video compositing, 3D Animation, Adobe Creative Suite, and Color Correction are just a few of the skills sharpened in this high-powered video production lab.