The Marshall Road facility, located off campus, is home to a laboratory for students studying pharmacy, and the student-led SOARing Eagles Healthcare (SEH) program.
The pro-bono clinic gives undergraduate and graduate students studying physical therapy, occupational therapy, and pharmacy the opportunity to practice skills and techniques in a supervised setting, while providing much-needed services to those in the community who are uninsured or underinsured.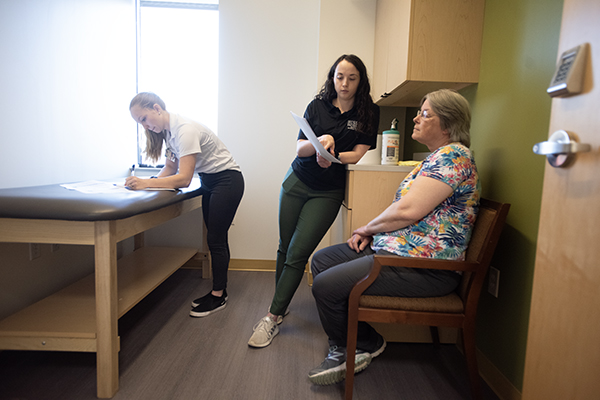 "I explain to the patients that they're going to have more attention in this clinic than they've ever had in their life," says Kim Steinbarger, director of clinical education at Husson University's School of Physical Therapy. "This immediately connects them with a whole group of students who are extremely focused and knowledgeable. Because Husson provides the latest, research-backed education to its students, these patients are receiving cutting-edge healthcare for free."
Steinbarger began working on the idea of a pro-bono clinic years ago. "I realized Husson would be a perfect place since we provide education in so many health professions." She created a student board of directors. They then held a contest to come up with a name and logo for the new clinic.
SOARing (Student Operated Accessible Rehab) Eagles Healthcare began accepting patients in 2014. Until now, the clinic operated out of Dragonfly Therapy in Bangor. The owner had generously offered use of the facility on Fridays when they were closed. This fall, SEH began seeing patients at the Marshall Road facility.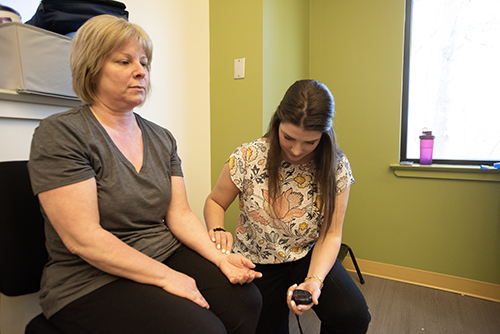 Working at the clinic is a requirement for new fourth-year physical therapy (PT) students as a way to ease them into a clinical setting, according to Steinbarger. After that, it's on a volunteer basis.
In late 2016, occupational therapy (OT) was added to the disciplines offered through the clinic. OT students are not mandated to work at SEH but many take advantage of the chance to practice their skills in a clinical setting.
A requirement for third-year pharmacy students to participate in the clinic was added to their curriculum last year as a part of their Introductory Pharmacy Practice Experience. There are no drugs at SEH, so pharmacy students practice taking vital signs and medication histories on patients among other skill sets.
"Students are exposed to a wide range of interprofessional activities," explains Dr. Aaron Domina, pharmacy's assistant dean for Academic Affairs. "The clinic provides great opportunities for pharmacy students to interact with faculty and students from other health disciplines at Husson, while they serve a need in the greater community."
Yieng Huah "Andrew" Tham '19 was the marketing director for SEH for the Class of 2019 and a sixth-year School of Physical Therapy student. He actively worked to recruit patients for the pro-bono clinic, visiting homeless shelters, churches and other places to spread the word. "It's important to me because I know how devastating and tough life can be when someone can't afford to get healthcare services," Tham says. "It saddens me. I just want to do my part in trying to help as many people as I can.">
Jacob Lee '20, was the director of marketing for the clinic for the Class of 2020. "I had struggled in classes but when I was able to put that book learning into practice, it all became so much clearer," Lee says, describing his experiences working at SOARing Eagles Healthcare.
Lee helped patients with everything from a sprained ankle to effects from a stroke. "They were so grateful for what we were doing," he says. "With the opening of our new facility, we will have even more space to treat more people. It's an exciting time to see the clinic start to grow more."
With the larger and now permanent space, Steinbarger hopes to expand both the hours and offerings at SOARing Eagles Healthcare. "Evenings obviously would work best," she says. "We're also looking to add pediatric patients because that's definitely a gap in the area."
Directions
SOARing Eagles Healthcare Clinic
79 Marshall Rd
Bangor, Maine