Doctor of Physical Therapy (Three-year DPT)
Earn your Doctor of Physical Therapy at Husson University in Bangor, Maine, and take that next step toward licensure as a physical therapist. Physical Therapy is a quickly growing career field that involves the improvement of patient quality of life through physical movement and pain management. When also considering physical therapy's high-income potential, it's no wonder U.S. News and World Report considers the role of physical therapist to be the third best health care job.
Program Overview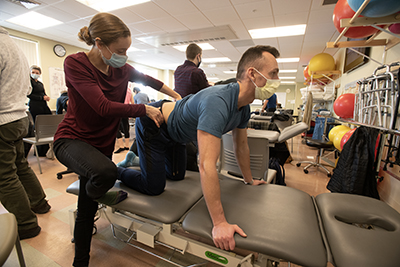 The Husson University School of Physical Therapy's 3-year Doctor of Physical Therapy program is designed to prepare you for clinical practice and licensure as a physical therapist. As a student in our DPT program, you'll learn from expert faculty and gain hands-on clinical experience through one of over 350 clinical sites in the United States or Husson's SOARing Eagles Healthcare (SEH) student-run pro bono clinic. You'll also have the opportunity to participate in original research projects alongside faculty and fellow students. Our PT faculty members collectively have over 80 peer-reviewed publications and over 150 published abstracts. Many graduates of Husson's Physical Therapy program have been involved in national presentations and published in PT-related journals as a result of their involvement in research at Husson. 
THE CURRICULUM
Husson's DPT program is designed for students who have earned a bachelor's degree and completed all prerequisite courses. You'll take in-depth physical therapy courses covering topics from kinesiology, neurophysiology and pathophysiology to advanced therapeutic exercises, advanced anatomy, prosthetics in rehabilitation and more. The DPT curriculum consists of a total of 116 credit hours.
Outcomes
100%
ultimate licensing exam pass rate
100%
employment rate as PTs within 6 months of passing licensing exam
91%
first-time licensing exam pass rate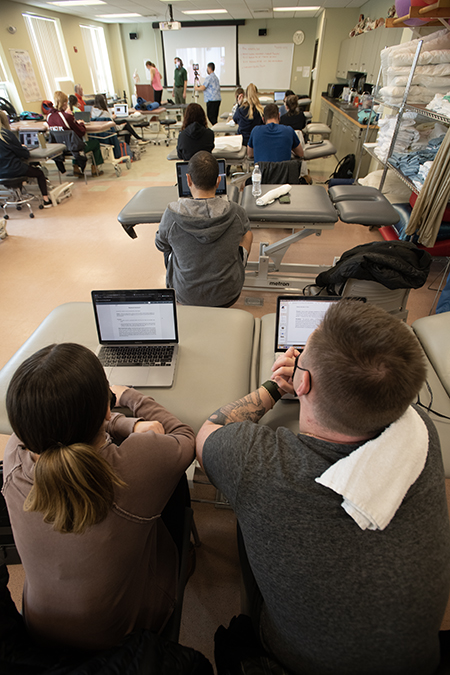 Three Things You Need to Know
You'll learn from expert faculty in small class sizes. The DPT program features a 1:10 faculty-to-student ratio.
Physical therapy students have access to high-quality facilities such as the Therapeutic Skills Lab, Dahl Gross Anatomy Laboratory and Kenduskeag Research Institute, which houses the Human Performance Labs.
According to the U.S. Bureau of Labor Statistics (BLS), the median annual salary for physical therapists was $95,620 in 2021. The BLS also projects employment for physical therapists to grow by 17 percent from 2021 to 2031, which is considered much faster than average.
Find Out More
Sign up to receive information on the School of Physical Therapy at Husson.
Click here to download "Essential Requirements of Physical Therapy Education at Husson University."
All candidates should be aware that, following graduation from the Husson University Physical Therapy Program, the State of Maine may not issue a physical therapist license to a person with a prior conviction of a felony (Class A, B or C crime), which is defined as a crime that is punishable by one year or more of imprisonment (Maine Physical Therapist Practice Act, Chapter 45-A, 32 § 3117-A).