Simulation Labs
Simulation in the Nursing Program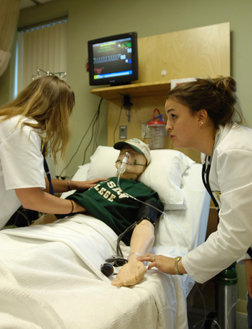 New technologies and changing patient demographics require our nursing graduates to work quickly, efficiently, and safely. Clinical simulation offers our students a rich, authentic clinical experience in a safe environment. Simulation utilizes a high-fidelity mannequins and/or live actors to replicate a real patient situation for nursing students to practice assessment, communication, and procedure skills with instant feedback in an environment that allows mistakes to happen without harming the patient.
A computer-controlled patient, or human simulator, is used to create a customized situation/scenario mimicking real patient care. The mannequins come with many features, such as the ability to talk, breathe, heart and lung sounds, and pulses throughout the body. The Blood Pressure, Heart Rate, Respiratory Rate, and Oxygenation can all be manipulated, as well as adding wounds, chest tubes, IV lines, and intubation tubes. In addition, the simulation experience is digitally recorded, allowing for a debriefing or reflection of the performance.
For Husson nursing students, the simulation experience begins in the sophomore year and continues through the senior year with varying degrees of complexity. The scenarios range from a healthy patient with a simple dressing change to a patient with complex medical problems and procedures, such as a difficult dressing, hanging an IV medication, or managing a patient's pain. The simulation scenarios are tailored to meet the individual learning needs of the students. Simulation is proving to be a very effective learning strategy to bridge our students to caring for real clinical patients.
Click here for a video about Simulation in the Nursing Program.

Click here for a video showing an example of students working with Simulation.
Click here for an interactive view: http://youvis.it/MJlUb8