Alumni Board
The mission of the Husson University Alumni Board is to serve as ambassadors between the past, present, and future University community.
---
Executive Board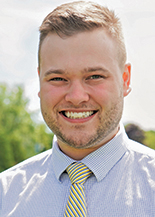 President, Patrick Longstaff '13, '15G
Current employment: Distributed Energy Resource Program Supervisor, Versant Power
Born and raised in Aroostook County, Maine, Patrick moved to the Bangor area in 2009, graduating with a BS in Healthcare Studies/Management and obtaining an MBA in Healthcare Administration from Husson University. While wrapping up his master's degree, he was hired as an intern, which developed into a full-time position with then EMHS (now Northern Light). Over the course of more than eight years with Northern Light Health, he progressed from data analyst, to project manager/internal business consultant, to working in the financial sector overseeing productivity management for the entire healthcare system. Like many, COVID brought on many new challenges and Patrick decided to change direction and leave healthcare. Since spring of 2022, he has been supervising the project management coordination and management of Distribution Generation for Versant Power. 
In his spare time, Patrick enjoys hunting, fishing, golfing and traveling with his better half, Katie. Patrick has enjoyed reconnecting with Husson through the Alumni Board and was elected to the position of Board President in 2020. Patrick has a strong passion and motivation for helping develop young professionals in the greater Bangor area and feels that Husson is a focal point for spearheading that effort -- creating a healthy pool of well-developed candidates who are eagerly ready to start and blossom their careers to better themselves, their family and communities they represent.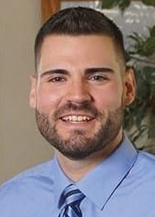 Past-President, Ryan Bartlett '15
Current employment: Financial Advisor, VanceGray Wealth Management, Inc.
Ryan joined VanceGray Wealth Management, Inc. in 2012 as an intern, after graduating from Mount Desert Island High School. Ryan is a proud graduate of Husson University, where he earned the Finance Honor Award for excellence in pursuit of his degree in Business Administration. Ryan is a fully registered Investment Advisor Representative and is licensed to provide life, health and long-term care insurance. Ryan is also currently pursuing his CERTIFIED FINANCIAL PLANNER™ practitioner registration to be completed in the near future.
President-Elect, Lisa Sturgeon '11, '15G
Current employment: Instructor, Husson University, School of Hospitality, Sport & Tourism Management; Owner, Getting Married In Maine
Lisa is an educator and entrepreneur with more than a decade of direct business knowledge and marketing experience. Spending her time focused on destination marketing and curating unique experiences, has made her a strategic partner in Maine's hospitality and tourism industries.
Lisa is passionate about cultivating the potential in others to elevate and achieve their goals to further enhance Maine to be a premier place to live, work and play. She has worked directly with some of Maine's most recognizable businesses and nonprofits on brand development and strategy, including Bangor International Airport, Geaghan Brothers Brewing Company and The Maine Brewers Guild. Lisa has been sought after for her expertise in event planning be it for individuals, corporations, or nonprofits looking to create an unforgettable experience, and developed her own successful events company, Getting Married in Maine. She also serves in a variety of volunteer capacities for local and statewide organizations.
Lisa is an instructor at Husson University's College of Business School of Hospitality, Sport and Tourism Management. In this position, she is excited to help foster a love of continued learning, professional development, and a passion for hospitality and tourism in her students. This will help propel the industries forward for generations to come.
Lisa is a two-time Husson University graduate with a BS in Business Management and an MBA in Business Administration with a focus in Hospitality and Tourism Management. She continues to give back to her Husson community by serving on the Husson Alumni Board and is currently Vice President. She is a mom, a wife and a self-described introvert in an extrovert's clothing.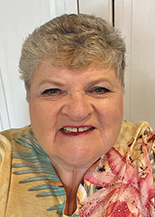 Secretary, Paula Ballesteros '94, '05G
Current employment: Retired Nurse Manager 
Paula worked for 43 years at Eastern Maine Medical Center in various departments as a Nurse Manager. She was a nurse manager for a medical unit; Acute Rehabilitation, Employee Health; Wound and Ostomy; and, Neurosurgery and Orthopedics. Paula has served in the past on the Boards of the Grace United Methodist Church, as past president of EMMC Auxiliary, and, on The Hammond Street Senior Center. Paula is currently a volunteer at My Friends Place and Literacy Volunteers and serves on the Boards of Faith Linking in Action and the Husson Alumni Association.