Tutoring Center
Appointments at the Tutoring Center can be scheduled and accessed by using our online scheduling system, WCOnline. Don't see the subject you need? Please email us at tutoring@husson.edu.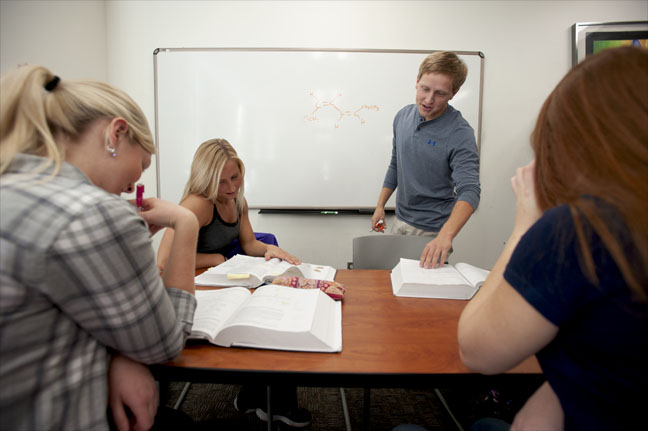 The Tutoring Center, located in Peabody 210 on the Bangor Campus, offers both in-person and online tutoring to all Husson students.
The Tutoring Center is a student-central resource dedicated to providing tutoring for both general undergraduate classes and degree-specific courses. The atmosphere is laid-back, with peer tutors who understand the challenges of college courses -- just like you! Have questions about your homework? Need help studying for a test? Want some advice on study skills? Come on in. We can help with all of that! Plus, the service is completely free. Come by and finish your homework, prepare for that midterm, or get some help with your time-management skills. You'll be glad you did!
The Tutoring Center provides tutoring for many courses including:
● Anatomy and Physiology
● Chemistry
● Biology
● Physics
● Math
● Statistics
Tutors for additional subjects are added as needed and as available.
We also offer tutoring for degree-specific classes including physical therapy, nursing, pharmacy, and more.
Supplemental Instruction is also offered for some science courses. Supplemental instructors are students who have mastered course content and have the ability to effectively communicate this information. Each week these students hold group re-teaching sessions to review course content taught that week.
If you find that you're struggling with how to prepare for exams or manage your time, a Peer Advisor can help! Our advisors with the Peer Advising Connection (PAC) can assist with:
● Study skills
● Time management
● Prioritizing assignments
● Communicating with professors
● and more.
The Tutoring Center is staffed by both faculty and student tutors. Student tutors in the Center are hired based on their mastery of the subject matter as certified by Husson faculty, and are required to carry a minimum 3.0 cumulative GPA. These tutors are current Husson students who have completed courses with excellent grades and have a strong ability to communicate this knowledge to their peers.