Sophos Antivirus
How to protect your personal computers:
To protect your personal equipment it is recommended to keep an up to date Anti-Virus program installed and run it weekly. 
Sophos is the Antivirus program that Husson uses as the University's Anti-Virus program. A free, fully-functional version of Sophos is available to all Husson faculty, staff, and students for use on their own personal machines. 
BEFORE INSTALLING SOPHOS: Be sure to remove any existing AntiVirus program currently installed on your computer. If there are other AntiVirus programs on your computer Sophos will not install or may not function properly
To Install Sophos on a personal computer: 
Be sure to remove any existing antivirus program currently on your personal computer in order for Sophos to function properly

Go to: https://home.sophos.com/en-us.aspx

Select "Free Trial"

Select Windows or Mac installation

Create your account to register with the Sophos site

An account confirmation email will be sent to complete the registration

How to access Sophos in the future

Go to the start menu and look for Sophos OR look in the "Hidden Icons" menu via the up arrow near your date/time in the taskbar

Sophos is a Blue shield with an "S"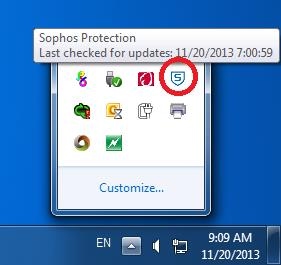 About the Application & Scan process:
Sophos does not run automatically 

It is recommended you run the application once a week

You can run a scan while the computer is being used but you may notice some slowness due to the intensity of the scan 

Another option is to set the scan to run overnight 

In the morning, if items are found, they can be quarantined & cleaned & restart the machine

Keep running the scan process until it comes back with no items found
What is Malware?
Malware is an abbreviation for Malicious Software.  It is intended to damage or disable computers and computer systems. 
Running an Anti-Malware Scan:
To protect your personal equipment it is recommended that you keep an up-to-date Anti-Malware program installed on your personal machine and run them weekly. 
Here are some helpful links to Anti-Malware applications available for free: 
Malwarebytes: 

Super Anti-Spyware