Level Up Your Game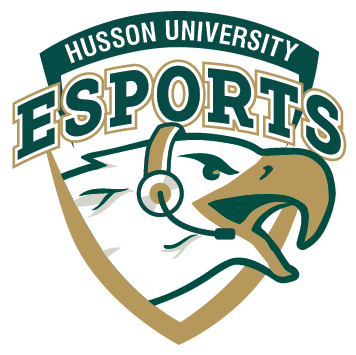 Husson University Esports provides a competitive and supportive environment for student players to enter team-based video game contests against other universities. Just like other athletes, esports team members participate in drills and practices as they hone their skills to compete at the collegiate level.
Husson Esports' intercollegiate co-ed teams compete in the Eastern Collegiate Athletic Conference (ECAC), currently home to more than 200 schools, fielding over 400 teams in 11 different game titles, as well as the College League of Legends.
New Esports Arena
Opened in spring 2022 and expanded in 2023, the University's state-of-the-art Esports Arena features: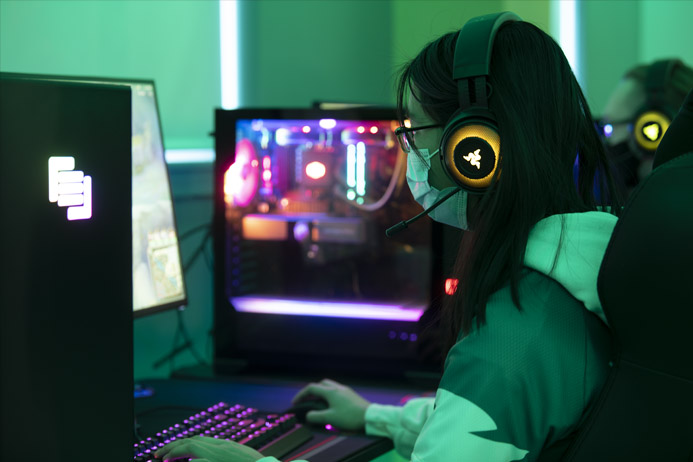 15 high-end PC setups and 3 console stations with lounge seating
Dedicated streaming setup for students to commentate, produce and broadcast their teammates' matches
The Arena hosts a variety of esports and gaming programs and events. It also provides an additional event space on campus for students and campus organizations.
Why offer esports?
Esports is not just about play. It's also about work. According to most projections, esports will generate more than $1 billion in revenue in 2021. Playing esports allows students to prepare to fill roles in this growing industry. Career opportunities in this exciting field include:
Event management
Marketing and communications
Coaching and education
Software and network engineers
Graphic designer
Journalist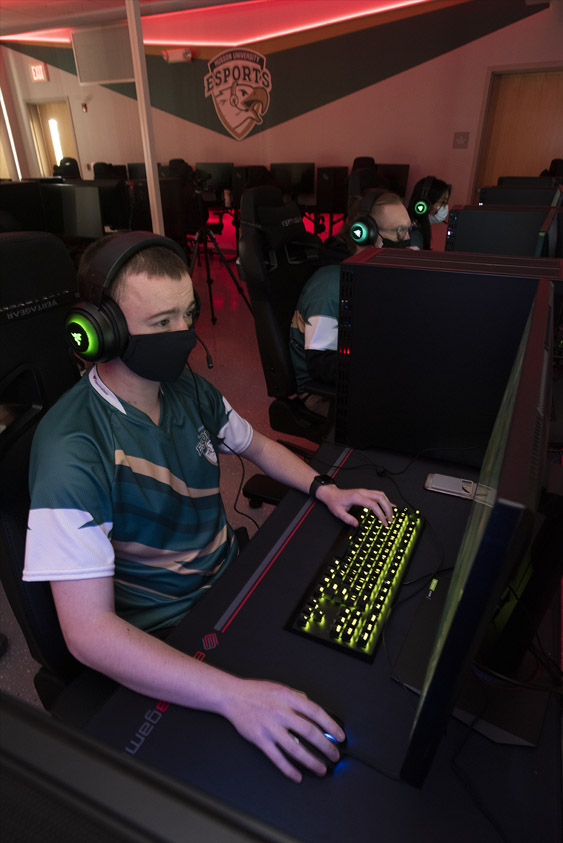 Esports also helps students to develop soft skills that employers value most. "Esports provides students with the opportunity to sharpen their communication abilities as they work together in teams to win competitive matches," says Lynne Coy-Ogan, EdD, senior vice president for academic affairs and provost. "We see this esports initiative as another way we can help ensure students are job ready after graduation since it will provide valuable teamwork experiences where students can both succeed and learn from challenges."
Currently supported intercollegiate teams
Rocket League
Overwatch
League of Legends
Super Smash Bros. Ultimate
VALORANT
Follow Husson University Esports on Twitch and cheer on our teams! 
Interested in participating?
For more information about Husson Esports, fill out this form and the Esports Coordinator will reach out with more information.
Prospective Eagles interested in joining a team can fill out this form. Additionally, you can reach out to esports@husson.edu and a member of the Esports Program will get back to you as soon as possible.
Current Husson students can reach out via email or visit DLC 126D for more information.
Open tryouts for prospective students are hosted at the start of each semester.
No, Husson Esports will use our Esports Center for all practices and competitions. This state-of-the-art gaming center contains 15 high-end gaming PCs and 3 console gaming stations with lounge-style seating. You are welcome to bring personal peripherals, but all equipment will be provided.
Husson Esports athletes each have an 'in-season' and 'off-season' period. During the in-season session, students will have an average of 2-3 team-related activities per week. Off-season players will have an average of 1 meeting a week with a heavier focus on individual practice.
Every student is eligible for a tryout and students are placed based on in-game skill, communication style, team chemistry, and work ethic. At this time there are no rank minimums, but all prospective players must complete their ranked placements prior to their scheduled tryout.
The following are suggested minimum ranks to achieve prior to fall tryouts:
Overwatch – 2,000+ SR
League of Legends – Gold IV+
Rocket League – Diamond III+
VALORANT – Gold I+
If a game you're interested in is not listed, you can reach out to madruj@husson.edu to get more information about starting an official team through the Esports Program.
In addition to making great connections with your fellow Eagles, esports athletes will receive opportunities to network with industry professionals, compete at the intercollegiate level, travel to in-person conferences and competitions, and receive customized Husson Esports gear.
In addition to roles on one of our rosters, there will be opportunities for students who are interested in producing and broadcasting streams, working on creative projects, and managing some of the varsity teams.
Esports is organized and competitive team-based video gaming. Our esports program aims to provide students with interests in gaming the opportunity to compete against other colleges across the United States. Intercollegiate esports has been a growing trend in colleges and universities across the United States and Husson students have officially "pressed start."
Husson University Esports is not affiliated with Husson University Athletics. Team selection is akin to traditional sports, but the esports team has its own selection criteria and process for determining varsity and junior varsity rosters.
Athletic scholarships are not yet available at Husson University for esports members. However, the program participates in scholarship-granting competitions for which amounts vary based on tournament size and final placement.
No, Husson Esports will use our Esports Center for all practices and competitions. This state-of-the-art gaming center contains 15 high-end gaming PCs and 3 console gaming stations with lounge-style seating. Students are welcome to bring personal peripherals, but all equipment will be provided.
Helping students succeed academically is the number one priority of Husson Esports staff. The Esports Coordinator conducts periodic grade check-ins to ensure players are succeeding in the classroom. The Esports Program works closely with the Center for Student Success to ensure students are getting the resources they need to "level-up" in the classroom.
For more information
Name

Phone and Email
Address
AJ Kool
Esports Coordinator

207.941.7673
koola@husson.edu
115 Darling Learning Center
Husson University
1 College Circle
Bangor, Maine 04401
Andy Michaud
Assistant Esports Coordinator

207.941.7672
michaudand@husson.edu
126D Darling Learning Center
Husson University
1 College Circle
Bangor, Maine 04401