Townhouse
The townhouses offer apartment-style living with the convenience of living on campus.
Click here to see an interactive view: http://youvis.it/elmpEU 
What amenities do townhouse residents get?
There are a number of amenities that students receive when they choose to live in the townhouses. Every fully-furnished townhouse has a modern kitchen with a breakfast bar. Each student has their own private bedroom with high-speed internet connections. Every townhouse unit has two full bathrooms for the four apartment residents. In addition to individual heating/cooling units, each unit has a washer and a dryer. Townhouse residents also have access to convenient parking adjacent to buildings.
Who can live in the townhouses?
Juniors, seniors and graduate students enrolled at Husson University can live in the townhouses. They are not open to first-year students, sophomores or family members of upperclassmen. Pets are not permitted.
How is it decided who gets to live in the townhouses?
Selection for available spaces occurs in late spring after fall semester course registration. To be considered for placement, students must have and maintain a minimum of 54 credits or graduate student standing, a minimum GPA of 3.0, and be in good social and academic standing.
How much does it cost to live in the townhouses?
For more information about costs, please visit the Tuition and Costs webpage.
Where are the townhouses located?
The three townhouse buildings are located at the top of a knoll, opposite the Richard E. Dyke Center for Family Business on Husson University's Bangor, Maine campus.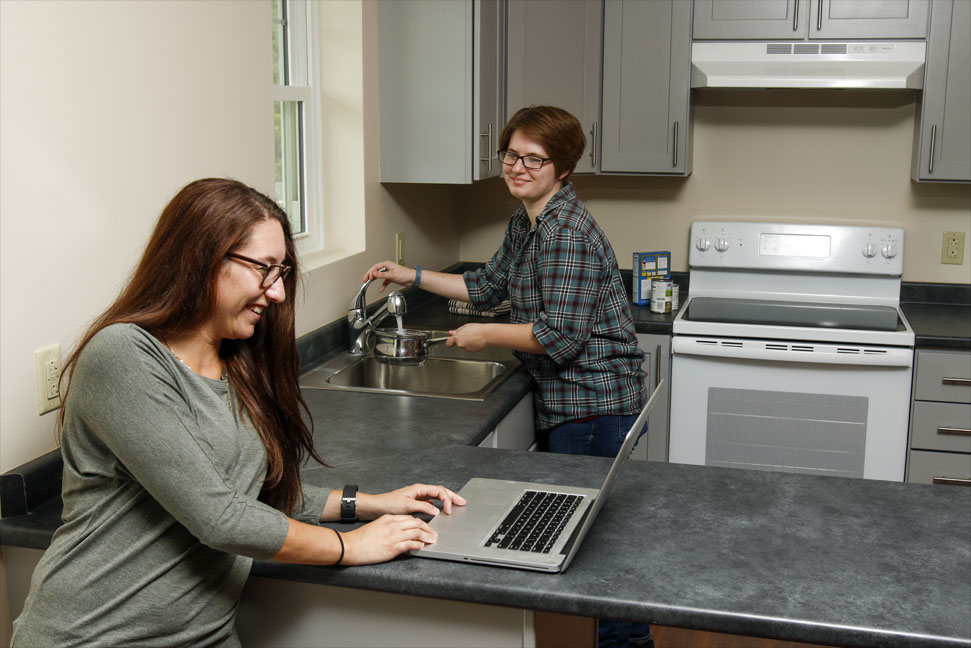 Why should students consider living in the townhouses?
The townhouses are an important step between life in the residence halls and independent living after graduation. Advantages to living in the townhouses include:
• Safe environment served 24 hours, seven days a week, by Husson University's Safety & Security staff.  
• Affordability. Compare the cost of living off campus. When transportation, internet access and utility costs are factored in, the townhouses are a good value.
• Opportunities for friends, in the same major or with similar interests, to live and study together. This can have a positive academic impact on all of the residents of the apartment.
• Students can prepare their meals in their own townhouse kitchens or explore meal options available through dining services.
• Each unit contains a washer and dryer.
• The option to live in the townhouse for a full year. In our other residence halls, students need to move out or relocate at the end of the academic year.
• Room and Board agreement flexibility. Should your academic program require an internship, practicum, or clinical away from the Bangor area, the University will allow you to suspend or end your agreement early without penalty.
• Access to the campus.
• Instead of paying for a private gym membership or having to travel, townhouse residents have access to the Swan Fitness Center on campus.
• Snow removal for parking lots, roads and sidewalks are taken care of by Husson.
• Students have the opportunity to be more engaged in campus life.
• Convenience. Students don't have to drive to campus or find a parking space prior to attending classes. Instead, they can walk to class from their front door within 5-10 minutes.
• Fewer bills to pay. All utilities are included as part of the housing fee. And because you and everyone else in your townhouse pay one flat rate, there's no need to deal with splitting up the bills.
• Lining up roommates. Husson can help you line up other people who want to live in the townhouse. No more need for you to search for and screen potential roommates.
• Security deposits are not required.    
Closet
33" wide
21" length
6' tall
Desk
22 1/2" deep
41 1/2" length
30" tall
Chair (seat)
16 1/2" across 
19" back to front
Dressers 
29 1/2" across
23 1/2" back to front
Bed (including bed posts)
84" length 
38" width
Mattress
78" length 
36"s width
Space under bed
2'7"
For more information
Name

Phone and Email
Address
Kylie Donovan
Darling Learning Center and Townhouse Resident Director

207.941.7703
donovanky@husson.edu
208 Darling Learning Center
Husson University
1 College Circle
Bangor, Maine 04401
Michael Maberry
Director of Campus Life

207.941.7910
maberrym@husson.edu
Peabody Hall
Husson University
1 College Circle
Bangor, Maine 04401