Residence Life FAQs
---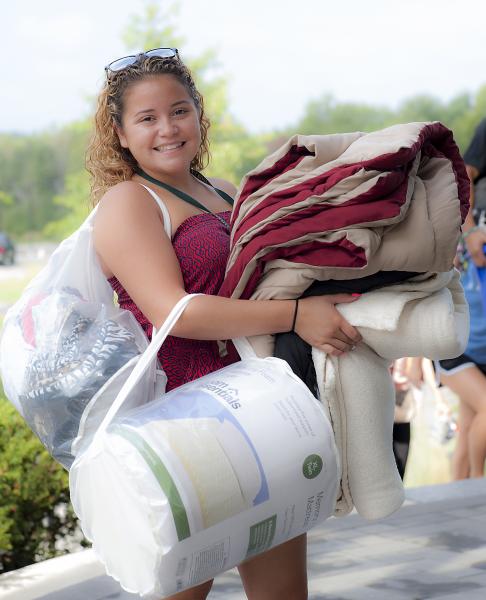 1. What are the Residence Halls like?
There are currently four residence buildings on campus, Bell Hall, Carlisle Hall, Hart Hall, one suite-style residence hall, Darling Learning Center (DLC), and the Townhouses. The halls are located adjacent to each other and are close to the dining hall, making it convenient to visit friends and go to meals. The traditional halls each have nine floors that are either male or female, with about 16 rooms on each floor. Each floor has its own single gender bathroom with showers, toilets and sinks. There is a student Resident Assistant (RA) on every floor serves as a mentor and resource for those who live on campus.

Each traditional hall room is furnished with two twin beds and mattresses, two desk chairs, two closets, two bureaus, two study desks and two chairs. The room dimensions are 11'7 x 15'7. Your window measurements are 72" wide x 65" long, and it will have blinds. You can make the room "your own" and we encourage you to bring lots of pictures and decorations!

The Darling Learning Center features classrooms on the first floor with four floors above that offer suite-style living opportunities for students. These are gendered by suites, with four students living in the suite. Each suite contains two double bedrooms, a common area, sink and vanity area and a bathroom with a toilet and shower. The bedrooms contain two twin beds and mattresses, two dressers, two wardrobes, two study desks and two chairs. The common area comes equipped with three upholstered chairs that can be pushed together to make a couch or used separately and an ottoman that can be utilized in a similar manner. The bedrooms have a shade for the window and the common area has blinds. The bathroom comes with a shower curtain and towel rack. Two RAs live and work on each floor of the DLC, providing a resource for the residents of the building.


2. Are there Internet connections in the residence hall rooms?
Yes, there is high speed Internet in each room, which can be accessed through the Wi-Fi system or by connecting through the Ethernet ports. All students are provided with a campus email account as well. You can find out anything you need to know about residential networking services on campus by contacting the Help Desk of Information Technology at (207) 973-1000 or check their site for more information.

3. Do I need to bring a phone with me?
Residence hall rooms are no longer equipped to support phones. It is advised that students bring a cell phone in order to maintain contact with family and friends. There is, however, a phone in each lobby of the residence halls that allow free local calling. Long distance calls simply require a phone card to connect.

4. Will I have a roommate?
If you are a first-year student, you will have a roommate; either assigned based on your preferences or requested roommate assignment. Living on-campus with a roommate is the best way to learn about your community and make new friends. During the remainder of your time as an on campus resident, you will be able to request a single room accommodation; however, single rooms will be assigned based on availability and seniority. If a medical reason necessitates a single room placement, please contact the Office of Accessibility Services to schedule a consultation and learn more about the process and any proper documentation.

5. Can I choose my own roommate(s)?
After completing your Housing Intent Form, you may access and use the Roommate Search Tool (navigate to Room Selection - Select Roommates). Both applicants must be mutually matched. The Search Tool will state this when the process has been successfully completed on MyHousing.



6. What should I do if I don't get my chosen roommate?
Try it out! This will be a great opportunity to expose you to a new living situation and learn quite a bit about yourself. Many students come to college, not knowing any other students and will also need to form new connections. If the living situation that you are placed in does not work out, room changes may be accommodated after the Add/Drop period and up until two weeks before the end of the semester. Contacting a Resident Assistant or the Resident Director will start the process of attempting to reconcile with your roommate and, if necessary, can begin the room change process. Residents are also able to complete the Room Change Request Form on the Resident Resource page.

7. Who do I talk to if I am having a problem with my roommate, (i.e. noise, guest sleeping over, other issues)?
First, talk to your roommate. Most likely they are not aware that their actions are causing you concern. You can also start with a roommate agreement that has been created for you to agree on expectations for your room.
Second, ask for assistance from the Resident Assistant on your floor. Most often,  Residence Life staff can help resolve your problem, usually by facilitating a meeting between you and your roommate.
Third, mutually agree with your roommate to start the process of a room change.  Residence Life staff can assist you with the procedures and paperwork. Everyone must receive approval from a Resident Director before changing rooms.

8. Do you have a Residency Requirement?
All first and second year Husson University students are required to live on campus. This is evaluated based on the number of credits that a student has completed, meaning a resident must achieve 54 credit hours before they will be approved to live off campus. For upper-class students, the residence halls are often still the best choice due to the amenities provided. Feel free to reach out to the Residence Life staff member if you have more questions or check our Residence Life policies and procedures for more information.

9. Can I bring my car?
All students are welcome to bring their cars to campus and there is no registration fee. Husson University Safety and Security Resident parking is located in Lots 10, 11, 12 and 13 – all located behind the traditional residence halls. No parking is allowed in areas designated for commuters, faculty, staff and visitors. 
https://www.husson.edu/vehicle-registration

10. Where can I study and hang out with friends?
Each residence hall contains a number of common areas, to accommodate work and social interactions. The library is located in Peabody Hall, near the residence halls, and provides a quiet place for study. The Campus Center is a popular location for group work and hanging out with friends, as the Cressy Marketplace and Wiley's Café are located nearby. The Furman Student Center is also available in Peabody Hall and has flat screen TVs, pool tables, ping pong, foosball and seating areas for spending time with friends.


11. Can I have a fridge in my room?
Each residence hall room is equipped with a MicroChill. This is a combination refrigerator and microwave unit that is provided for each room on campus. It is recommended that you communicate with your roommate to bring a mini fridge to campus, as it is a particularly useful appliance. Just be certain the unit is less than three cubic feet. Only one additional unit is permitted in addition to the MicroFridge that is already provided.


12. Are there vending machines?
There are multiple vending machines in each residence hall and others throughout the campus. Additionally, the Dickerman Dining Commons' Grab and Go program, Cressy's Marketplace and Angelo's in Bangor provide dining options after the Dining Commons closes in the evening.


13. Can I ever cook my own meals?
Unfortunately there are no common community kitchen space on campus at this time.


14. Can I have visitors in my room?
Please check with your Resident Director about current guidelines and restrictions regarding visitors on campus.