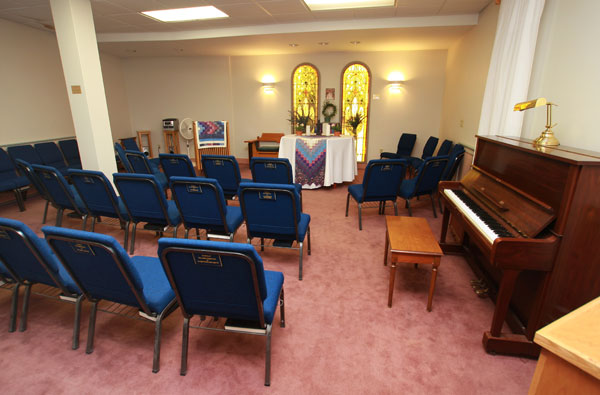 Chaplain Services
Whether you're devoutly religious, skeptical of faith, or looking for ways to serve others, there's a place for you in the Husson community. We're here to provide opportunities for you to get involved in spiritual life on campus through worship services, film series, studies, conversations, and service opportunities.  It's normal for students to have questions about who they're becoming and the Office of the Chaplain is here to help you form answers to those questions.
What is the ministry of the Office of the Chaplain at Husson University?
The Office of the Chaplain at Husson University is committed to the ministry of presence and availability. The main purpose of the Chaplain is to listen, care and respond appropriately to a student's needs. Activities include performing liturgies; praying with students, faculty or staff; conducting services, offering bereavement counseling, and providing general ministry, advocacy, crisis intervention, community service, cultural activities, and multi-faith programming. Although broad in scope our services center on the intellectual, personal, social, interpersonal and spiritual dimensions of life as we assist members of our community in personal awareness and understanding.  In short, the Office of the Chaplain acts as a faith presence that accompanies each person on the journey through life at Husson.
What is the mission of the Office of the Chaplain at Husson?
The Office of the Chaplain is committed to addressing the spiritual needs of all members of the Husson Community. Its mission is to foster an understanding and appreciation for the diverse religious and spiritual life on the college campus. This is accomplished by sponsoring programs and events that encourage learning about various religious traditions and spiritual practices, offering noontime chapel experiences in Leonard Chapel, collaborating with the greater Bangor religious community to connect students with local faith communities, and sponsoring retreats, concerts and off-campus learning experiences.
What opportunities are there for students to explore and grow in their faith while at Husson University?
College life can be hectic and demanding with classes to attend, projects to complete and the never-ending deadlines for submitting class papers. In the midst of all this activity, many people can often become overburdened with the concerns of the day. The Office of the Chaplain offers time in the day to meet in the Chapel together to worship, discuss, learn and let go of daily stress.
Monday morning from 9:30 AM - 10:00 AM come join in The Quaker Way  "as we gather into the stillness for worship  and depart into the world for service."
On Monday at lunchtime a Contemporary Christian Worship Service is held in the chapel from 12:00 –12:45 PM. 
Wednesday is a good time to gather in the chapel at 12:00 noon to discuss the weekly scripture text of the revised common lectionary and the ways in which the text speaks to college students in particular. Join us for CONNECTIONS: The Text This Week.