College isn't just about academics. It's about having fun with friends, meeting people and exploring new interests. At Husson, you'll find a close-knit community that values you as an individual. Our faculty will teach and advise you and the Husson community will support you as you pursue your passion.
You'll find everything you need on campus: 4 residence halls and townhouse living options, Dickerman Dining Center (along with 3 other food venues), our Wellness Center that provides health services and counseling, and plenty of opportunities to become engaged with student clubs and volunteer opportunities. And to ensure that you're successful academically, the Center for Student Success will support you with tutoring, advising, academic counseling, study tips and much more.
Dining
Welcome to Husson Dining - where culinary excellence meets community engagement! At Husson University, we offer a diverse dining program with a variety of options to satisfy all tastes. From the Dickerman Dining Center, our main dining facility with international cuisines, to the casual and vibrant Eagle's Nest, we cater to every palate.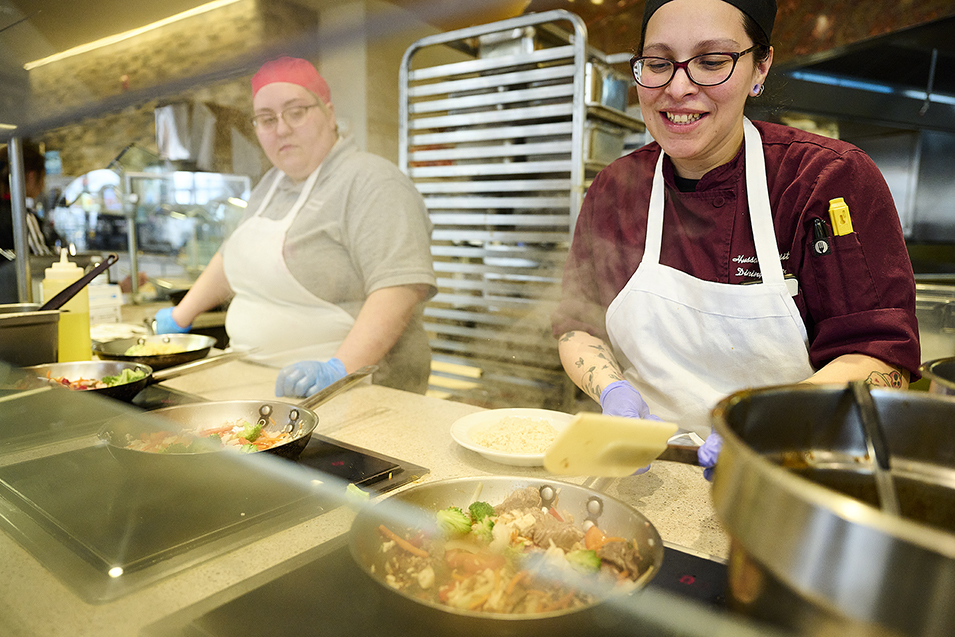 Residence Life
Welcome to the vibrant and enriching world of Residence Life at Husson University! Our on-campus living experience goes beyond just a place to rest your head; it's a thriving community that fosters personal growth, lasting friendships, and unforgettable memories. As a resident, you'll be immersed in a dynamic environment where students from diverse backgrounds come together to create a supportive and inclusive atmosphere. Our dedicated Residence Life staff is committed to ensuring your comfort, safety, and well-being, offering a range of engaging programs and activities that complement your academic journey. From themed floor events to community service projects, there's always something exciting happening in our residence halls. With comfortable living spaces, modern amenities, and convenient proximity to campus resources, you'll find everything you need to thrive academically and socially.