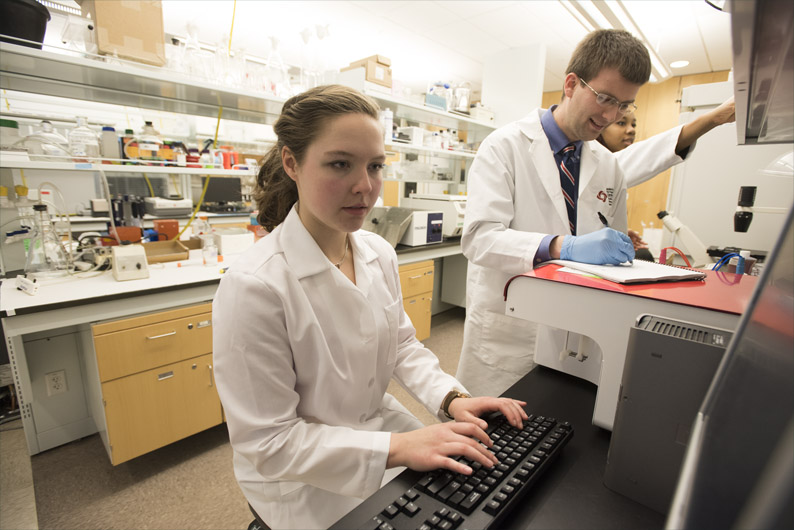 Husson's School of Pharmacy has 25,000 sq.ft. of recently renovated classroom, laboratory, and simulation space. Adjoining science labs and experiential learning spaces used by various health programs provide abundant opportunities for interprofessional learning. The program also has 2,000 sq.ft. of dedicated research facility space at the University's state-of-the-art research and education center.
Classrooms
The School of Pharmacy has seven dedicated classrooms that accommodate a wide range of class sizes and learning modes. Each room is outfitted with flexible furniture and new technology suitable for lectures, group discussions, presentation delivery, and hands-on learning exercises.
Cognitive Skills Laboratory
The program's cognitive skills laboratory, which includes an adjoining patient/counseling assessment room, is designed for students to practice interacting with patients in a realistic practice setting. Here, students learn how to work with patients to create treatment plans, provide dosing/delivery consultation, and more.
Dispensing Laboratory
In the School of Pharmacy's dispensing laboratory, students practice using actual equipment and specifications used in working laboratories to prepare IV treatments and create compounds in a sterile environment.
Pharmaceutical Sciences Research Laboratory
The program's Pharmaceutical Sciences Research Laboratory is a hands-on learning environment where students are introduced to investigative approaches and laboratory methods that are used in contemporary pharmaceutical sciences research.
Husson University Research and Education Center
The Husson University Research and Education Center is a state-of-the-art facility where students work closely with faculty to conduct research using the latest high-end equipment. The School of Pharmacy has 2,000 sq.ft. of dedicated space, but the program regularly participates in interprofessional learning activities with many other health-related programs.
For more information
Name

Phone and Email
Address
Admissions


207.941.7100 OR 1.800.4HUSSON
admit@husson.edu
1st Floor O'Donnell Commons
1 College Circle
Bangor, Maine 04401