Choosing a Career Path: Communications Vs. Business
Published on: March 8, 2023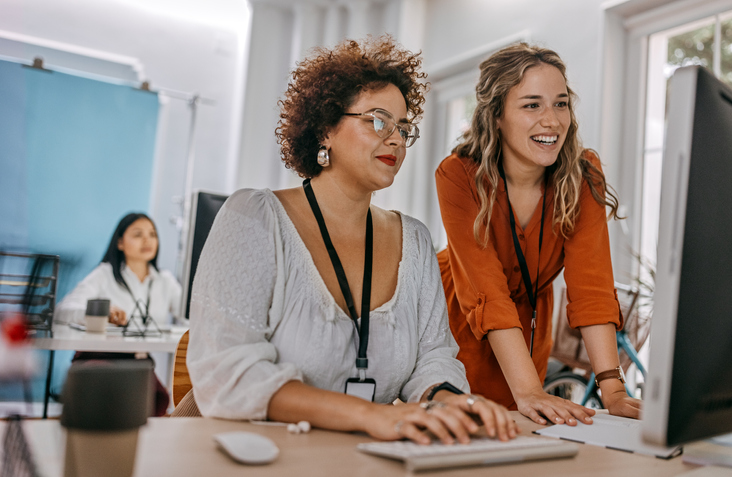 If you find yourself gravitating towards a career in areas such as business, marketing or public relations, you might be wondering what kind of college degree to pursue. The truth is that many of today's most exciting and growth-oriented occupations require higher education and training that straddles the line between business and communications. With that in mind, it is important to consider your natural strengths and professional goals carefully in order to choose the best educational path for you. 
Explore Our Business Degrees
What Is a Business Degree?
Business degree programs teach theories that cover the basic tenets of organizational management and administration and may also span fields such as finance, sales and marketing. A quality business program will also show students how they can apply these theories in complex, real-world scenarios.
Undergraduate business students can choose between Bachelor of Arts (BA) programs (which include liberal arts studies and impart more general business knowledge) and Bachelor of Science (BS) programs (which encourage specialized study in one or more specific areas of business). Aspiring business leaders with executive boardroom ambitions will want to consider a master's degree or a Master of Business Administration (MBA). This business degree can open countless doors in the professional arena. 
What Is a Communications Degree?
Communications degree programs impart all manner of general and specific communication knowledge, but they often emphasize public communication through mass and digital media. Communications students may learn how to craft advertisements, deliver spoken addresses and write press releases, among other key skills that can prove beneficial in the business world and beyond. 
Although most undergraduate communications programs offer Bachelor of Arts degrees, a few offer Bachelor of Science degrees. BA coursework tends to take a "big picture" learning approach that stresses critical thinking and holistic learning, while BS degrees concentrate more specifically on communication logic, reasoning and quantitative skills. After graduating with a BA or a BS, communications students can subsequently pursue degrees at the master's (MA and MS) and doctoral (PhD) levels. 
What Can You Do With a Business Degree?
Career opportunities for business program graduates are both plentiful and diverse. In fact, many people pursue business degrees to gain the skills they need to start their own companies.
Beyond senior administration and operations management, people interested in fields ranging from market research to information technology will want to consider a degree in business. Business majors are generally able to find jobs with companies of all types and sizes, including major global corporations.
What Can You Do With a Communications Degree?
While most people realize that a business degree can open a wide variety of doors for aspiring administrators and entrepreneurs, the career advantages of communications majors may not be common knowledge. Communication program graduates typically employ their skills in positions that require them to convey messages in written, verbal and other formats.
The business world relies on communications professionals to facilitate all kinds of processes and projects. In addition to managing communication within and between businesses, these professionals are critical when it comes to reaching out to current and prospective consumer audiences. According to the Indeed Career Guide, top jobs for graduates with communications degrees include marketing coordinator, copywriter, brand strategist, public relations specialist and social media manager. 
Communications Vs. Business Degrees: Career Paths 
Outside the realms of print, digital and broadcast journalism, nearly all the top communications jobs listed by Indeed are also obtainable with a business degree. So what, exactly, is the difference between professional paths for communications and business degree graduates? 
To answer this question, you must define your own unique career goals with as much precision as possible. This may require going beyond general professional disciplines and job titles to clearly delineate what you hope to accomplish within your chosen field. 
Although both degrees can land you a good job in a broad spectrum of industries, a communications degree is particularly relevant to positions that focus on public or corporate communication as well as positions that involve traditional or digital media. Business degrees, by contrast, are essential for highly technical business positions such as accountancy and financial analysis.
Salary Comparison 
The latest statistics from the independent employment and career resource Zippia show that graduating business majors out-earned graduating communications majors in 2022, with business majors earning an average salary of $50,670 per year and communications majors averaging $45,257 per year. 
Job Growth Prospects 
If you want to make sure you can find work with your new degree, you can rest assured that both communications and business graduates are in relatively high demand, with employment growth rates that generally keep pace with the average across all industries. Assessing projected market conditions through 2031, the US Bureau of Labor Statistics expects media and communication occupations to grow at a rate of 6 percent and business and financial occupations to grow at a rate of 7 percent. This translates to roughly 68,600 projected new communications jobs and roughly 715,100 projected new business jobs over the next decade. 
Skills Required
While business programs place a significant emphasis on finance matters and management strategies that have little relation to communications, one cannot underestimate the importance of clear and effective communication in the business world. Therefore, you can expect to take a number of courses that teach communication techniques in business school.
You won't be taking a global economics class in your typical communications program, but you will be taking classes to enhance your core business communication skills. In addition to writing and speaking, these communication skills will likely broaden your professional marketability by spanning multiple forms of traditional and digital media outreach.
Job Satisfaction and Work-Life Balance 
The wide range of job opportunities for both communications and business program graduates leads to a similarly wide range of job satisfaction rates. However, it is important to note that communications and business professionals tend to work tremendously hard at their jobs. Consider the daily stress levels of the average corporate public relations job, for example. With employee burnout high in both communications and business, you will want to ensure that you truly love what you do in either of these highly demanding fields. 
How to Choose Between Communications and Business 
Before enrolling in any academic program, you should think carefully about who you are and what you want to achieve. Because the job market trends for communications and business graduates are quite similar, you owe it to yourself to consider the following criteria: 
Personal Interests and Strengths
As humans, we tend to be excited about things that we are good at and good at the things that we find exciting. Follow your passions to learn more about yourself. Are you more of a "numbers" person or a "people" person? Do you welcome the opportunity to share your thoughts in speech, or does the idea of delivering a presentation make you break out into a cold sweat? While perhaps a slight oversimplification, your answers to these kinds of questions should help you chart your future career. 
Educational Background 
Your ideal academic path will vary considerably depending on your existing educational background. For example, people who already have an undergraduate degree may want to pursue an MBA over an advanced graduate degree in communications. While a PhD in communications is great for academics and scholars, most professionals in the business world will get far more practical mileage out of an MBA. 
Future Career Goals 
As we have already discussed, your specific career goals should play an enormous role in your final decision to pursue either a communications or business degree. Consider your desired professional path, required compensation package elements and your preferred workplace culture before enrolling in your chosen communications or business program.
For More Information
Husson University offers online undergraduate programs in business. We also have online graduate programs that allow students to earn a general MBA or an MBA with a concentration in either organizational management or risk management. To learn more about these programs, contact Husson University today.
Back to All Articles