Top Criminal Justice Podcasts to Follow
Published on: January 26, 2023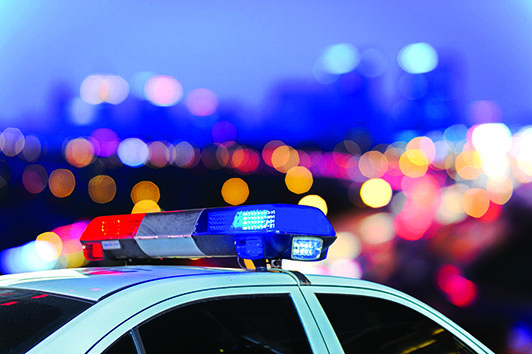 As a passionate criminal justice student with a bright future, you jump at every opportunity to prepare for your dream career. Few resources support this mission quite like podcasts, which can be relaxing, energizing, inspiring and entertaining. If you don't already have a long lineup of thought-provoking podcasts, it's time to build your list.
Explore Our Criminal Justice Degree
Benefits of Podcasts for Criminal Justice Students
As a criminal justice student, you spend a lot of time attending classes, completing internships and studying textbooks. Your classes are fascinating, but sometimes the most impactful insights come from unexpected sources. Unique opportunities for learning are available with every novel you read and movie you watch. 
Why not add podcasts to your long list of supplemental materials? Perfect for your daily commute or treadmill session, podcasts are fun, versatile and usually free. They cover true crime, mental health, leadership and so much more. You'll be amazed by how much your understanding of all things criminal justice increases as you listen to today's most relevant podcasts. 
How to Find Podcasts 
True crime and criminology podcasts are incredibly popular these days, so there's no shortage of options worth adding to your queue. If you're like many busy students, however, you don't have time to dedicate to just any podcast — you're only willing to commit to the best of the best. As you narrow down your options, consider seeking insight from these resources:
Ask instructors for recommendations.
Discuss favorite podcasts with fellow students, especially if you're involved in a study group.
During internships or volunteer shifts, request recommendations from supervisors.
Many podcasts (and their hosts) incorporate suggestions for other popular programs.
Join online discussion groups, where you'll find recommendations for podcasts, YouTube channels and more. 
Best Podcasts About Criminal Justice
The solutions listed above help, but what if you're ready to start listening right now? Feel free to check out our list to expedite your search for amazing criminal justice podcasts. We've compiled several of the best programs to keep you both informed and entertained: 
Ear Hustle
Get the real scoop on what prison life (and its aftermath) is like from an iconic podcast that was the very first to be released entirely from within the prison system. Centered around inmate interviews, this podcast is meant to have a humanizing effect on inmates, demonstrating how relatable their lives can be — and just how many unfair challenges some encounter as they navigate the criminal justice system. For supplementary material, be sure to read the book, "This Is Ear Hustle," which provides a closer look at the lives of the podcast's fascinating co-hosts. 
Women & Crime
Female forays in the criminal justice system rarely receive sufficient attention, but Women & Crime aims to change that. This female-centric podcast covers all aspects of women in criminal justice: what happens when women are the victims of crime, why they become perpetrators and how they can make a difference while working within the criminal justice system. The podcast is hosted by an inspiring pair of criminologists: Meghan Sacks, Ph.D and Amy Shlosberg, Ph.D. 
Criminal Justice Evolution Podcast 
Retired police commander Patrick Fitzgibbons is committed to helping current and aspiring criminal justice professionals grow in their work and personal lives. Every week, Fitzgibbons releases a 'microcast' to provide a five-minute burst of motivation, as well as a longer podcast featuring an interview with an influential criminal justice professional. Mental health is a clear area of focus, with the host and interviewees often discussing PTSD and addiction as they relate to the criminal justice field. 
Crime Redefined
DNA expert Mehul Anjaria and executive producer Dion Mitchell join forces to create a truly explosive podcast about all things forensics: its impact on the criminal justice system, how it's covered in the media system and implications for the future. While there are many one-off episodes covering all kinds of topics, this podcast really shines with its in-depth series, such as its coverage of Jane Dotorik's wrongful conviction. Other subjects of interest include forensic fraud, electronically stored forensic data and even pickleball as a tool for community and recovery in the prison system. 
Caught: The Lives of Criminal Justice 
Hosted by Kai Wright and produced by WNYC, Caught details the lasting impact of incarceration on society's youth. While each podcast tells a different story about a teen negatively impacted by both societal concerns and the juvenile justice system, the overarching theme of the podcast is the disproportionate impact that sentencing has on people of color. Issues such as sexual abuse and solitary confinement are also explored, further influencing listeners' perceptions of juvenile justice in the US. With just nine episodes total, it should be easy to make it through the entire lineup of this deeply impactful podcast. 
Undisclosed
Wrongful convictions are a central theme for the compelling podcast Undisclosed. Over the course of seven years, this amazing program has uncovered new evidence from nearly thirty controversial cases. Each criminal case covered by Undisclosed is fascinating — but more importantly, the topics are enlightening. The attention to detail is incredible, with coverage revealing not only how crimes are committed but also what happens during 'typical' investigations and trials. 
Intercepted 
Civil liberties and national security dominate the conversation for the official podcast of the hard-hitting news website The Intercept. While not all episodes take a close look at the US criminal justice system, there are still plenty of relevant insights to be gleaned, especially in relation to criminal justice abroad. While coverage often surrounds groundbreaking news stories from around the world, there's a lot of food for thought regarding the implications of these stories. Examples include the collection of biometric markers by the Chinese government and allegations of sexual assault within immigration detention facilities.
Get Your Criminal Justice Degree
Light 'Em Up
Going behind the crime scene tape, Light 'Em Up brings listeners to the front lines of justice. Like most podcasts on this list, it's not necessarily a feel-good show — but it does provide an undercurrent of hope for aspiring criminal justice professionals who want to make a difference. A variety of topics enter the conversation, such as impartiality during jury duty, the use of no-knock warrants and the growing prevalence of automated license plate reader cameras. Every episode is sure to get you thinking critically about your future in criminal justice and your potential impact on the community at large.
CIVIL 
The most intriguing cases often take place entirely within civil courts. These cases can have major (and often surprising) implications for the criminal justice system, so they're definitely worth exploring. After all, as host Jillian Jalali reveals in the podcast CIVIL, justice isn't always found within criminal courtrooms. Every episode is fascinating, with covered cases centering around Hulk Hogan, OJ Simpson and even the 'hypnotist principal' George Kenney. 
Justice Matters 
Former federal prosecutor and current legal analyst Glenn Kirschner offers an intriguing perspective on the latest criminal justice and law enforcement stories in the hard-hitting podcast Justice Matters. Most episodes are short, so this is a solid option for anyone who wants current information without a major commitment. Still, these episodes do an excellent job of breaking down confusing concepts and their implications for current news stories.
Sworn 
In the podcast Sworn, defense attorney and former prosecutor Philip Holloway shines a light on the difficult realities of the criminal justice system. The emotional effects of key cases are examined in detail, with episodes exploring relevant topics such as systemic racism, false confessions and mandatory minimums. The two and three-part case studies are especially worth listening to if you crave a deep dive into unsolved mysteries and shocking courtroom decisions. If you love this podcast, be sure to check out the affiliated true crime favorite Up and Vanished.
A Social Justice Podcast 
Diverse perspectives are crucial in your criminal justice podcast lineup, so you'll definitely want to add this valuable program to your list. Hosted by public advocate Nicola Spurling, this podcast delves into the specific manifestations of social justice concerns on housing, healthcare, food insecurity and more. Insightful interviewees include financial planners, criminal defense lawyers and aerospace engineers. There's no shying away from sensitive subject matter, so be prepared for thought-provoking coverage. 
Just Science
Human identification techniques are quickly evolving, but few people recognize just how far this technology has come. Just Science pulls back the curtain to reveal the most noteworthy developments in forensic science and the positive impact these solutions can have when applied strategically. Information-dense episodes reveal fascinating details about postmortem prints, genetic genealogy and forensic anthropology. There's no better complement to your forensics-oriented college courses.
Working for Justice 
Created by the Arizona Criminal Justice Commission and available through Audible, this podcast features interviews with some of the criminal justice system's most inspiring professionals. You'll learn what genuine leadership looks like in various criminal justice agencies and programs — and how academic experiences might shape your career. Episodes are only released occasionally, but they're always worth listening to when you want to hear from true insiders.
Crisis of Crime
While many of the podcasts above reveal the need for criminal justice reform, Crisis of Crime shows how, exactly, this lofty goal can be accomplished. Hosted by a criminologist who is all too aware of the systematic issues that exist within the modern criminal justice system, this podcast weaves together practical theories and powerful storytelling to show that change is possible.
Get Your Criminal Justice Degree
Pursue Your Passion for Criminal Justice
Podcasts can be an excellent resource and even better form of entertainment, but nothing compares to solid training from a respected degree program. As you prepare for an impactful career in criminal justice, look to Husson University to gain the well-rounded education you need. Our Bachelor of Science in Criminal Justice is available entirely online, so it's just about as accessible as your favorite criminal justice podcast. Reach out today to learn more.
Back to All Articles