Animal-Assisted Therapy: Is This How You Can Make a Difference?
Published on: August 17, 2022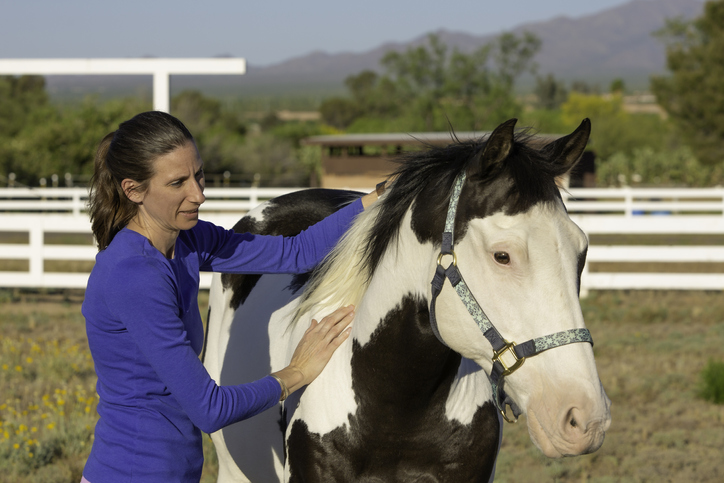 If you've ever cuddled a favorite kitten on your lap or enjoyed the privilege of having an old dog recline comfortably at your feet, you already understand how powerful the human-animal bond can be. Human-animal interaction is therapeutic for both parties involved, which is how animal-assisted therapy came into existence.
Get Your Animal-Assisted Therapy Certificate
What Is an Animal-Assisted Therapist?
Animal-assisted therapists are healthcare professionals who facilitate healing interactions between specially trained therapy animals and the people who need them. Any pet owner can tell you that humans and animals are capable of forming special bonds. And a therapy animal can serve multiple functions, including:
Reducing pain
Lessening feelings of anxiety and depression
Lessening fatigue
Improving coping skills
A trained therapy animal can help their owner deal with difficult periods in their lives, such as after they suffer a traumatic event or as they struggle with the onset of disorders like dementia. But in order for the human-animal bond to work the way it should, animal-assisted therapists are needed.
What Does an Animal-Assisted Therapist Do?
An animal-assisted therapist has several responsibilities. Primarily, they conduct therapy sessions between patients and animals. During this type of session, they utilize the therapy animal to help the patient realize specific therapy goals, such as improving their social skills or their ability to trust. If the therapist has mental health credentials, they can assess and counsel the patient during the session.
Other responsibilities of an animal-assisted therapist may include:
Acting as a facilitator between a patient and their therapy animal
Traveling to patients' homes to perform therapy with animals
Traveling to hospitals to perform therapy with animals
Coordinating a patient's care plan with other members of their healthcare team
Scheduling appointments
Owning and training their own therapy animal
When most people envision a therapy animal, they think of a dog or a horse. However, many animals are capable of giving and receiving comfort, including cats, birds, rabbits, guinea pigs and more. As long as a special bond develops between the patient and the therapy animal, nearly any type of animal can have a beneficial impact.
How Does Animal-Assisted Therapy Work?
Animal-assisted therapy works in different ways, according to a patient's individual goals and treatment program. But overall, the patient interacts with and cares for the animal. In return, the animal provides love and comfort. A therapy animal is completely capable of improving a patient's quality of life in many ways, including:
Lowering blood pressure
Warning a seizure is about to occur
Helping those with vision loss navigate around town
Motivating regular exercise
Decreasing feelings of loneliness or isolation
Often, just having another presence in the house that requires regular care, feeding and exercise is enough to improve a patient's quality of life. This is mostly because it forces the patient to focus their thoughts and energy on something other than their own worries and fears.
What Does an Animal-Assisted Therapy Session Look Like?
A therapy session can be as simple as a therapist bringing a dog to a hospital room to interact with a sick child, or it can look more like a home visit where an elderly individual learns how to care for and accept care from a new pet. It's often the therapist's job to observe the interaction between patient and animal and to make recommendations or suggestions for improvement. It's also the therapist's responsibility to ensure both the patient and the animal interact safely. This is especially important when the patient is a small child.
Animal-assisted therapy sessions can stave off boredom and feelings of depression for patients who experience extended hospital stays. They can even improve the memory and cognition in patients who suffer from disorders such as Alzheimer's disease. There's more than comfort to be had during an animal-assisted therapy session. There's also relaxation, happiness and love.
Salary and Job Outlook for Animal-Assisted Therapists
An animal-assisted therapist is a type of recreational therapist. This includes healthcare professionals who use methods of intervention, such as access to animals, to help a patient achieve individualized goals. According to the Bureau of Labor Statistics, the median annual salary for recreational therapists in 2021 was $47,940, or $23.05 per hour.
As far as job outlook goes, the field of recreational therapy is expected to grow an average of 10 percent through the year 2030, with the addition of around 2,200 new jobs. Most professionals who hold these positions possess the minimum of a bachelor's degree.
Work Environment for an Animal-Assisted Therapist
Depending upon the type of animals with which a therapist regularly works, the work environment may be mostly indoors or mostly outdoors, as is the case of those who specialize in equine-assisted therapy. Aside from this, you may frequently find yourself visiting clinics or hospital rooms, entering patients' homes or working in an office setting where patients and their animals come to you. Expect to be in frequent contact with pet hair and dander. And since you'll be handling animals, you may expect to occasionally suffer minor scratches as a regular part of the job.
How To Become an Animal-Assisted Therapist
Most animal-assisted therapists hold bachelor's degrees. This means an additional four years of college beyond high school. And if you wish to counsel patients, you'll need to continue on to earn your master's degree. There are also undergraduate certificate programs in which you can enroll to help you get started in the field as you pursue the needed credentials.
Education and Certification
Husson University, in Bangor, Maine, offers an online undergraduate certificate in animal-assisted therapy that's a good investment for students planning a career in this field. The course culminates in nine credit hours earned by taking three classes, including:
Emotional Support and Service Animals
Animal-Assisted Therapy
Animal Behavior, Evolution and Therapeutic Applications
A certificate can help you get a foot in the door and may allow you to assist other therapists in a clinical setting as you hone your service skills and continue your education.
Skill Requirements
To be successful in a career as an animal-assisted therapist, you'll need specialized skills that you'll learn as you complete your coursework. But there are other skills required, too. It helps to have the following:
Strong communication skills
A love of animals
Enjoyment in helping others
Patience and empathy
The ability to be assertive when needed
Networking
It's also important, as in any industry, to build a wide network of contacts. Your college cohort is a great place to begin because it provides access to people with whom you share the same passions, hopes and dreams. Aside from this, there are a number of professional organizations you may join, including:
Finding a Job
Word-of-mouth is always a good place to begin job hunting. With your specialized skill set, finding work as an animal-assisted therapist may be as easy as talking to professionals at your local clinic. The more education you have as you begin your job search, the easier it may be to find a position that you'll enjoy.
Building Clientele
You may also decide to build your own therapy business from the ground up, in which case networking may become your go-to strategy. Talking to people and letting them know what you have to offer is key. Begin your search at your local mental health clinic or hospital and leave your business card with the doctors and specialists who work there.
Is Becoming an Animal-Assisted Therapist Right for Me?
You are the only one who can answer this question. But if you enjoy helping people, being around animals and have stellar communication skills, this career may very well be the right one for you.
When you're ready to explore it in more detail, we invite you to contact the admissions office at Husson University in Bangor and request more information on our undergraduate certificate program for animal-assisted therapy. Classes are online and flexible, so you can work at your own pace toward a new career you just may love.
Get Your Animal-Assisted Therapy Certificate
Sources
https://www.indeed.com/career-advice/finding-a-job/how-to-become-
animal-assisted-therapist
https://abcnews.go.com/Health/animal-therapy-animal/story?id=24649527#:~:text=Therapy%20pets%20can%20include%20%E2%80%9Cdogs,months%2C%20according%20to%20Pet%20Partners.
https://www.healthline.com/health/pet-therapy#benefits
https://www.youtube.com/watch?v=VgXYFnwguj8
https://www.bls.gov/ooh/healthcare/recreational-therapists.htm#tab-1
https://www.caninetherapycorps.org/
Back to All Articles