Psychology Jobs Guide: Understanding Mental Health Careers
Published on: September 21, 2021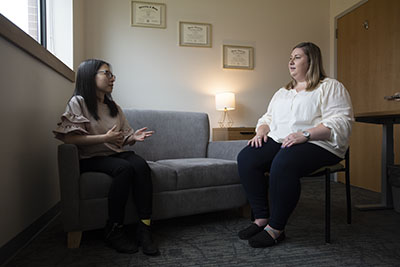 The field of mental health continues to grow as more and more people embrace the importance of being balanced in all areas of life. There is an increasing need for trained mental health professionals in today's society as depression and anxiety rates rise. Psychology is one field of mental health that continues to rise to the forefront, providing many engaging career opportunities for those who have a degree.
Explore Online Degrees
Why Pursue a Career in Psychology?
Psychologists study the social, cognitive and emotional processes that come from the brain while also studying the behavior of individuals and their relationships with one another. This is a high-paying field, and it provides career options in many different industries. The Bureau of Labor Statistics (BLS) estimates there are over 3 million people employed in the field of psychology across the nation, indicating a high demand for these professionals.
Pursuing a degree in psychology makes sense if you enjoy working with others and helping them achieve better overall wellness. The field has good growth potential and also provides the opportunity to be employed in a broad range of fields. Many types of organizations, from human resources departments to medical offices, need professionals trained in psychology to help them meet the needs of the people they serve. You can make a difference when you pursue this career path by helping people get to the root of their problems and find the mental health strategies to overcome them.
What Are the Different Fields of Psychology?
There are many different fields that fall under the auspices of psychology. From studying the behavior and motivation of criminals to clinical settings helping people explore problems and find solutions, there are many ways you can put your psychology training to work. The number of fields of psychology out there is not limited, but most types of psychology fall into one of these categories.
Clinical psychology focuses on providing mental and behavioral health care to individuals and families. Clinical psychology typically focuses on more severe mental health needs or behavioral disorders.
Industrial/Organizational
This psychology field focuses on understanding the behavior of employees in the workplace and how the work environment affects employees and their behavior.
Cognitive psychology studies mental factors like reasoning, memory, and attention span while also exploring how the brain processes information and stimuli.
Developmental psychology explores how the brain develops as a child grows, and this branch is often used to assess and treat developmental, behavioral, and learning disorders.
Forensic psychologists work within the criminal justice system to help lawmakers and police officers understand why behaviors occur or how the criminal mind operates.
Social psychology focuses on how people think about or interact within relationships with others.
This branch of psychology studies observable behavior in people and helps people make changes to that behavior when they need to do so.
Psychologists in this brand study and treat people dealing with psychopathic and other abnormal behaviors.
Neuropsychologists evaluate and treat people who suffer from nervous system disorders.
These are just some of the many fields of psychology, which is part of the reason why this is such an interesting path of study to pursue.
What Are the Highest Paying Psychology Jobs?
Psychology is often considered a high-paying field, but even within the field, there are a number of different pay ranges.
Psychiatrist
Individuals who work as psychiatrists in a medical capacity are the highest paid among the different psychiatry fields. These professionals must first earn a bachelor's degree, often in psychology or a pre-med field, then go on to complete medical school and a four-year residency. This lengthy training pays off by opening the door to one of the highest-paying fields within the industry.
Doctors of psychiatry, or psychiatrists as they are better known, make an average of $222,460 a year if employed in a physician's office. Those who work in psychiatric hospitals earn around $205,200 a year, according to the BLS. Outpatient Care Centers pay the most with an average of $233,920 a year.
Industrial-Organizational Psychologist
An industrial-organizational psychologist does not have to carry a doctoral degree. Still, this is a high-paying career field because workplaces need these professionals to help them tackle common workplace concerns and make their workers more productive. The minimum education for this role is a master's degree.
According to the BLS, industrial-organizational psychologists who work in scientific research and development earn an average wage of $150,910. The average wage across the board for this field is $96,270.
Neuropsychologist
Neuropsychologists study the complexities of the brain and how it relates to behavior, cognition, and emotions. They are the professionals who perform the tests that diagnose brain disorders. This field requires a doctoral degree in psychology and a specialization in neuropsychology. Because it is a doctoral position, it is one of the higher paid.
The BLS does not specify salary ranges for neuropsychologists. According to Monster.com, neuropsychologists earn an average of $93,572 a year.
Clinical Psychologists
Clinical psychologists are the types of psychologists most people think of when they think of going to therapy. These professionals help patients talk through and identify their problems so they can overcome issues like depression and anxiety. Clinical psychologists require a doctoral degree in the field to do their work.
According to the BLS, clinical psychologists average $82,180 a year. In this field, the pay range varies significantly based on where the individual is working. Those employed in government agencies had the highest potential pay of $100,360, while those paid by schools had the lowest at $77,560.
Forensic Psychologist
Forensic psychologists can start an entry-level position with a master's degree and can pursue higher-paid positions with a doctoral degree. The average pay for forensic psychologists is around $60,000 a year.
Social Worker
For students who are not interested in or able to get graduate degrees in psychology, a bachelor's degree opens the door to a career as a social worker. The psychology training in the degree program lays the foundation for understanding the needs and development of the people a social worker serves. This career is in high demand with an expected growth of 13% between 2019 and 2029.
The BLS estimates the average pay range for social workers to be $51,760, but those in the highest 10 percent earn over $85,000.
Psychologist vs. Psychiatrist – Understanding the Difference
Psychiatry and psychology are fields that overlap. In fact, many psychiatrists start their degree training in the field of psychology. However, there is one distinct difference between these two mental health fields.
These two professionals work in very similar fields, but a psychiatrist is a medical doctor. This means that a psychiatrist is licensed to prescribe medications for mental and behavioral health disorders.
Psychologists can have doctoral degrees, and many careers in psychology require a doctoral degree, but they are not medical doctors. Rather, they pursue doctoral training in the field of psychology specifically.
Psychologist Career Path
If you are interested in becoming a psychologist, there is a specific career path that makes sense. First, you need to earn a bachelor's degree in psychology. This starting point will help you lay the foundation for further psychology training.
There are many careers in psychology with a bachelor's degree as the entry-level degree requirement. The mental health training and understanding that comes with a bachelor's degree in psychology can open the door to a number of career options, including:
Caseworker
Employee relations specialist
Employment or career counselor
Human relations interviewer
Market researcher
Childcare worker
Each of these career paths requires a clear understanding of mental health and how the brain works. A degree in psychology provides that knowledge.
Of course, many people start with a bachelor's degree in psychology to launch further study, opening the door to higher-paying career paths down the line. The next step is to attain a master's degree in psychology. A master's degree can give a student greater income-earning potential, specifically in professional counseling roles. Some of the careers a person with a master's in psychology can take on include:
Licensed therapist
Licensed counselor
Forensic psychologist
Industrial-organizational psychologist
Employment psychologist
The ultimate training in psychology is that of a doctoral degree. Someone with a doctoral degree in psychology has access to some of the highest-paid careers in the field. This might include:
Clinical psychologist
Neuropsychologist
Psychiatrist, if they pursue a medical degree
In addition, professionals with a Doctor of Psychology can be leaders in their fields, heading up practices and seeing complicated cases involving patients with serious behavioral and mental health disorders.
Position Yourself for Well-Paying Psychology Jobs with the Right Training
If you are interested in mental health and want to make a career out of your understanding of it, psychology jobs are a good option to consider. However, these jobs require the right training. Husson University can get you started with our online psychology degree. After completing this degree, students can apply for the Maine State Mental Health Rehabilitation Technician/Community certification, opening the door to entry-level positions in mental health or admission to graduate school. Husson also offers a Master of Science in Nursing – Psychiatric Mental Health Nurse Practitioner specialty for nursing graduates looking to specialize in the mental health field.
To learn more about our psychology degrees, reach out to the admissions team at Husson University today.
Sources
https://www.bls.gov/oes/2017/may/oes291066.htm#(5)
https://www.bls.gov/oes/current/oes193032.htm
https://www.verywellmind.com/the-9-highest-paying-psychology-careers-2794940
https://www.monster.com/career-advice/article/highest-paying-psychology-jobs
https://www.bls.gov/ooh/life-physical-and-social-science/psychologists.htm#tab-5
https://www.bls.gov/ooh/community-and-social-service/social-workers.htm#tab-1
https://www.bls.gov/ooh/field-of-degree/psychology/psychology-field-of-degree.htm
Back to All Articles