Exploring Husson University's Business and Professional Studies Degree
Published on: August 2, 2021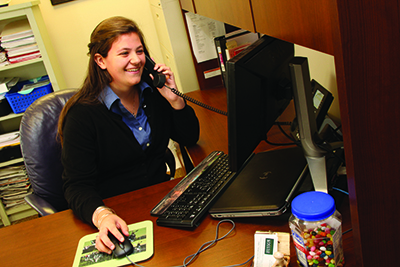 The Business and Professional Studies degree at Husson University is an exciting program designed to prepare students for successful careers in management, leadership, finance, and a broad range of other business fields. In this article, we'll explore frequently asked questions about this business degree program, including what courses it entails, how it differs from other business degrees, and the salary outlook for business and professional studies graduates.
What Is a Bachelor's in Business and Professional Studies?
Our Bachelor of Science in Business and Professional Studies program is an online business degree program that covers a variety of topics in the field of business, including financial management, marketing, project management, leadership, employee relations and business communication. In many ways, this accredited program is like a mashup between a general studies degree and a business administration degree. It is a degree that can prepare you for several different careers in the wide-ranging field of business.
How Is the Business and Professional Studies Degree Different from Other Business Programs?
Earning a business and professional studies degree requires students to complete a generalized program covering a broader range of topics than most other business degree programs. While a business and professional studies degree is somewhat akin to a Bachelor of Business Administration, the former is more application-based than research-based. That being said, a business and professional studies degree is certainly a business-oriented degree that can help you advance in your career.
What Will I Learn?
The business and professional studies degree is a program that includes a number of different business courses. Students who complete this program can look forward to taking courses in:
Marketing Fundamentals
Human Resource Management
Business Law
Business Strategy
Financial Management
Organizational Behavior
Managerial Economics
Principles of Accounting
Managerial Accounting
Business Ethics
International Business
In addition to these business courses, Husson University's business and professional studies program also includes a variety of general education courses, including:
Finite Mathematics
A Fine Arts Elective
Approaches to Literature
Foreign Culture and Conversation
Macroeconomics
These program-specific courses add up to a total of 57 hours. In order to earn their business and professional studies degree, though, students must also complete 30 hours of prerequisite general education courses including history, psychology, professional communications and composition, as well as 30 hours of tech/professional electives.
By requiring a balanced course load including both business-specific courses and a near equal offering of general study and tech/professional courses, our business and professional studies program is able to provide students with a thorough education, enabling them to excel at any number of business-oriented careers.
What Are the Benefits of the Online Program Format?
At Husson University, our business and professional studies program is a 100% online business degree. This online format offers a number of substantial advantages over the traditional, in-person format while still providing students with a high-quality, thorough education.
The first and most obvious advantage of this online format is that it is far more convenient and allows you to earn your degree from any location you choose. While we are incredibly proud of our beautiful campus, not everyone has the luxury of moving to our Bangor location in Maine to attend in-person classes on a regular basis. Whether it's finances, logistical concerns, or personal responsibilities that tie you to another location, there are plenty of reasons why attending on-campus classes may not be feasible. With our online degree programs, though, you can receive the same exceptional education as our on-campus students from any location in the world.
To a large degree, the online program format allows students to work at their own pace and schedule, as well. Although there will be instances where you are required to attend live lectures at specific times, there are also plenty of other instances where you will be able to choose the schedule that you would like to keep. Many of the lectures in our online programs are recorded, and students are often given the option to attend the live lecture or view the recording at a time of their choosing. This flexibility enables you to earn your education while still fulfilling other responsibilities in your life that might not be so flexible.
Lastly, the online program format is something that can save you money. While the per-credit tuition of online courses will typically be the same as the tuition that on-campus students pay, earning your degree online does enable you to avoid certain expenses such as on-campus housing, a meal plan, and travel costs.
What Is Required to Earn My Degree?
Earning your business and professional studies degree from Husson University will require you to complete 57 hours of program-specific courses and 60 hours of pre-requisite or general education courses. Students will also need to take on an internship, complete a co-curricular or community service program, and maintain a cumulative GPA of 2.0 or better.
What Kind of Salary Can I Earn with a Business and Professional Studies Degree?
Since a business and professional studies degree is something that can prepare you for a broad range of careers, it can be difficult to pin down how much you can expect to earn with it. According to Payscale, those with a bachelor's in business and professional studies earn an average of $69,000 per year. Depending on the exact career that you choose to pursue with your business and professional studies degree, your salary could end up being more or less than this figure.
Why Should I Choose Husson University's Business and Professional Studies Degree?
At Husson University, we are committed to providing our students with everything they need to achieve a high-paying and rewarding career. If you would like to earn a degree that will make you an ideal candidate for a wide range of careers in the field of business, then our business and professional studies program is certainly an excellent option to consider.
This degree's online format makes earning your education incredibly achievable and convenient, while our world-class instructors ensure that you receive the best possible education with every course you take. To learn more about applying for Husson University's bachelor of professional studies, be sure to contact us today!
Get Your Business and Professional Studies Degree
Back to All Articles