29 Husson Pharmacy Students Received Their White Coats on Nov. 17
Published on: November 17, 2023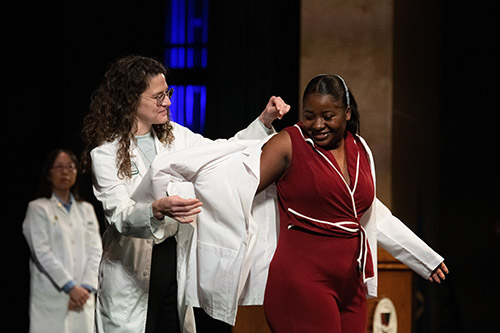 BANGOR, MAINE — Twenty-nine Husson University students from the School of Pharmacy were presented with their white coats during a ceremony at The Gracie Theatre on Friday, Nov. 17.
The White Coat Ceremony marks the beginning of the professional phase of studies for Husson's pharmacy students, a rite of passage in their academic careers. 
"It is a symbol of excellence [and] congeniality," Dean James Nash, PharmD, MPH, BCPS, told the students during his opening remarks. 
Keynote speaker, Dr. Daniel Burk, a 2014 Husson School of Pharmacy graduate and director of pharmacy at Millinocket Regional Hospital in Millinocket, Maine, offered valuable perspective to the students, describing how he came to realize he'd have to work harder than he'd ever worked to succeed in his pharmacy education at Husson to prepare himself for his career. Burk urged the students to be open to opportunities and growth and make sure they are putting in the necessary effort.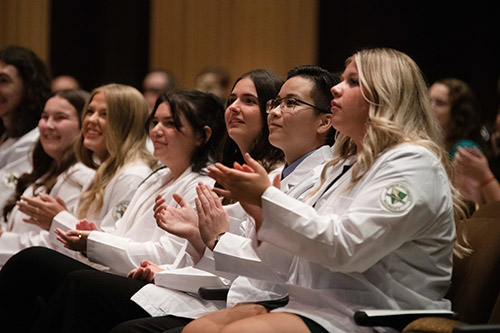 "The world of pharmacy presents endless opportunities. Don't be afraid to move around in your profession," Burk said. 
This year, white coats were presented to 29 students. Friends and families joined the students for the 15th annual event. 
The students also took the Oath of a Pharmacist during the ceremony.
Back to All Articles