Husson University Will Help Feed 140 Older Adults and People with Disabilities on Thanksgiving This Year
Published on: November 17, 2023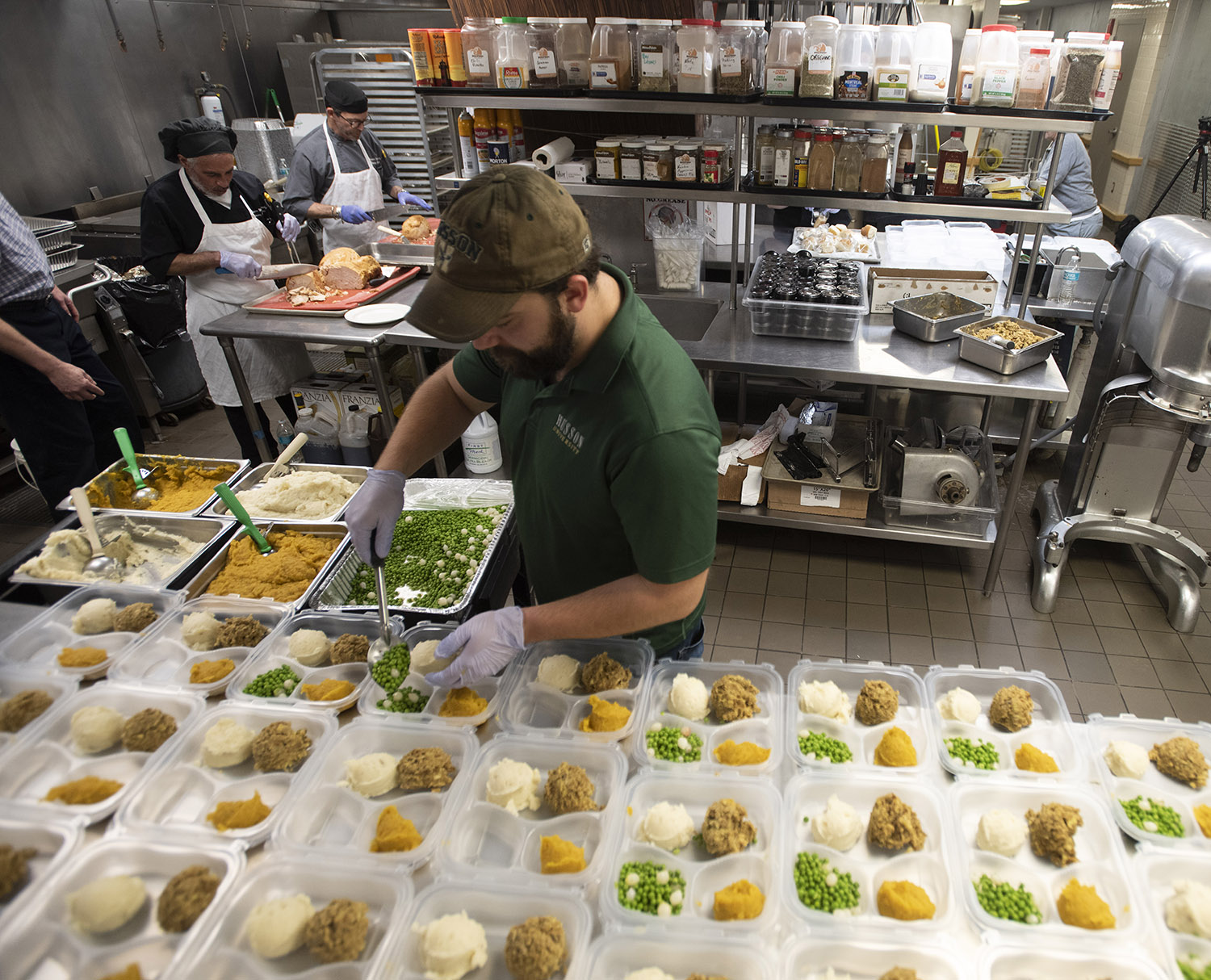 BANGOR, MAINE — Husson University employees will join with two local organizations on Thanksgiving to provide 140 hot holiday meals for older adults and people with disabilities at two living facilities in Bangor.
This is the fourth year that Husson has partnered with the Caleb Group and Harbor Management to prepare and deliver Thanksgiving meals to people in need living at Bradford Commons and Kenduskeag Terrace in Bangor.
The meals will be prepared and assembled in the kitchen of Dickerman Dining Center at Husson's campus by an all-volunteer team that will include Director of Dining Bob Sedgwick, Assistant to the Director of Dining Carole Bemis. Executive Sous Chef Dave Schultz, Executive Chef Shawn Joyce, Sous Chef Hayden Dow, Purchaser Julie Perkins and criminal justice student Billy Bartone.
The meals will be transported to Bradford Commons and Kenduskeag Terrace by Laurie Holmes, resident serves coordinator at the Caleb Group, and her husband. From there, most meals are distributed from a central location. The remainder are taken directly to residents with mobility challenges.
The annual effort ensures that those on fixed incomes have a hot, delicious meal to enjoy on Thanksgiving. Beyond the financial benefit though, Husson's award-winning dining experience is a special treat for those who receive the meals. From turkey to stuffing to potatoes to pie, the meal is all inclusive. 
"The residents love the meals. It's old fashioned cooking," said Holmes, recounting a story of one resident in her 90s for whom the stuffing brought back memories. "It's very much appreciated by the residents."
"This is an all-volunteer effort by Husson University, and I am so proud of the way people want to help bring a comforting meal to residents in these two Bangor communities," Sedgwick said. "The effort has grown every year, and it's heartening to know that it's not just free food but a highly anticipated meal that residents are so excited to receive. It makes it all worth it."
Bradford Commons and Kenduskeag Terrace are both owned by the Caleb Group and managed by Harbor Management.
Back to All Articles