Veterans Honored at Husson University
Published on: November 10, 2023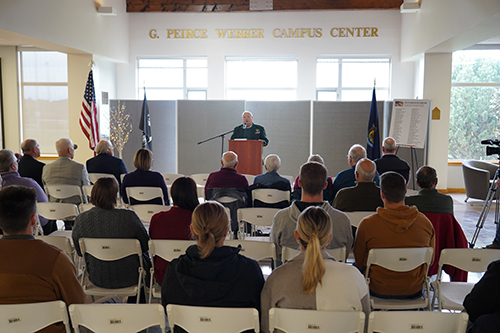 Husson University held several events this week recognizing veterans in honor of Veterans Day, a day set aside each year to honor veterans of all wars. It is officially celebrated on Nov. 11, a day chosen due to its significance in the ending of World War I.
A Veterans Day presentation was held at the G. Peirce Webber Campus Center on Thursday, Nov. 9. President Robert Clark welcomed attendees to the event with remarks about service and veterans.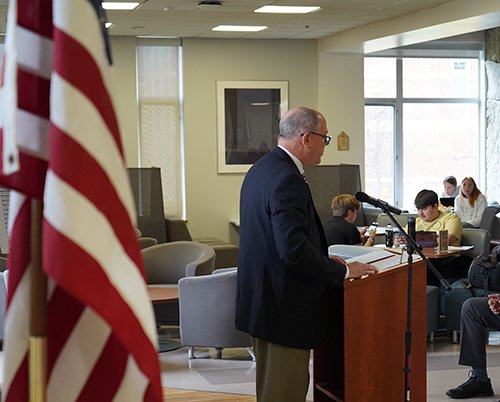 Clark also introduced speaker Scott Oxley '89, president of the Galen Cole Family Foundation. Associate Professor Michael Kamorski of the School of Legal Studies, a retired US Air Force Lieutenant Colonel with 24 years of active duty service, also spoke.
The presentation was followed by a Veterans BBQ at the Dickerman Dining Center in which Husson alumni, students and staff who are veterans as well as students who are military dependents were invited to eat for free. 
Events in honor of Veterans on Husson University's campus continued on Friday, Nov. 10.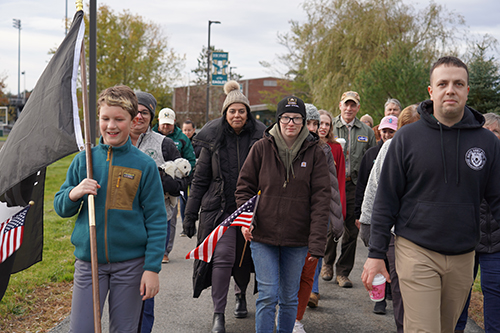 On Friday, the Husson Student Government hosted its first-ever MVP Walk to benefit the Maine Veterans Project, an organization dedicated to helping Maine veterans through direct support programs, recreation, and activities. The walk was free to participate in, but student government did collect donations for the project. 
Participants began at Newman Gymnasium and walked around the circle.
Back to All Articles