The Gracie Theatre at Husson University's 12th Season to Feature 10 Shows, Including Fan Favorites From Past Seasons
Published on: September 21, 2023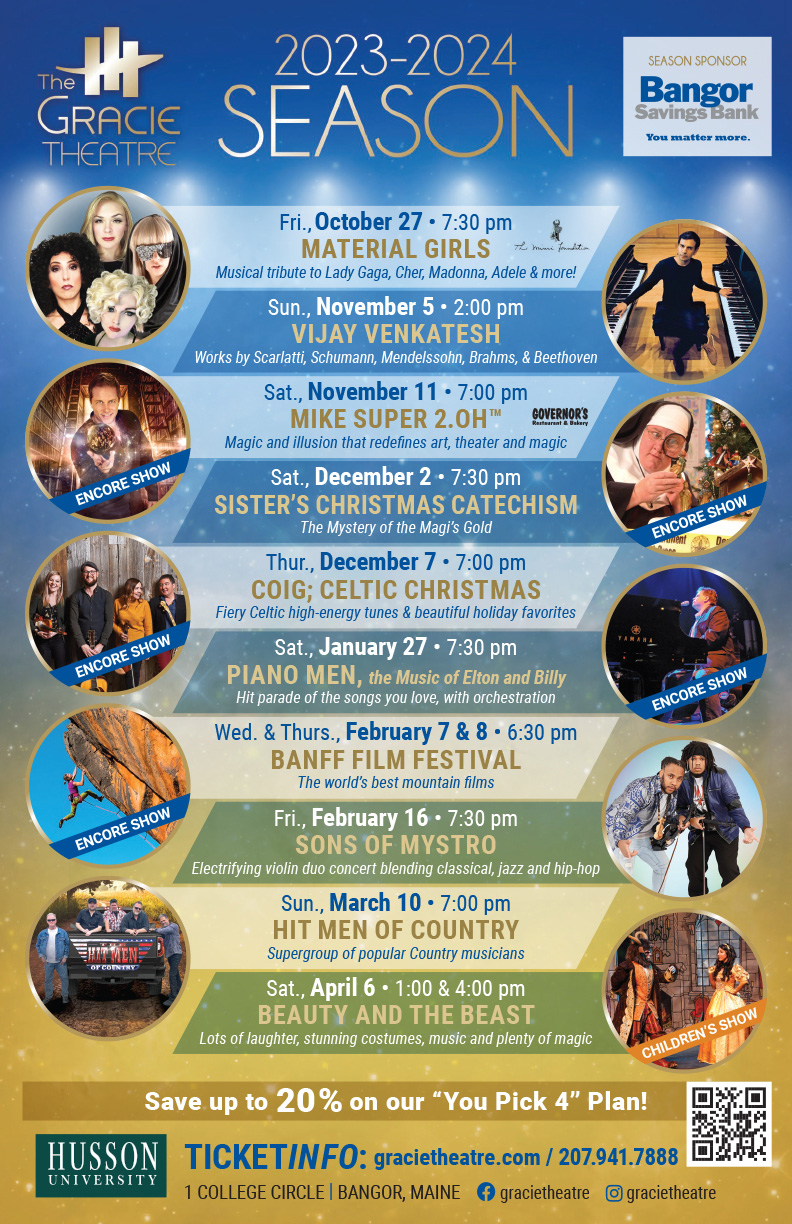 BANGOR, ME, September 12 - Gracie Theatre audiences are the drivers behind the venue's 12th season "theme," - "Fan Faves!" This year's exciting lineup of ten world-class performances includes several fan favorites from past seasons, ranging from music to comedy and magic. Single-show tickets are currently on sale along with the popular discounted "You Pick 4" plan. The 12th season is sponsored in part by their current and founding sponsor Bangor Savings Bank.
"The theme for the Gracie's 12th season, "Fan Faves," was born when patrons started demanding the return of some of their past favorite shows," Jeri Misler, managing artistic director of the Gracie, said. "Many performers have new or different versions of their shows, so inviting them back was a no-brainer!"
The season kicks off with what will undoubtedly be a new fan favorite when "Material Girls" rocks the Gracie on Friday, October 27. This crowd-pleasing, high-energy event is backed by a rock band and features six female singers recreating and celebrating the stars who topped the pop charts for decades! The "Material Girls" setlist includes all the number-one hits, which are done note-for-note exactly like the originals and performed by the incredible look-alikes of Adele, Lady Gaga, Madonna, Cher, Annie Lennox and Shania! Since the show kicks off the Halloween weekend, the Gracie Theatre encourages patrons to come dressed as their favorite "Material Girl."
Bangor Symphony Orchestra (BSO) fans will be excited to hear that classical pianist Vijay Venkatesh returns to Bangor for a solo concert on the Gracie stage on Sunday, November 5.  Venkatesh recently performed with the BSO and can be heard on a recent album by Lucas Richman released on Albany records. Vijay's program will include variations on one of Richman's compositions in addition to Beethoven's Sonata No. 14 in C-Sharp Minor Op. 27 No. 2, Scarlatti's Sonata in D minor, K. 213, K. 141, and Barcarolle Op. 60 in F-Sharp Major by Chopin, among others.
Audiences raved about Mike Super's sold-out illusion and magic show last season, so the new "2.OH!" version was a "must-have" in this season's line-up. Utilizing state-of-the-art theatrical elements plus cutting-edge magic and illusions, it's easy to see why Mike can boast being the only magician in history to win a live magic competition on primetime U.S. network television.
The Bangor area's favorite "nun" is making her fourth appearance on the Gracie stage this holiday season in Sister's Christmas Catechism, The Mystery of the Magi's Gold on Saturday, December 2. In this hilarious version of the popular series, Sister takes on the mystery that has intrigued historians throughout the ages - whatever happened to the Magi's gold? Think "CSI: Bethlehem" as this holiday mystery is revealed and the nativity is brought to life, assisted by a gaggle of audience members, costumes and even a local choir.
Another of Bangor's favorite groups returns to celebrate the season on Thursday, December 7, when COIG: A Celtic Christmas brings their two dozen instruments and signature fiery energy back to the Gracie. "Còig" is one of Atlantic Canada's most exciting Celtic traditional groups made up of accomplished multi-instrumentalists in Chrissy Crowley, Rachel Davis and Darren McMullen. Their holiday concert easily shifts between century-old holiday tunes of past generations to original and familiar compositions.
Fans of last year's sold-out performance of "Classic Rock Orchestra" won't want to miss the group's original show, Piano Men, the Music of Elton and Billy on Saturday, January 27, 2024. "Piano Men" combines a four-piece rock group with a string orchestra section and vocalist Joe Boucher on piano. With arrangements by Christopher Eastburn, the music of "Piano Men" opens with Billy Joel's thrilling "Prelude/Angry Young Man" and works its way through a veritable hit parade of the two composers.
Ever gaining in popularity from year to year is the Banff Film Festival on Wednesday, February 7, 2024, and Thursday, February 8, 2024. The Banff Film Festival features world class mountain films viewed on the Gracie's large screen with the added benefit of premiere acoustics. Fans can enjoy two different evenings of award-winning films, meet local outdoor-focused groups, enter into a gift giveaway and even receive a $5.00 discount for attending both nights.
Sons of Mystro, an electric violin duo, lights up the Gracie on Friday, February 16, 2024. Real-life brothers Umoja and Malcolm McNeish electrify the stage with their fiery blend of classical, jazz and hip-hop. The duo's violin mastery mesmerizes the crowd as they switch seamlessly between genres, bringing the audience to their feet in an unforgettable performance.
Country music fans will want to save Sunday, March 10, 2024, on their calendars because the incredible Hit Men of Country brings the best hits from the top country stars of today. The "Hit Men of Country" concert features five of the finest musicians who have performed, toured or recorded with some of Country's greatest artists – hitmakers like Wynonna, Keith Urban, Trace Adkins, Lee Greenwood, Travis Tritt, Jason Aldean and more. This show delivers hit after hit after hit, plus great insider backstage stories about their days on the road with the country legends with whom they worked.
Young Gracie fans are invited to enjoy the last show of the season, Beauty and the Beast, on Saturday, April 6, 2024. This  spellbinding family show, from The Panto Company USA stars Dame Dotty Potty, Loopy Louie, Gaston, Belle and, of course, The Beast! The show runs just one hour to keep young fans engaged, and there are two shows that afternoon, so there will be plenty of seats for family and friends to enjoy this Panto Company musical filled with lots of laughter and plenty of magic.
For patrons who would like to put together a customized package of multiple shows, The Gracie's "You Pick 4" season ticket plan includes premium seats for at least four shows of your choice at a special 20% discounted price. The premium seats located in the orchestra section are available for a limited time. Single show and "You Pick 4" tickets can be purchased at GracieTheatre.com, Facebook or by calling 207.941.7888. Patrons can purchase tickets for the "You Pick 4" plan now through Thursday, December 7. Single tickets are currently available and range in price from $20 - $40 depending on the show and seat.
The Gracie Theatre, in a collaboration between artists, students and university constituents, is an intimate and inviting performing arts facility that provides hands-on experiential learning and technical support services for the Husson University community through a combination of diverse cultural programming and community engagement.
For 125 years, Husson University has shown its adaptability and strength in delivering educational programs that prepare future leaders to handle the challenges of tomorrow through innovative undergraduate and graduate degrees. With a commitment to delivering affordable classroom, online and experiential learning opportunities, Husson University has come to represent a superior value in higher education. The hallmarks of a Husson education include advanced knowledge delivered through quality educational programs in business; health and education; pharmacy studies; science and humanities; as well as communication. According to an analysis of tuition and fees by U.S. News & World Report, Husson University is one of the most affordable private colleges in New England. For more information about educational opportunities that can lead to personal and professional success, visit Husson.edu.
Back to All Articles