Husson to Celebrate 125th Anniversary at Homecoming
Published on: September 15, 2023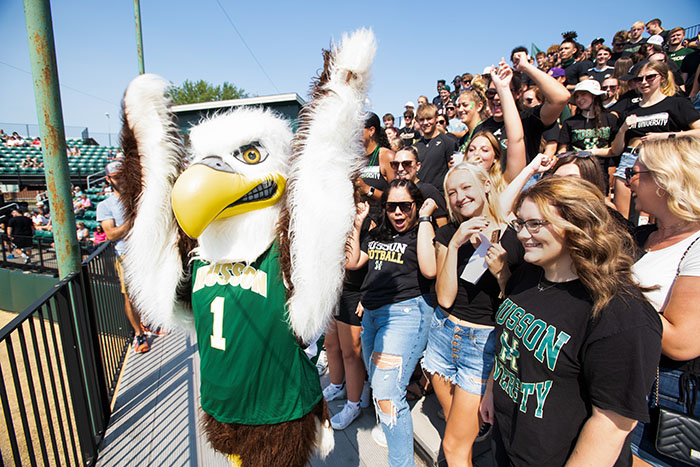 BANGOR, MAINE – Homecoming Weekend 2023 kicks off Husson University's year-long 125th anniversary celebration. This year, the Homecoming celebration for alumni, friends and current students runs from Friday, September 22 through Saturday, September 23. The featured football game will pit Husson University against rival Anna Maria College.
"Homecoming is a great opportunity to celebrate the 125th anniversary of the University with former classmates and friends." said Robert A. Clark, PhD, CFA, president of Husson University. "We are looking forward to seeing alumni when they return to campus. A carnival has been added as part of the celebration that will provide a terrific opportunity for our graduates with children and people of all ages to have a fun time while reconnecting with old friends they may not have seen in years."
The weekend celebration begins on Friday, September 22, 2023 with the Alumni Hall of Fame Ceremony & Reception in the Gracie Theatre at 4 p.m. Each year, Husson recognizes several special individuals who have brought distinction to themselves and their alma mater through their devotion to education, professionalism and service. In addition to being honored for their personal and career achievements, these individuals are recognized for their support of the university and its mission.
Three individuals will be recognized this year.
Connor J. Archer '21, 21G will be honored as this year's young alumnus. He is a digital designer at Mobile Price Card, Inc. and Founder, Chairman/CEO and President of The Courageous Steps Project. The Courageous Steps Project supports children and young adults with various abilities and challenges and channels resources to enhance their success in school and in life.
In addition, Husson's Head Women's Basketball Coach Kissy Walker, '03G  will be inducted into the Alumni Hall of Fame. Walker began her coaching career at Husson in 1989. She has led the Eagles to 12 conference championships and 12 NAIA/NCAA National Tournament appearances. Walker's teams have won five out of the last seven conference titles and Walker has been named conference coach of the year 11 times, Maine State coach of the year three times, NAIA District V coach of the year twice and New England Women's Basketball Association Coach of the Year once. She has the most wins of any female coach in Maine college basketball history.
This year's Honorary Alumnus is Betty Constantine Floris, a Bangor native who has worked locally, regionally and nationally in teaching and consulting in executive non-profit management for over 25 years. In 2009, she assisted her father, a 1942 graduate of Husson, establish the Earl R. Constantine Endowed Scholarship for business students from Maine at Husson University. Floris has contributed annually to her father's scholarship, and served on the Women's Philanthropy Council at Husson. Floris and her husband Herb have supported the new business building campaign, and the WPC scholarships. They are members of the Chesley Husson Society, and are Bell Tower donors. All of these initiatives significantly enriched the educational opportunities available to Husson students.
Homecoming weekend continues on Saturday, September 23, 2023 with several activities all starting at 11:30 a.m.
The Alumni and Friends Gathering at the new softball pavilion will be open to all Husson University students, families and graduates from 11:30 a.m. – 3:30 p.m. Homecoming attendees are encouraged to stop by the tent, grab some Husson branded swag, and reconnect with members of our Husson family. Geaghan's Brothers Brewing Company will be revealing Green and Gold, a beer they brewed in recognition of our 125th Anniversary.
Student Life, Student Government and the Alumni Association are partnering to present a carnival. Activities will include cornhole, an inflatable obstacle course, tug-of-war, t-shirt spin art, popcorn, cotton candy and more.
Tailgating for the football game begins at 11:30 a.m. in the parking lots for the O'Keefe Softball Field, adjacent to the Winkin Sports Complex.
For those who do not wish to tailgate, the Dickerman Dining Center (DDC) will be open from 10:00 a.m. - 12:30 p.m. for Brunch and then from 12:30 p.m. - 4:30 p.m. for light fare. The DDC is located between Carlisle Hall, Peabody Hall and Bell Hall.
Cheering begins at 1 pm when Husson University's women's soccer team will host UMaine Farmington on the John P. Boucher Field. Kickoff for the football game between the Husson Eagles and the AMCATS of Anna Maria College begins at 3:30 p.m. at the Winkin Sports Complex. During halftime, a silent auction will be held to support Husson's track & field teams.
Registration information for Homecoming events can be found at https://www.husson.edu/homecoming.
For 125 years, Husson University has shown its adaptability and strength in delivering educational programs that prepare future leaders to handle the challenges of tomorrow through innovative undergraduate and graduate degrees. With a commitment to delivering affordable classroom, online and experiential learning opportunities, Husson University has come to represent a superior value in higher education. The hallmarks of a Husson education include advanced knowledge delivered through quality educational programs in business; health and education; pharmacy studies; science and humanities; as well as communication. According to a recent analysis of tuition and fees by U.S. News & World Report, Husson University is one of the most affordable private colleges in New England. For more information about educational opportunities that can lead to personal and professional success, visit Husson.edu.
Back to All Articles