Pixotope Education Program Expands to the U.S. with the Addition of Husson University
Published on: August 22, 2023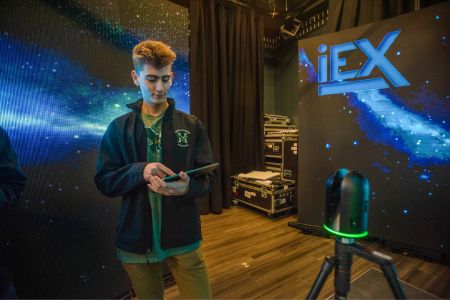 Oslo, Norway – August 22, 2023 – Pixotope, the leading software platform for end-to-end realtime virtual production solutions, is proud to announce that Husson University has joined the Pixotope Education Program, the company's educational and community-building initiative designed to help enable the next generation of virtual production talent. As the first U.S.-based education program partner, the addition of Husson marks the program's expansion across the Atlantic, further enhancing its ability to tackle the growing need for virtual production expertise by providing access to the necessary technology and industry experts. Other Pixotope Education Program partners include England's University of Gloucestershire, the Netherlands' Hanzehogeschool Groningen, Italy's Apulia Digital Maker, Singapore's Ngee Ann Polytechnic and Taiwan's Hsing Wu University. 
Based in Bangor, Maine, Husson is unique in that it is the only university in the state to offer a four year Bachelor of Science degree in extended reality (XR) in their School of Technology and Innovation. The XR degree prepares students for various careers in extended reality with a focus on XR software development, 3-D drafting and modeling, XR systems, XR research and development, and more. Because of the diverse nature of XR, students are also introduced to areas like user experience, interactive design, video and audio production. This program is an option in addition to degrees in software development and computer information systems.
"XR is one of the most exciting new technologies. It all comes down to empowering students, from many different fields, and helping them understand the power of XR and how it can be applied to their area of study," says Brave Williams, iEX Center director and associate professor at Husson University. "All students, regardless of their field of study, need to have access to these tools. This new technology is going to impact all facets of business, research, arts, sciences, and entrepreneurial activities in the near future."
Husson's testing and evaluation process is made possible by the iEX Center, an innovation hub that develops solutions using extended reality experiences like virtual and augmented reality. Dedicated to the full expression of XR technology, the iEX Center is a critical pillar of Husson University's curriculum. The Center plays a central role in enhancing students' understanding of educational software platforms, like Pixotope, can be applied to many different disciplines. The wealth of information and industry resources provided by the Pixotope Education Program, combined with the capabilities of iEX Center, ensures that both students and faculty understand the benefits and limitations, of XR and related technology.
"One of the things that's really exciting about Pixotope is its powerful yet simple integrations and interface," adds Williams. "Pixotope has created a simple tool that channels powerful and complex capabilities into a user-friendly package. It's so easy to use, that I feel comfortable utilizing it in my introductory classes."
As the University researched virtual production technologies, Husson looked for a software platform that would offer their students the very best tools and experiences. Specifically, they were looking for tools that offered an easy entry point for beginners and fostered incrementally advanced experiences with professional results.
"There's an urgent need across industries for professionals who are trained in virtual production. Unfortunately, accessibility and skillsets continue to be barriers," says Pixotope Education Program Manager Carina Schoo. "Husson's XR program, paired with their approach to evaluating the latest technologies, makes them a perfect partner for this educational program. Together, we will work to ensure that students gain a robust and grounded understanding of virtual production that they can  leverage across different industries, utilizing skillsets that can be applied to marketing, communications, computer science, filmmaking and beyond."
For more information about the Pixotope Education Program, please visit https://www.pixotope.com/pixotope-education-program.
To learn more about Husson University's XR degree program, visit https://www.husson.edu/college-of-business/school-of-technology-and-innovation/extended-reality/.
About Pixotope
Dedication, Determination, Trust. Pixotope is at the forefront of democratizing virtual production and empowering content creators with accessible solutions for boundary-pushing immersive storytelling.
Having been proven on the most demanding live productions in the world, Pixotope offers media content owners and producers a reliable and sustainable Virtual Production Platform on which to build their media business.
Pixotope uniquely allows media creators to tell stories with the visual impact of high-end featured films in combination with the connected and scalable nature of online content and the immersive and social experience of video games.
With global 24/7 operations and a direct presence on four continents, Pixotope Technologies is on a mission to promote accessibility, ease of use, and customer success in Virtual Production for all media creators.
About Husson University
For nearly 125 years, Husson University has shown its adaptability and strength in delivering educational programs that prepare future leaders to handle the challenges of tomorrow through innovative undergraduate and graduate degrees. With a commitment to delivering affordable classroom, online and experiential learning opportunities, Husson University has come to represent a superior value in higher education. The hallmarks of a Husson education include advanced knowledge delivered through quality educational programs in business; health and education; pharmacy studies; science and humanities; as well as communication. According to an analysis of tuition and fees by U.S. News & World Report, Husson University is one of the most affordable private colleges in New England. For more information about educational opportunities that can lead to personal and professional success, visit Husson.edu.
Back to All Articles