Leadership Aroostook's Second Graduating Class Creates Operational Plans to Move the County Forward
Published on: July 13, 2023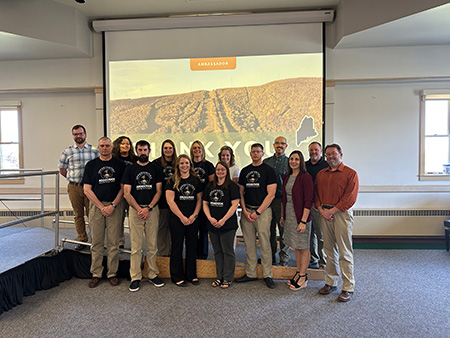 BANGOR, MAINE – July 13, 2023 – Fourteen professionals from 10 different prominent County businesses recently completed Leadership Aroostook, a professional development initiative created by the Aroostook Partnership in conjunction with Husson University's College of Business's Institute for Strategic Leadership and Workforce Development. The program consists of nine in-person monthly training sessions, readings, online written discussions between sessions, and a culminating team project. This year, the training finished on June 1, 2023 when this year's graduates presented the operationalization of proposals created by last year's graduating class.
Dr. Marie Hansen, dean of Husson University's College of Business, feels that the program provides significant value to both employees and employers. "Employees who have gone through the Leadership Aroostook program gain new leadership skills and knowledge that provide professional growth and higher levels of organizational engagement. Employers are likely to see higher retention levels from their employees along with having grown their leaders. Everyone benefits!"
Here are the names and job titles of the students who completed the 2023 Leadership Aroostook program. Also included are the names of the organizations they represent:
| | | |
| --- | --- | --- |
| Name | Job Title | Organization |
| Terri Chandler | Senior Underwriter – Personal Lines | MMG Insurance |
| Kerry Crandall | Assistant Branch Manager | The County Federal Credit Union |
| Donna Dubay | Demand Planner | Twin Rivers Paper Company |
| Lisa Good | Multi-line Producer | F.A. Peabody Insurance |
| Benjamin Goodwin | Assistant Principal | Caribou High School |
| Stephen Goulet | Area Engineer | Huber Resources Corporation |
| Danielle Hebert | Marketing Director | NorState Federal Credit Union |
| Rickie Hull | Finishing Area Specialist | Huber Resources Corporation |
| Michaela King | Community Banker and Cash Management Specialist | Katahdin Trust Company |
| Amber Kinney | Personal Lines Account Manager | United Insurance |
| Melissa Libby | Purchasing Manager | Huber Resources Corporation |
| Craig Lincoln | Commercial Lending | Northern Maine Development Commission |
| Ben Lynds | Vice President of Information Technologies | F.A. Peabody Insurance |
| Jason Pelletier | Transportation Supervisor | Twin Rivers Paper Company |
2022 was the first year for this program. The first year's Leadership Aroostook class developed two unique and creative strategic plans designed to help foster workforce and economic development in the County. Building on the work of last year's students, this year's Leadership Aroostook graduating class created all of the timelines, action items and key milestones needed to make the existing strategic plans a reality.
The 2023 Leadership Aroostook students presented their operational plans and graduated from the program on June 1, 2023. The guest speaker at the event was Actor and Dramatist John Cariani. Raised in Presque Isle, Cariani played the forensic expert Julian Beck in Law & Order. On stage, he earned a Tony Award nomination for his role as Motel the Tailor in the 2004 Broadway revival of Fiddler on the Roof. He is probably best known for having written Almost, Maine, one of the most produced high school plays in America.[1] Introducing Cariani was Matthew R. McHatten, the president and CEO of MMG Insurance.
"Programs like Leadership Aroostook help new and developing talent grow and flourish here in the County," said Paul Towle, president and CEO of Aroostook Partnership. "When we invest in our people, we help create more success for existing businesses and, in turn, strengthen the economic underpinnings of our community. If we want Aroostook County to continue to grow and prosper, we need to invest the time and resources needed to make our community attractive to both existing and new businesses. Leadership Aroostook is an important step toward a better future for everyone in our community, and members of our workforce who complete this program are ready to take the reins and help move the County forward. I'm proud to say the project work from both Leadership Aroostook classes has already been incorporated into Aroostook Partnership's Workforce Strategic Plan." 
Leadership Aroostook was created by the Aroostook Partnership in conjunction with Husson University's College of Business's Institute for Strategic Leadership and Workforce Development. The goal of the program is to help prepare high potential managers for more responsibility, impact and effectiveness in leading their organizational teams and departments. The Aroostook Partnership is a non-profit, private/public partnership dedicated to developing private sector leadership, talents, and resources that can ensure the economic survival and growth of Aroostook County. The organization is supported by over 20 private businesses.
For more information on how organizations can connect with the Institute for Strategic Leadership and Workforce Development to provide a pathway to enhance leadership and other employee capabilities, please visit https://www.husson.edu/about/institute-for-strategic-leadership-and-workforce-development/.
Offering an array of undergraduate degrees, graduate degrees and certificates that can be taken on campus, on site or online, the College of Business at Husson University is dedicated to providing students with an education that leads to career success, regardless of whether they choose to work in the public sector; the private and corporate sector; or for non-profit organizations. Courses in the College of Business offer students the opportunity for experiences where they "learn by doing."  For more information about Husson University's College of Business visit https://www.husson.edu/college-of-business/.
 For nearly 125 years, Husson University has shown its adaptability and strength in delivering educational programs that prepare future leaders to handle the challenges of tomorrow through innovative undergraduate and graduate degrees. With a commitment to delivering affordable classroom, online and experiential learning opportunities, Husson University has come to represent a superior value in higher education. The hallmarks of a Husson education include advanced knowledge delivered through quality educational programs in business; health and education; pharmacy studies; science and humanities; as well as communication. According to an analysis of tuition and fees by U.S. News & World Report, Husson University is one of the most affordable private colleges in New England. For more information about educational opportunities that can lead to personal and professional success, visit Husson.edu.
[1] Twin Cities Arts Reader, "Actor-playwright John Cariani on The Band's Visit, The Final Frontier, and more," Author: Basil Considine, September 30, 2017.
Back to All Articles