Husson University to Hold 124th Annual Commencement Exercises at the Cross Insurance Center
Published on: May 3, 2023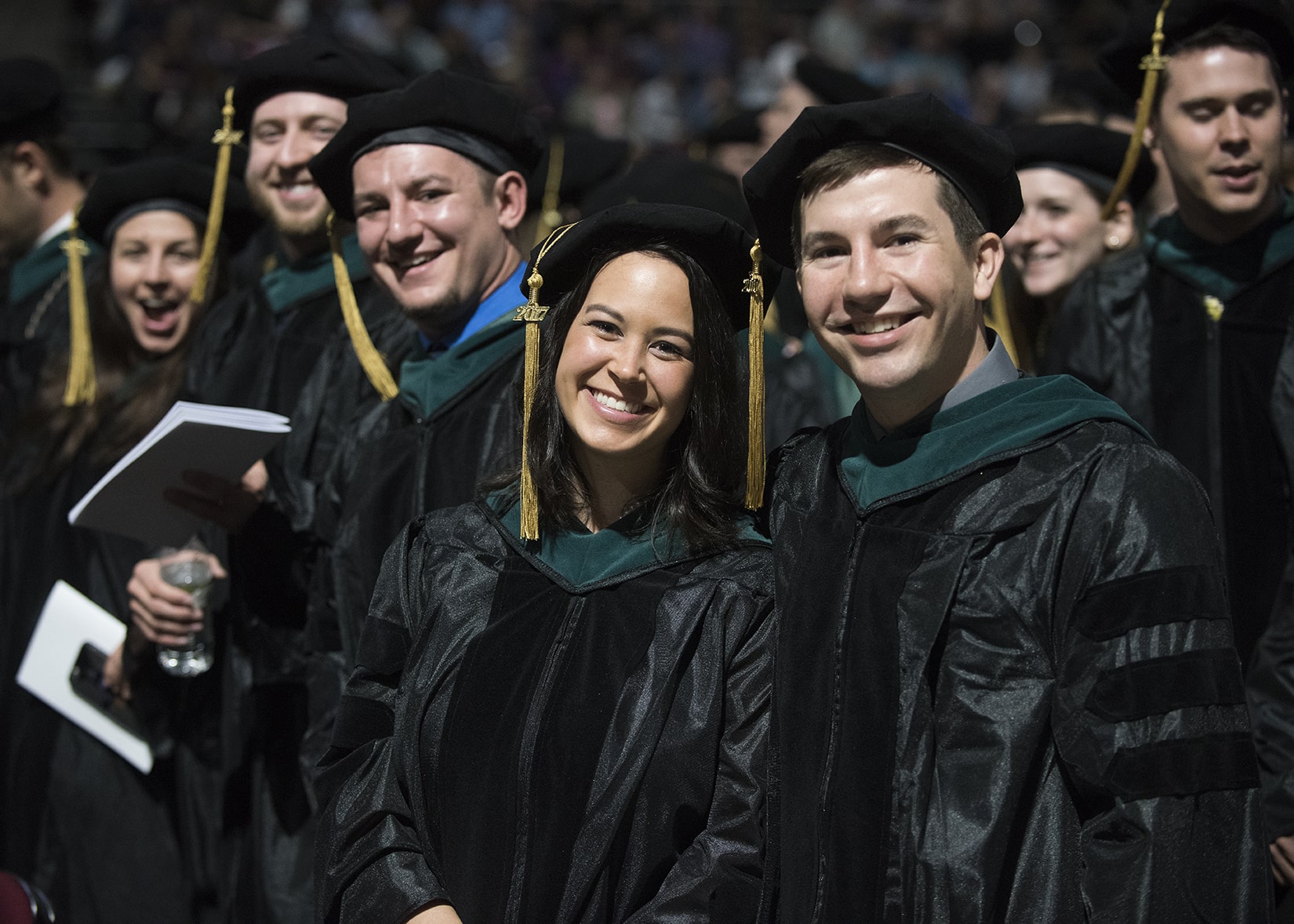 BANGOR, MAINE – Husson University will be holding its 124th Annual Commencement Exercises at 10:30 a.m. in the arena of the Cross Insurance Center on Saturday, May 6, 2023 in Bangor, Maine. Saturday's ceremony will recognize individuals who have completed their degrees from Husson University's College of Business, College of Health and Pharmacy, and College of Science and Humanities.
Over 850 professional certificates, undergraduate degrees, and graduate degrees will be awarded at this year's Commencement. Students completed their programs by studying online, on-site at specific business locations, and/or on Husson University's campus. 
During the ceremonies, Husson University will pay special tribute with the awarding of honorary doctorates in public service to David and Beverly Worthington, the founders of the Worthington Scholarship Foundation of Rockland, Maine. 
The Worthington Scholarship Foundation awards scholarships to graduates of partnered Maine public high schools who will be attending a participating Maine college or university. The Worthington Scholarship Foundation offered $7 million in scholarships to eligible Class of 2022 graduates from 59 high schools. 
"Worthington Scholarships are awarded to students here at Husson who have significant academic potential," said Dr. Robert A. Clark, president of the University. "Husson University enthusiastically shares and supports David and Beverly's efforts to help keep education affordable in our state. Their financial support of students helps make it possible for students to earn college degrees. The Worthington's contributions to the betterment of education in our state make this generous and philanthropic couple more than worthy of these honorary degrees."  
Ryan Wheelock, the president of Husson University Student Government, will deliver this year's Commencement reflection. He will share his perspectives about how Husson students have improved lives through community service.
According to Wheelock, "As individuals and as part of clubs and teams, Husson students have contributed thousands of volunteer hours to our community, both on- and off-campus. They have worked with nearly 40 different community-based organizations. From what I've seen, the Class of 2023 has made the decision to take on the challenges of today and make the world a better place." 
"The generosity of Husson students extends well beyond the borders of our campus," continued Clark. "Undeterred by the challenges posed by the pandemic and today's inflationary economy, these students raised funds and contributed their time to community organizations that make a positive impact on the citizens of Maine. We're proud of the leadership exhibited by Ryan and the public-spirited support of his fellow students." 
Like Wheelock, Husson University is also committed to transforming lives. For example, during the past year Husson completed the renovations of seven new science laboratories in Peabody Hall. This increased science lab capacity is allowing the university to better meet the increased demand for healthcare education. In addition, Husson University is now offering a series of new programs in animal therapy and care online.
"Husson University is always exploring ways to grow and improve our educational offerings," said Lynne Coy-Ogan, EdD, senior vice president for academic affairs and provost. "Besides creating new facilities, Husson prioritizes hiring faculty members who have both theoretical knowledge and practical experience in their areas of expertise. This provides students with the real-world insights they'll need to become successful professionals in their chosen fields."
Valedictorians and Salutatorians: 
Three individuals will be recognized during Commencement for their outstanding academic achievements during their time at Husson University. 
Two of these individuals are being named valedictorians. They are Austin Baron from Ellsworth, Maine and Lydia Gatcomb from Hancock, Maine. In addition to being named valedictorian, Baron will be awarded a Bachelor of Science in business administration with a concentration in financial management degree. Gatcomb will be awarded a Bachelor of Science in elementary education. Both individuals are graduating with a grade point average of 3.992. 
This year's salutatorian is Mikaela Ryan of Gray, Maine. Graduating with a grade point average of 3.989 earned over the course of her four years at Husson University, Ryan will also receive a Bachelor of Science in healthcare administration and public health from the University. 
More about Commencement:
The University's 124th Annual Commencement Exercise is being held at the Cross Insurance Center, located at 515 Main Street in Bangor, Maine. The commencement ceremony begins at 10:30 a.m. Guests not marching in the ceremonies are encouraged to arrive at the Cross Insurance Center by 10:00 a.m. Early arrival is recommended to avoid traffic congestion and to obtain choice seating. Tickets are not required. Those who arrive first, get to choose their seats first. 
The Cross Center is fully ADA accessible for individuals with special needs. Individuals with special needs can find additional information at CrossInsuranceCenter.com/accessibility. Those who cannot attend are welcome to view the ceremony via streamed video online. More information about the streaming video and ceremonies is available at Husson.edu. 
More about Husson University:
For nearly 125 years, Husson University has shown its adaptability and strength in delivering educational programs that prepare future leaders to handle the challenges of tomorrow through innovative undergraduate and graduate degrees. With a commitment to delivering affordable classroom, online and experiential learning opportunities, Husson University has come to represent a superior value in higher education. The hallmarks of a Husson education include advanced knowledge delivered through quality educational programs. According to an analysis of tuition and fees by U.S. News & World Report, Husson University is one of the most affordable private colleges in New England. For more information about educational opportunities that can lead to personal and professional success, visit Husson.edu.
Back to All Articles