Hooding Ceremony to Celebrate Husson Graduate Students' Achievements
Published on: May 5, 2023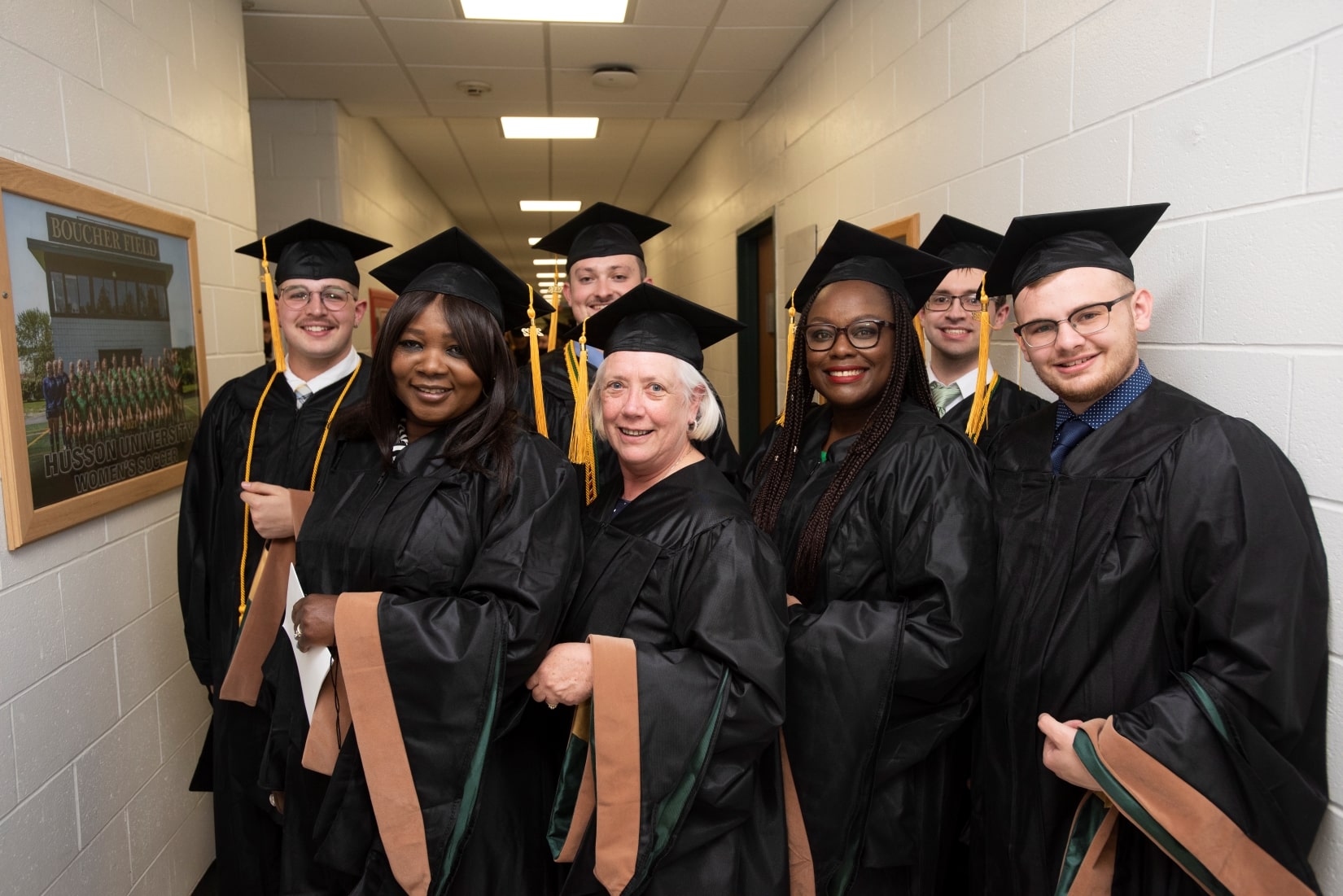 BANGOR, MAINE – The next generation of scholars and professionals who earned their master's and doctoral degrees from Husson will be honored during a hooding ceremony at the Newman Gymnasium on the University's campus in Bangor at 7:00 p.m. on Friday, May 5, 2023. Husson estimates that 1,000 – 1,200 people will be in attendance.
Students earned 296 graduate degrees and certificates this year. This includes 56 doctoral degrees, 228 master's degrees and 12 post-master's degree certificates.
According to Dr. Robert A. Clark, president of Husson University, "This event is filled with significance. In many cases it recognizes individuals who have reached the highest level of education you can achieve within a particular field. Earning a hood signifies that the recipient is now considered a scholar."
"The hood's length, lining colors and binding signify the degree, field of study, and the individual school where the graduate earned his, her or their master's or doctorate. This momentous occasion recognizes academic achievements that our graduates can take pride in for the rest of their professional lives," Clark concluded, 
During a hooding ceremony faculty and students are dressed in academic regalia. Faculty members place the hood over the head of the graduate to signify his, her or their success in completing their degree. 
History of Hooding: 
The wearing of special gowns and hoods is a practice that dates back to the 12th and 13th centuries.[1] Clerical attire was the typical dress of scholars during those medieval times.[2] Long gowns provided necessary warmth in unheated buildings. Hoods as head-coverings helped students and faculty members resist the cold.[3] The Celts and their priests, the druids, initiated the wearing of hoods to distinguish a level of training.[4] Only the druids wore mantles with attached hoods to mark their superiority within society.[5]
Today, caps, gowns and hoods are associated with college graduation. Instead of being practical clothing, modern academic hoods consist of elongated scarves draped over an individual's shoulders with the lining turned inside out.[6] Although a hood is always black in color, the lengths have significance. A graduate earning a bachelor's degree receives a hood that's three feet long.[7] A master's degree graduate receives a hood that's three and one-half feet in length while four-foot hoods are given to doctoral recipients.[8] 
Chesley H. Husson, Sr. Award
Each year, a prominent individual receives the Chesley H. Husson Sr. Award as part of Husson University's hooding ceremony. 
The award is named for Chesley H. Husson Sr. the founder of Husson College, one of the University's predecessor institutions. He believed in academic integrity, hands-on education and community service. His philosophy of combining education and real-world business experience in the classroom continues to be an important academic focus at today's Husson University. 
First presented in 2001, some of the people who have received this award include:
Susan Collins, United States Senator
Jeannine Gutman, Editor, Portland Press Herald
Takfumi Kimura, Education Leader, Japan
Phil Harriman, former State Senator, Community Volunteer
Michael Brennan, Chief of Police, Portland
Steve Rowe, Former Attorney General, State of Maine
Bill Green, Television Personality, Writer and Environmental Champion
Mike Sanphy, Mayor of Westbrook
Edward O. Darling, Owner, Downeast Toyota
Teresa Willett Steele, Professor Emerita 
Charles Miller, Attorney, Community Volunteer
Dewey Martin, Professor Emeritus
The name of this year's award recipient will be divulged at the hooding ceremony on May 5. 
About Husson University:
For nearly 125 years,
Husson University
has shown its adaptability and strength in delivering educational programs that prepare future leaders to handle the challenges of tomorrow through innovative undergraduate and graduate degrees. With a commitment to delivering affordable classroom, online and experiential learning opportunities, Husson University has come to represent a superior value in higher education. The hallmarks of a Husson education include advanced knowledge delivered through quality educational programs. According to an analysis of tuition and fees by
U.S. News & World Report
, Husson University is one of the most affordable private colleges in New England. For more information about educational opportunities that can lead to personal and professional success, visit
Husson.edu
.
[1] "Academic Regalia: Historical Overview of the Academic Costume Code," American Council on Education (ACE), https://www.acenet.edu/news-room/Pages/Historical-Overview-Academic-Costume-Code.aspx, Accessed 5/4/23
[2] Ibid
[3] Ibid
[4] "Graduation Cap and Gown History," https://www.graduationsource.com/blog/graduation-cap-and-gown-history/, Accessed 5/4/23
[5] Ibid
[6] "Significance of the Graduate Hood," University of Alaska Anchorage, https://www.uaa.alaska.edu/students/commencement/graduate-degree-hooding-ceremony/significance-of-the-graduate-hood.cshtml, Accessed 5/4/23
[7] "Academic Regalia in the United States," Wikipedia, https://en.wikipedia.org/wiki/Academic_regalia_in_the_United_States. Accessed 5/4/23.
[8] Ibid
Back to All Articles