One-Man Show, "Rhapsody in Black," celebrates Black History Month at Husson University's Gracie Theatre
Published on: February 16, 2023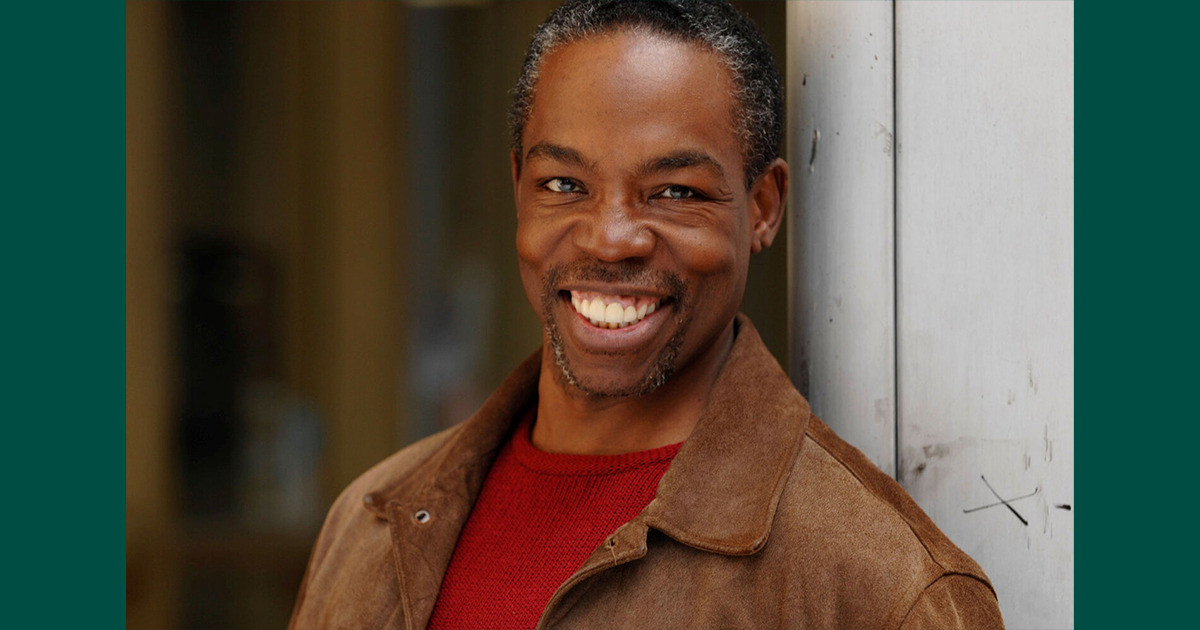 BANGOR, MAINE – The first line you'll hear when noted actor LeLand Gantt brings his inspirational life story to the Gracie Theatre on Friday, February 24, 2023 at 11 am and 7 pm, in celebration of Black History Month is, "I just want to start a conversation."
"Rhapsody in Black," is a one-man show written and performed by Gantt. Directed by Estelle Parsons, the play explores Gantt's personal journey as he works to understand and eventually transcend racism in America. A one-hour, abbreviated version of the play will be performed at 11 am and is open to members of the Husson campus community as well as the general public at a reduced rate. The complete version of the play is open to the general public at 7 pm that evening.
"To have an accomplished actor of LeLand Gantt's caliber perform in Bangor is an amazing opportunity for this community," said Jeri Misler, managing artistic director of the Gracie Theatre. "His life story is compelling, timely, funny and honest. It's a show everyone should see." 
The performance is a journey through Gantt's life as he explores issues of racism and reaffirms the importance of humanity. This includes being a child in a rough neighborhood, as a member of a financially distressed family living in working-class McKeesport, Pennsylvania; to becoming a teenager experimenting with crime and drugs. Later the audience will see portrayals of Gantt's life as he finds success through scholastic achievement and then career fulfillment as an actor.
As part of this journey, the audience will come to better understand what it means to be "the only African-American in the room." The play will provide insight into how Gantt managed to cope after being marked as "the other." "Rhapsody in Black" recounts with authenticity and integrity, and in remarkably exquisite detail, the trials and tribulations Gantt experienced over the course of his life – challenges that left lasting impressions that he continues to carry with him today. Gantt has won critical praise for the charming, self-deprecatingly funny, and passionate ways he confronts heavy issues. 
"In the show, you first meet me as a 9 or 10-year-old kid who's seen people get shot and die. This younger version of me thinks life is cheap," said Gantt. "When I go to other neighborhoods and see grass and yards, you'll see me steal flowers out of those yards to give to my mother." 
Gantt continued: "This show reaffirms humanity. It deals with survival, racism, identity, and the psycho-emotional effects of growing up as a young Black man living in America. Everyone has issues and racism is affecting everyone. I just want to start a conversation and talk about how we are more the same than we are different." 
About LeLand Gantt, Actor and Writer:
Born and raised in McKeesport, Pennsylvania, LeLand Gantt is a working actor based in New York City where he is a member of Actor's Studio. His credits include "Two Trains Running" and "Radio Golf" at the Syracuse Stage; the world premiere of Walter Mosley's "The Fall of Heaven" at the Cincinnati Playhouse in the Park; "Gem of the Ocean" at the Arena Stage, "Jitney" at the Pittsburgh Public Theater and "In Walks Ed" at Connecticut's Long Wharf Theater. 
Gantt was also included in off-Broadway and Broadway performances of: "Slippery When Wet" at New York's La MaMa Experimental Theatre Club, "Another Man's Poison" at the Peter Jay Sharpe Theater, OyamO's "Killa Dilla" and "Let Me Live." This later role earned Gantt a Drama Desk and Audelco Award nomination for Featured Actor. He was also included in a revival of "Ma Rainey's Black Bottom." 
Film and television credits include: "Miracle at St. Anna," "Requiem for a Dream," "Malcolm X," "Presumed Innocent," "Law and Order," "Law and Order SVU," "JAG" and HBO's "The Affair."
About Estelle Parsons:

"Rhapsody in Black" was directed by Academy Award-winning actress Estelle Parsons. Parsons won an Academy Award for Best Supporting Actress in 1967 for her role as Blanche Barrow in "Bonnie and Clyde." On television, she played Roseanne's mother on the award-winning sitcom "Roseanne." She also played the title role in "Miss Margarita's Way" on Broadway and the national tour, and the role of Violet Weston in "August: Osage County" on Broadway and the national tour.
Parson's directing credits include a multi-cultural "Anthony and Cleopatra" at the Belasco Theater; Flaubert's "Madam Bovary" adapted by Adrienne Kennedy at the Signature Theater in New York City; "Oedipus the King (a Yeats adaptation)" and "Salome: The Reading," written by Oscar Wilde, with Al Pacino on Broadway and the national tour. Nominated four times for the Tony Award, Ms. Parsons was inducted into the American Theatre Hall of Fame in 2004.
Together, Parsons and Gantt crafted "Rhapsody in Black." The work asks the audience to look inward at their own prejudices and then seek to learn about those of others. In the end, there is truth and triumph in the play. In an effort to enhance the experience, all audience members are invited to attend an optional conversation with the actor following each performance.
Tickets start at $10.00 for the 11 a.m. version of the show and $25.00 for the 7 p.m. performance. Patrons who enter the promo code "Gracie" for the evening show, will receive one free ticket with the purchase of another. Tickets for educators, healthcare professionals, and veterans are just $10.00. Groups of six or more are also entitled to the reduced price of $10.00 per ticket. Information and tickets are available by contacting the box office at 207-941-7888 or on the Gracie Theatre's website at www.gracietheatre.com.
Patrons who enjoy great music and theatre still have time to put together a customized package of multiple shows at the Gracie Theatre. The Gracie's "You Pick 4" season tickets include premium seats for at least four shows of the purchaser's choice at a special discounted price. The premium seats located in the orchestra section are available for a limited time. Time is running out! Patrons can purchase tickets for the "You Pick 4" plan now through February 23. After February 23, patrons will need to pay the full price for show tickets.
Single tickets range from $20.00 - $47.50 over the course of the season, depending on the show and the seat. Ticket prices vary depending on the performer. Multiple show purchases using the "You Pick 4" discount will reduce the overall cost by 20%.
The Gracie Theatre, in a collaboration between artists, students, and university constituents, is an intimate and inviting performing arts facility that provides hands-on experiential learning and technical support services for the Husson University community through a combination of diverse cultural programming and community engagement. Learn more about the Gracie Theatre and upcoming shows at GracieTheatre.com. 
For more than 120 years, Husson University has shown its adaptability and strength in delivering educational programs that prepare future leaders to handle the challenges of tomorrow through innovative undergraduate and graduate degrees. With a commitment to delivering affordable classroom, online and experiential learning opportunities, Husson
University has come to represent a superior value in higher education. The hallmarks of a Husson education include advanced knowledge delivered through quality educational programs in business; health and education; pharmacy studies; science and humanities; as well as communication. According to an analysis of tuition and fees by U.S. News & World Report, Husson University is one of the most affordable private colleges in New England. For more information about educational opportunities that can lead to personal and professional success, visit Husson.edu.
# # #
A note to editors: A link to a video teaser of the performance can be found at https://www.youtube.com/watch?v=V8YETiF1TQM
Back to All Articles