88% of Husson University School of Pharmacy Graduates Pass National Licensure Examination on First Attempt
Published on: February 10, 2023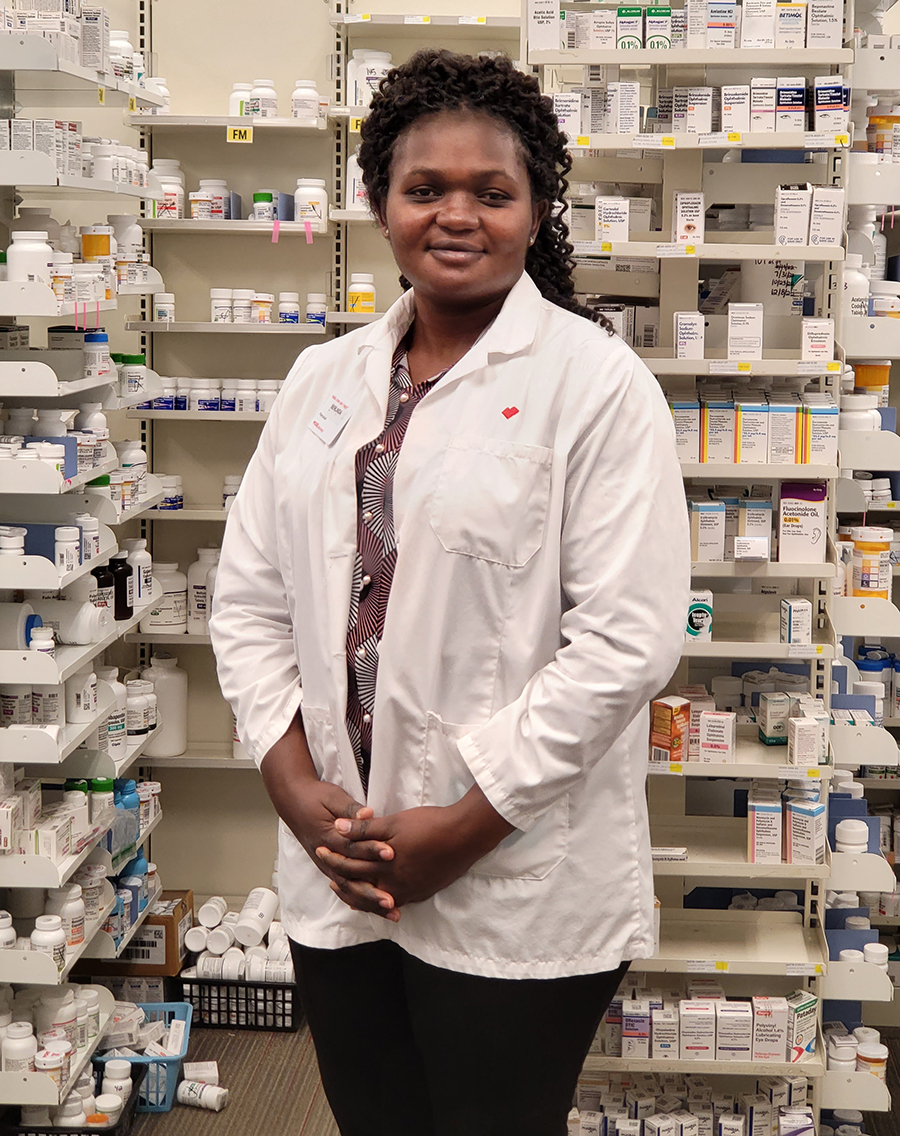 Berlinda Wongli, PharmD, '22
BANGOR, MAINE – February 10, 2023 – Husson University announced today that their School of Pharmacy graduates achieved an 88% pass rate among all first time test takers who sat for the North American Pharmacist Licensure Examination® (NAPLEX®) in 2022 as reported by the National Association of Boards of Pharmacy (NABP). This score was 10% higher than the national average first-time passage rate of 80% for the year. This pass rate for the Class of 2022 could change as the remaining handful of students who have yet to take the NAPLEX® attempt to take the exam for the first time.
According to the American Association of Colleges of Pharmacy (AACP), the NAPLEX® measures a candidate's knowledge of the practice of pharmacy.[1] It is an important component of the licensure process and is used by state boards of pharmacy as part of their assessment of a candidate's competence to be a practicing pharmacist.
"Having such a high first-time pass rate in 2022 is a testament to the quality of pharmacy education offered here at Husson," said Dr. Robert A. Clark, president of the University. "Our School of Pharmacy does an outstanding job of preparing students for professional careers as pharmacists." 
Berlinda Wongli, a 2022 Husson graduate who earned a Doctor of Pharmacy and an MBA degree from the University agrees. "My classes helped me so much," she said. "The education I received at Husson helped me understand my strengths and where I needed to focus additional attention to pass the NAPLEX® exam."
"All my hard work paid off," continued Wongli. "One week after I passed the NAPLEX®, I started working as a pharmacist at CVS and I'm already in training to become a pharmacy manager!"
In addition to professional preparation, College of Health and Pharmacy Dean James Nash feels that School of Pharmacy graduates make important contributions to the health of their community. "Our graduates are ready to make valuable contributions to the health and well-being of the public in clinics, hospitals, and retail pharmacy settings," said Nash "As valued members of patients' healthcare teams, pharmacists provide vaccinations against disease and help manage patients' medications. This helps to improve healthcare outcomes and decrease costs."
Helping patients is one of the reasons why Wongli chose to become a pharmacist. "I believe a career in pharmacy is one that requires compassion and love," she said. "We deal with people going through health care crises every day. Reassuring clients and letting them know that somebody cares is very rewarding." 
The United States Department of Labor's Bureau of Labor Statistics has determined that the median annual pay for pharmacists in May 2021 was $128,570 per year.[2] The employment of pharmacists is projected to grow 2% from 2021 to 2031.[3]  The Bureau of Labor Statistics projects that there will be about 13,600 openings for pharmacists each year, on average, over the course of the next decade.
The NAPLEX® national licensure exam is administered by the National Association of Boards of Pharmacy (NABP). Founded in 1904, the NABP aims to ensure the public's health and safety through its pharmacist license transfer and pharmacist competence assessment programs. The Association's member boards of pharmacy are grouped into eight districts that include all 50 United States, the District of Columbia, Guam, Puerto Rico, the Virgin Islands, Australia, Bahamas, and all 10 Canadian provinces. The Association is governed by its executive committee, whose officers and members are elected during the association's annual meeting.
For more than 120 years, Husson University has shown its adaptability and strength in delivering educational programs that prepare future leaders to handle the challenges of tomorrow through innovative undergraduate and graduate degrees. With a commitment to delivering affordable classroom, online and experiential learning opportunities, Husson University has come to represent a superior value in higher education. The hallmarks of a Husson education include advanced knowledge delivered through quality educational programs in business; health and education; pharmacy studies; science and humanities; as well as communication. According to a recent analysis of tuition and fees by U.S. News & World Report, Husson University is one of the most affordable private colleges in New England. For more information about educational opportunities that can lead to personal and professional success, visit Husson.edu.
[1] American Association of Colleges of Pharmacy (AACP) "NAPLEX," https://www.aacp.org/resource/naplex, Accessed February 1, 2023.
[2] U.S. Bureau of Labor Statistics, Occupational Outlook Handbook, "Pharmacists," https://www.bls.gov/ooh/healthcare/pharmacists.htm, Accessed: February 1, 2022
[3] Ibid
Back to All Articles