Husson University's Artwalk Features the Best of Student Art, Photography, Graphic Design and Extended Reality
Published on: December 9, 2022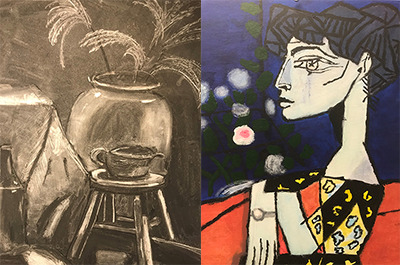 BANGOR, MAINE – Husson University announced today that it will be showcasing the creative talents of students and professional artists on December 13, 2022 from 12:30 - 5 p.m. on their Bangor campus as part of "Artwalk." All of the exhibitions, located in various campus locations, are free and open to the public.
One of the exhibition spaces participating in "Artwalk" is the Hart Studio. This creative space in the basement of Hart Hall will feature a variety of student artistic expressions. Student artwork on display will include paintings, photography, drawings and mixed media pieces. 
Graphic design, 3-D modeling, digital illustration, and typography will all be on display in the Wildey Communications Center, home of the New England School of Communications. Typography installations will also be on display at the Darling Learning Center and the Wellness Learning Center. 
Individuals with a passion for books should make it a point to stop by the Sawyer Library. This location will feature an exhibition called "Words and Images." It includes handmade books, created by students in the drawing and mixed media courses.
Those who prefer artistic expressions that embrace new technology will find a variety of cutting-edge artistic developments at the iEX Center in Harold Alfond Hall, home of Husson University's College of Business. At this location, "Artwalk" participants can see the creativity students have brought to extended reality presentations.
The Darling Atrium in the Beardsley Meeting House, (also known as the lobby of the Gracie Theatre) will be featuring printmaking and more art books that were created as part of the course "Art and Human Experience." After taking in this exhibit, "Artwalk" participants should check out "CLOSE, A Photography Installation" by professional artist Ulrike Guthrie in the Gracie Theatre's WBRC Gallery. Located at the far end of the atrium, the gallery's exhibit focuses on the elements of nature that surround us in Maine. Over 100 of Guthrie's photographs are on display. 
Another exhibition by a professional artist that is on display as part of "Artwalk" is located at the Robert E. White Gallery. The gallery, adjacent to the Campus Center in Peabody Hall, features BLUE, an exhibition of work by artist Amy Wilson. She uses a process known as 'wet' cyanotype that combines water with photographic chemistry. The additional water used during the photographic printing process adds a variety of color, marks and depth to the images. Hours of exposure to ultraviolet light, botanicals, water and chemicals provides this artwork with its special properties. Drawing students created small books in response to Wilson's work which will be displayed in the space as well.
All "Artwalk" visitors are welcome to stop by Husson University's One Circle Agency in the Wildey Communications Center. This student-run marketing agency just opened a new space on campus. Visitors can tour the facility as they enjoy a cup of hot chocolate from the hot chocolate bar, smores and warm up at the agency's fire pit.
Kathi J. Smith, the Robert E. White Gallery coordinator and an associate professor of art at Husson University, organized "Artwalk." "The selected creative expressions demonstrate the technical quality and creative excellence our students bring to their assignments and projects," she said. "Helping our students feel confident in their abilities to express themselves is enormously beneficial, regardless of the career fields they choose to pursue after graduation. In addition, the "Artwalk" offers a visual opportunity to highlight the diversity of our student body in an inclusive way across campus."
The exemplary student artwork featured in this show was created in courses offered by Husson University's College of Science and Humanities and Husson's College of Business including the School of Technology and Innovation and the New England School of Communications.
About Husson University
For more than 120 years, Husson University has prepared future leaders to handle the challenges of tomorrow through innovative undergraduate and graduate degrees. With a commitment to delivering affordable classroom, online and experiential learning opportunities, Husson University has come to represent superior value in higher education. Our Bangor campus and off-campus satellite education centers in Southern Maine, Wells, and Northern Maine provide advanced knowledge in business; health and education; pharmacy studies; science and humanities; as well as communication. In addition, Husson University has a robust adult learning program. According to a recent tuition and fee analysis by U.S. News & World Report, Husson University is the most affordable private college in New England. For more information about educational opportunities that can lead to personal and professional success, visit Husson.edu.
Back to All Articles