Second Annual Rainbow March at Husson University Celebrates the LGBTQ+ Community and Allies
Published on: October 14, 2022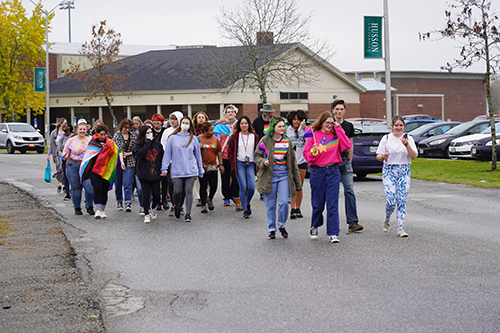 BANGOR, MAINE – Husson University is celebrating LGBTQ+ pride with a Rainbow March on Saturday, October 15. Participants who want to join in the march should gather in the Lower Commons Parking Lot (Lot 8A) at 11 a.m. This is the lower level parking lot between the Gracie Theatre and the Wellness Learning Center. No prior registration is required to participate. In the event of rain, the march will take place at the same location and time on Sunday, October 16.
"Similar to a fun/run walk, participants will complete two laps around campus while getting doused with colored powder," said Katherine Aubin Hoyle, president of the Sexuality and Gender Alliance (SAGA) club on campus and a student pursing their Bachelor of Science in healthcare administration and public health along with a Master of Science in occupational therapy (MSOT) at Husson. "Participants are encouraged to wear something white that will help show off these colors and their support for diversity."
Everyone marching is encouraged to bring a friend or come on their own. Prizes, music, and a "Pie an Ally" event will all be part of the festivities. During the "Pie and Ally" event, volunteers will have a pie thrown in their faces by the winners of a drawing. Last year, a mother won an opportunity to throw a pie in her son's face. 
Additional pride week events, courtesy of the Sexuality and Gender Alliance (SAGA) club on Husson's campus, include bracelet making, LGBTQ+ paint night, bingo, and a documentary about the life of a transgender comedian. Pride week will conclude on Monday, October 17, 2022.
The march is free and open to the Husson University campus community. Participants are welcome to attend on their own or bring a friend. "Husson's Rainbow March is a celebration of lesbian, gay, bisexual, transgender, non-binary and queer (LGBTQ+) achievements, legal rights and pride," said Nicole Proulx, LMFT, the lead counselor at Husson University's Wellness Center. "Our core values of character and humility have strengthened the University's commitment to diversity, equity, and inclusion. Like the rest of the nation, Husson University seeks a peaceful, equitable, and diverse society." 
"This march is one of many efforts undertaken during the past year to increase campus awareness and support of diverse communities and is part of the University's efforts to provide students with the skills they need to engage cross-culturally, in an ever-changing world with a variety of global perspectives," concluded Proulx.
Various community members and organizations will be offering services or healthy products during the event in support of this event and the campus LGBTQ+ community. They include Hannaford, Partners for Peace, Rape Response, and HEAL (Health Equity Alliance).
For more than 120 years, Husson University has shown its adaptability and strength in delivering educational programs that prepare future leaders to handle the challenges of tomorrow through innovative undergraduate and graduate degrees. With a commitment to delivering affordable classroom, online and experiential learning opportunities, Husson University has come to represent a superior value in higher education. The hallmarks of a Husson education include advanced knowledge delivered through quality educational programs in business; health and education; pharmacy studies; science and humanities; as well as communication. According to a recent analysis of tuition and fees by U.S. News & World Report, Husson University is one of the most affordable private colleges in New England. For more information about educational opportunities that can lead to personal and professional success, visit Husson.edu.
Back to All Articles