Husson University's 12th Annual Research and Scholarship Day Showcases Faculty and Student Research
Published on: April 20, 2022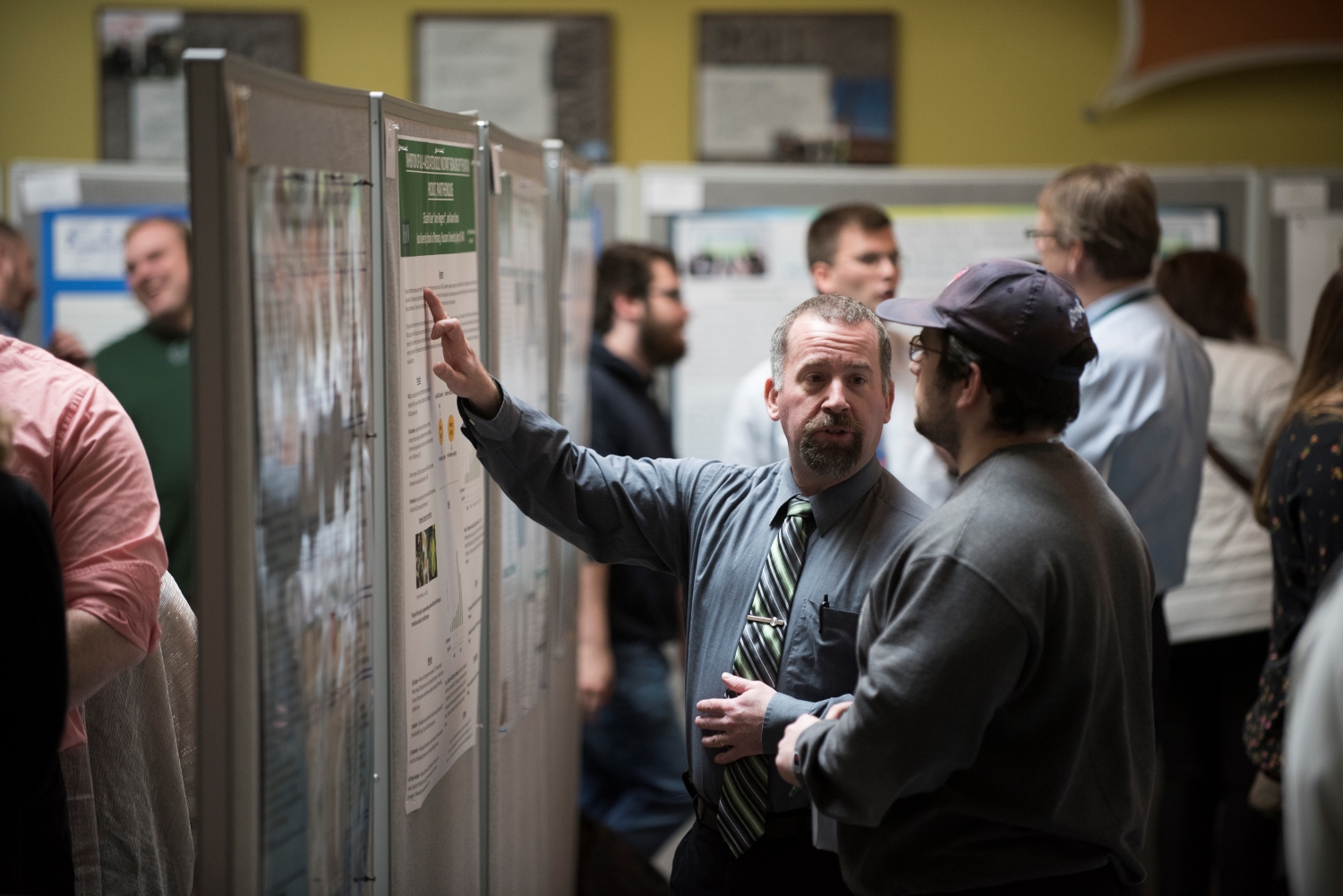 BANGOR, MAINE – Husson University will be celebrating students' and faculty members' research during its 12th Annual Research and Scholarship Day on Thursday, April 21, 2022 from 8:30 a.m. – 2 p.m. in the Gracie Theatre and the adjacent Darling Atrium. During the event, undergraduates, graduate students, and faculty members from all of the university's colleges and schools will share the results of their many capstone research projects, graduate theses and other activities devoted to understanding our world.
"The quantity and quality of research conducted by Husson students and faculty members that's on display at this annual event is always impressive," said Dr. Lynne Coy-Ogan, senior vice president for academic affairs and provost at Husson University. "Their research has expanded the boundaries of knowledge in an array of different disciplines including healthcare, communications, the social sciences, biology, and pharmacology, to name a few." 
"While they may not realize it, millions of Americans have benefited from research that began and was conducted here at Husson University," continued Coy-Ogan. "This event is an opportunity for us to recognize and celebrate scholar's efforts to improve our daily lives."  
Students are required to demonstrate the independent critical thinking skills they've developed here at Husson University at this event. Each student stands by a visual summary of their research findings and helps explain them to curious event attendees. These interactions give students the opportunity to enhance their oral and written communication skills.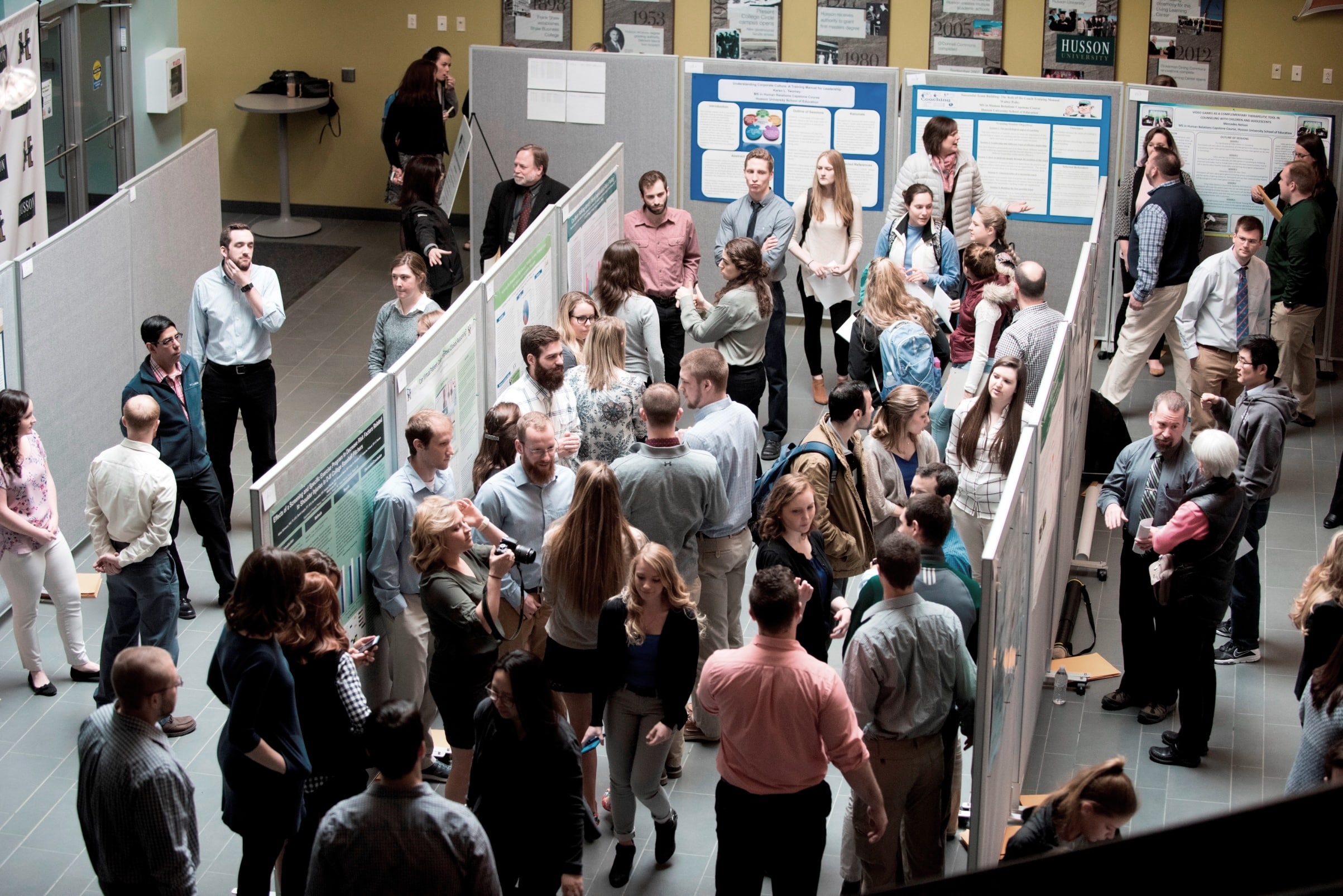 Research and Scholarship Day kicks off at 8:30 a.m. on Thursday, April 21, 2012, in the Darling Atrium at the Beardsley Meeting House with a display of posters that summarize many of the scholarly activities undertaken during the past year. From 11:00 a.m. – 12:30 p.m., research authors will be present to stand by their posters and answer questions about their findings.
This year's plenary session begins at 1 p.m. in the Gracie Theatre. At the opening of the session, Karen Huhn, PT, PhD, professor and chair of the School of Physical Therapy will be recognized as this year's Distinguished Faculty Research Award recipient. Each year, this award is presented to a faculty member who has engaged in scholarly work that's been recognized or reviewed by his, her or their peers. 
Immediately following the award presentation will be the plenary speech by Dr. Jane Snowdon, FAMIA, the deputy chief science officer in the Science Operations department at IBM Watson Health at the T.J. Watson Research Center in Yorktown Heights, N.Y. Her 50-minute presentation will focus on "Technology and Innovation in Healthcare and Life Sciences.
More about this year's plenary speaker: 
Dr. Jane L. Snowdon is responsible for developing the scientific strategy that supports IBM and Watson Health business goals. In addition, she integrates scientific expertise and evaluation into the product design and development process. In her current role, Snowdon leads and manages team members who help execute the company's scientific strategy and engage clients. She also works with academic partners to develop scientific collaborations. 
Prior to her current role, Snowdon was responsible for managing the company's global efforts to define strategy, design, and implement peer-reviewed research evaluation studies for IBM's life sciences, genomics, government, health and human services solutions.
Previously, Snowdon was the chief innovation officer at IBM Federal and served as the director of the IBM Federal Cloud Innovation Center in Washington D.C. She conducted research for two decades at the IBM T.J. Watson Research Center in modeling, simulating, and optimizing manufacturing systems, airline crew scheduling and flight routing systems, energy efficient buildings, and high performance computing. 
Dr. Snowdon was a senior manager in the Department of Strategy and Worldwide Technical Operations where she jointly led the direction of IBM's overall research strategy across twelve global labs. She also helped lead the organization's Global Technology Outlook which became IBM's cloud, analytics, mobile, social and security (CAMSS) strategy. 
A results-driven leader, technologist, researcher, and consultant, Snowdon has expertise in strategic planning and execution, healthcare informatics, cloud computing, enterprise architecture, security, business development, and marketing. Her expertise has been applied to business challenges confronting healthcare, government, industrial, energy, environmental, travel and transportation organizations. 
She received her doctorate from the Georgia Institute of Technology, her Master of Science degree from the University of Michigan, and her Bachelor of Science degree with honors from the Pennsylvania State University, all in industrial engineering.
For more than 120 years, Husson University has shown its adaptability and strength in delivering educational programs that prepare future leaders to handle the challenges of tomorrow through innovative undergraduate and graduate degrees. With a commitment to delivering affordable classroom, online and experiential learning opportunities, Husson University has come to represent a superior value in higher education. The hallmarks of a Husson education include advanced knowledge delivered through quality educational programs in business; health and education; pharmacy studies; science and humanities; as well as communication. According to a recent analysis of tuition and fees by U.S. News & World Report, Husson University is one of the most affordable private colleges in New England. For more information about educational opportunities that can lead to personal and professional success, visit Husson.edu.
Back to All Articles